While manufacturing has lost jobs in recent years, demand for workers with technical skills remains strong in L.A., including in the Advanced Transportation industry cluster, one of the key export-oriented industries that LAEDC actively supports, with the goal of fostering growth of well-paying jobs in the region.  Los Angeles Business Journal recently profiled a local business Romeo, one of many growing businesses in this loosely defined Advanced Transportation industry cluster, an industry in which LA County has a strong competitive advantage.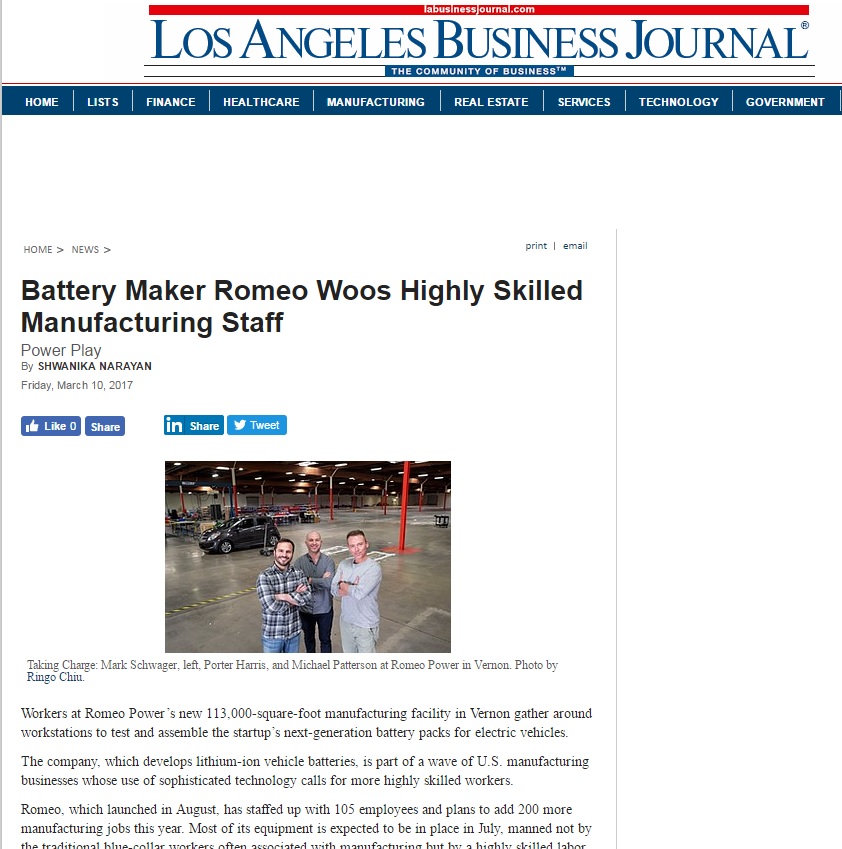 LAEDC economist Kim Ritter-Martinez discusses some of the manufacturing trends in the article, and LAEDC's recent Economic Forecast is also referenced.  L.A. County is still the top county in the nation for manufacturing employment, and although the region has seen job declines over time it remains vibrant, with increasing output and strong opportunities for those residents who acquire the relevant technical education.  The article also mentions the Strong Workforce initiative which is aligning the career technical education programs at the state's community colleges with local industry occupations, an effort in which LAEDC is taking an active role.  Read the article HERE at LA Business Journal, or below.  Support LAEDC's industry cluster development initiatives by contacting [email protected].
Battery Maker Romeo Woos Highly Skilled Manufacturing Staff
By SHWANIKA NARAYAN / Friday, March 10, 2017
Workers at Romeo Power's new 113,000-square-foot manufacturing facility in Vernon gather around workstations to test and assemble the startup's next-generation battery packs for electric vehicles.
The company, which develops lithium-ion vehicle batteries, is part of a wave of U.S. manufacturing businesses whose use of sophisticated technology calls for more highly skilled workers.
Romeo, which launched in August, has staffed up with 105 employees and plans to add 200 more manufacturing jobs this year. Most of its equipment is expected to be in place in July, manned not by the traditional blue-collar workers often associated with manufacturing but by a highly skilled labor force with engineering degrees or technical training.
"Jobs don't exist for simple manufacturing anymore," said Mark Schwager, Romeo's chief production officer. "That's essentially a thing of the past, and that's being eliminated by automation and competitiveness across the world."
U.S. manufacturing is in transition, as 20th century assembly line work gives way to automation. The challenge – which was underscored by President Donald Trump's rise – is that many of those workers with 20th century skills are still in the workforce.
Los Angeles County lost almost 262,000 manufacturing jobs between 2000 and 2016, dropping to 353,100 from 615,000, according to studies by the Los Angeles County Economic Development Corp. Between 2014 and 2016, 13,400 manufacturing jobs left the county.
A recent LAEDC report forecasts an additional 1,400 will be lost over the next two years. Yet the average unemployment rate in the county was 5.1 percent last year, the lowest it's been since 2007.
Kimberly Ritter-Martinez, an economist at the organization, said many of those blue-collar manufacturing jobs might be replaced in coming years by growth in high-tech industries. There are jobs in those industries, but companies are having trouble finding skilled machinists to fill them.
Romeo is one of those businesses, hiring electrical, thermal, and firmware engineers to work on the company's removable lithium-ion battery packs. LAEDC says the average annual manufacturing wage in the county is $52,000. While Schwager would not disclose the wages of the people assembling his products, he did say in an email that Romeo "pays a premium over area and industry averages to ensure that we effectively compensate our personnel for their skills and ability to deliver value."
Charged conversation
Chief Executive Michael Patterson said the idea to make lithium-ion battery packs for electric vehicles came up in a conversation four years ago with co-founder Porter Harris in a café called Romeo in Greece. Harris, Romeo's chief technology officer, formerly worked at Space Exploration Technologies Corp., or SpaceX, where he developed power packs for rockets, and also did a stint at electric car manufacturer Faraday Future as its chief battery architect.
The venture is Patterson's first foray into hardware, but the self-described serial entrepreneur said he saw potential in the industry. Market research firm IDTechEx projects the global lithium-ion battery sector will grow to $140 billion by 2026 and dominate the battery market.
Patterson has founded and sold three companies, the most recent being InAuth, a mobile security software company acquired in December by American Express Co. for an undisclosed amount.
He was tight-lipped about Romeo's funding, but said that he is the primary source, though he's received help from friends and people he's worked with before.
The long, thin battery packs Romeo assembles at its Vernon facility are designed to fit under the floor of most electric vehicles and can contain tens of thousands of power cells, which the company imports from Asia.
The manufacturer says it has developed a proprietary cooling solution for the battery packs, so if a single cell fails it won't affect any of the surrounding ones, reducing the chance of an explosion. Romeo also claims its batteries are more efficient than those used for most electric vehicles.
"We can fit 25 percent more energy in our batteries in that same space auto makers set aside for a battery in their electric vehicles," said CEO Patterson.
The company is one of a few U.S. makers of battery packs exclusively for use in electric vehicles. According to Patterson, Romeo is targeting deals with major auto makers, and General Motors Co. spokesman Kevin Kelly said last week that the car giant is testing Romeo's battery modules for potential use.
"We're manufacturing today, but at really low volumes," said Schwager. "But when the equipment comes in we will really start ramping up the volume production."
The company said it is churning out 100 battery packs a week for Madison, Wis., manufacturer Power Designers, which develops battery charging systems and related power products.
Dan Crowley, chief executive of Power Designers, was one of Romeo's first customers.
Crowley said that he had been shopping for a maker of lithium-ion battery packs in an attempt to move away from traditional lead acid batteries, which not only need to be equalized and cleaned but can be corrosive, when he saw the announcement of Romeo's launch.
"While lithium-ion batteries cost twice as much, they last three times longer," he said. "And the best part? No maintenance."
Manufacturing transformation
In a recent meeting with Trump, manufacturing executives from around the country reportedly said a lack of jobs isn't really a problem; it's the lack of skilled workers to fill them.
Schwager said he has been able to find the people he needs through his professional networks, but expects to have to be more proactive as the company grows.
"There isn't a rigid recruiting plan," he said. "We've sort of done it through word of mouth, getting people we've worked with before, but we do hope to start partnering up with trade schools in the near future."
Patterson said the company also has its sights set on engineering students from USC and UCLA.
Romeo might have some competition in attracting its workforce. Ritter-Martinez said local manufacturers in order to fill their staffing requirements will increasingly need to connect with schools and community colleges that have advanced manufacturing programs.
In order to deal with that skill gap, California launched the Strong Workforce Program last year, directing a recurring investment of $200 million a year toward 113 community colleges across the state for technical career training. The mission is "to develop more workforce opportunity and lift low-wage workers into living-wage jobs," according to the program, which aims to create 1 million more middle-skill workers.
Whether this new labor force will have job opportunities will depend on the success of the new wave of manufacturing companies.
The real test for Romeo, said Rajit Gadh, director of UCLA's Smart Grid Energy Research Center, is whether its technology will be able to scale up for mass production.
"A lot of the times we see startups very successful in building prototypes, but when it comes time to scale, they may find that the technology is not there," Gadh said. "I don't have data on Romeo Power, and it's a very new company, so we'll have to wait and see."