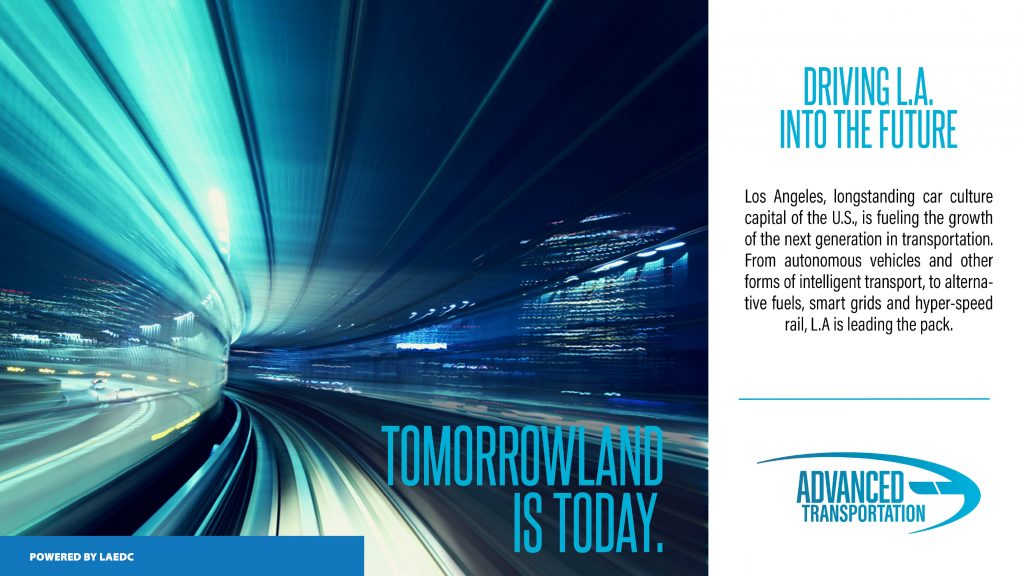 L.A. County is a region with competitive advantage and robust activity in development and deployment of advanced transportation, including areas as electric vehicle systems and design, the Hyperloop transportation mode, smart grid, connected car, zero emission trucks and buses, and energy storage.  We may not build many cars in L.A. County, but the region is central to design, R&D, innovation and engineering that sets the foundation for the world's cars. Of course, L.A. is home to over 20 automotive design studios serving all the major automotive brands. 
LAEDC Supports Success of this Industry
As part of our non-profit mission, to foster creation of jobs of the future, the LAEDC assists growth of the advanced transportation and cleantech industries through in-depth economic research and reports, public policy advocacy, on-the-ground business assistance, real estate solutions, export assistance, and marketing and promotion of the industry's strengths.  In addition, the LAEDC established the E4 Mobility Alliance which convenes several hundred stakeholders around current action items for the benefit of our regional economy and those businesses and jobs in new transportation and cleantech.  LAEDC is also a founding partner of the Advanced Transportation Center of Southern California, which is new and starting to serve a role as a resource for this industry. We have also reconfigured our Business Assistance Team around this key industry cluster and have dedicated two District Managers to further supporting the success of our region's Advanced Transportation industry. If you are interested in relocating to the region, have questions/issues, etc. please contact Barbara Levine at (310) 466-5197 or Joe Torres at (213)448-1804 for assistance.
More About Advanced Transportation in L.A.
In our region, businesses and talent in this industry are increasingly focused on alternative transportation, including alternative fuels, electric vehicles, autonomous vehicles, and prototypes of new concepts that will change the face of transportation over the coming decade.  In the electric vehicle market alone, Tesla's design facility is here, new electric car company Faraday Future design and engineering headquarters is located here, electric car maker Karma Automotive is in nearby Costa Mesa, electric bus makers BYD and Proterra manufacture here… and that is just the tip of the iceberg.  Additionally, autonomous (self-driving) systems development is strong in Los Angeles, with numerous companies and a deep talent base in the region.   Our region's healthy aerospace industry is a factor in the innovation of these systems.  Two companies in the region are developing Hyperloop transportation mode, which adds to the fabric of the Advanced Transportation sector in L.A.  The roots on this alternative vehicle industry can be traced back many years…and the recent growth of this industry is phenomenal,  rapidly attracting talent and investment.