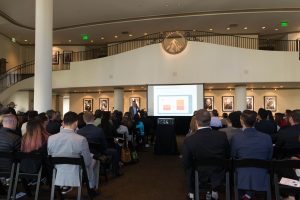 Entertainment and Digital Media leaders came together at Paramount Studios for the third installment of Future Forums – a series co-sponsored by CSU Dominguez Hills, whose focus is on future industry trends, the workforce demands that will be required and, the opportunities that will be available tomorrow.  Our speakers and panelists presented a fascinating look into how technology is continually changing content creation and consumption, in addition to creating new monetization streams. The conversation also touched on ways the entertainment industry can become more diverse and inclusive. Presentation decks from the event are below:
Highlights from the presentations included:
Autonomous cars will add a billion hours of screen time, leading to additional employment opportunities for content creators in LA and throughout the world.
Streaming video continues to grow exponentially due to cord cutters and cord nevers–those who have never had cable.
The biggest opportunities for streaming content providers are in Latin America and Asia/Pacific countries.
90% of millennials watch content on their mobile devices.
90% of Hispanics watch content on mobile phones as opposed to 80% for rest of population.
Artificial intelligence, combined with employee oversight, are working totether to allow LA's advertising companies to make the best decisions.
User generated content is 50% more trusted than non-user generated content.
People of color are the biggest consumers of video and the biggest movie goers.
Films with diverse casts enjoyed highest global box office receipts.
Research shows that companies with more diversity are more innovative.
View photos from the event here.
Please share your feedback if you attended the event.
Be sure to mark your calendars for June 28th as our next Future Forum will explore Artificial Intelligence.