By California Jobs First Los Angeles Consortia Chair Kevin Harbour and Vice Chairs Andrea Slater and Stella Ursua
Economic development is a multifaceted process that shapes the well-being of communities and regions by creating opportunities, employment, and sustainable growth. This requires collaborative efforts beyond any single entity, making partnership and collaboration the cornerstone for regional success and prosperity. Partnerships in economic development amplify individual efforts, enabling communities to access a wider range of opportunities, from attracting investments to addressing complex challenges. These partnerships can transform isolated initiatives into powerful engines of growth driven by diverse stakeholders.
Partnership is vital in the context of the Los Angeles regional economy, and the Los Angeles County Economic Development Corporation (LAEDC) has aimed to reshape the economic landscape into one that balances growth with equity, resilience, and sustainability. Recognizing that despite decades of economic advancement, many people are still being left behind, and the COVID-19 pandemic laid bare what disparities persist.
Earlier this month, LAEDC hosted its 28th Annual Eddy Awards and Gala on the field of SoFi Stadium. LAEDC was able to take the opportunity to recognize individuals and organizations who have created partnerships with LAEDC and throughout the region to advance our economy. This year, they honored Gov. Arnold Schwarzenegger, Ambassador Jane Duke, Community Coalition and Delta.
Another ambitious partnership-led initiative is t
he California Jobs First Program (formerly known as the California Economic Resilience Fund), organized and run by a community-selected steering committee and bringing together 400 community partners for a multi-year planning and implementation of a framework to guide growth, training, and equity as we move toward a carbon-neutral economy. LAEDC is the convener for the program, and the California Community Foundation is the fiscal agent, but the decisions, planning and implementation of the program ideas will be made with the direct support of community stakeholders.
For California Jobs First, LAEDC has used its expertise in economic research, thought leadership and collaboration to bring together stakeholders from various sectors, including the authors. By uniting businesses, government, education, labor, and philanthropy, California Jobs First – with LAEDC staff supporting it – works to ensure more equitable access to resources and capital, the availability of essential talent for employers, and advocate for policies conducive to business and workforce development.
California Jobs First Program: Fostering Equity and Inclusion in Economic Development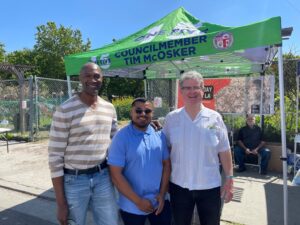 Previously, economic success was measured solely by dollars and cents, regardless of where those dollars went or whether it was equitable. California Jobs First is not just about financial numbers; it's about creating an inclusive framework that considers all community members' needs and aspirations, especially those historically marginalized, underserved or ignored. The program will be a different approach that utilizes the collective knowledge of our communities to create a carbon-neutral economy that creates pathways for high-wage jobs.
The California Jobs First Los Angeles Collaboration (www.lacerf.org) is one of 13 regions in the State that will work to create initiatives beyond thttp://www.lacerf.orgraditional economic development models. A regional-based, community-driven approach to economic development offers a more inclusive, sustainable way to promote economic growth while addressing each region's unique needs and priorities. It recognizes that effective economic development is not just about financial metrics but also about improving residents' overall quality of life and preserving the community's identity and culture.
California Jobs First is not just about creating jobs; it's about creating opportunities for everyone, regardless of background or circumstances. We will ensure that the program actively engages underrepresented voices and can foster a more comprehensive, holistic understanding of the challenges and opportunities faced by diverse populations.
Within the structure of California Jobs First Los Angeles Collaboration, there are seats at the table for:
Academia
Civic Engagement & Place-Based Coalitions
Economic Development Organizations
Employers & Business
Family Services
Homeless Veterans & Seniors
Immigrants
Institutional Governments
Labor & Workers
Sustainability
Underemployed Adults
Youth & Youth Services
Benefits of California Jobs First: Carbon Neutrality and Job Creation
Climate change poses a significant existential threat to our communities and economy, and transitioning to a carbon-neutral economy is imperative. To address the climate change threat, critical components of the California Jobs First program are commitments to environmental sustainability by creating a roadmap for industries and growth that includes training the next generation of workers and opportunities for the current workforce to transition. By partnering with businesses, community groups, and labor organizations, CJF drives efforts to reduce carbon emissions, create a more sustainable futu
re and guarantee access to those jobs.
Everyone in CJF recognizes the importance of economic stability and employment opportunities. Community groups play a crucial role in representing the interests of residents, ensuring that their voices are heard and their concerns addressed. By fostering those partnerships and collaborations across industry sectors and communities simultaneously rather than separately, CJF can address concerns by building a roadmap to create jobs that can improve the quality of life for individuals and communities in terms of wages and environmental health and setting our region up for continued economic growth.
Why Partnerships Build Economic Growth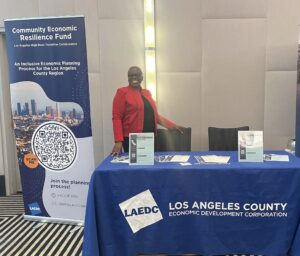 Community-driven models encourage innovation and experimentation, allowing communities to adjust their strategies to respond to evolving economic, technological, and social trends. This adaptability ensures that communities remain nimble and responsive in a dynamic world.
Suppose residents, businesses, and community organizations come together to shape the economic destiny of their region, and we place decision-making power in the hands of those who live and breathe the challenges and opportunities of their locality. In that case, we can create a profound sense of ownership and accountability. Locals become the architects of their economic future when they are at the helm. It fosters innovative thinking, nurtures local leadership, and ensures that solutions are born from the very heart of the community they serve.
Los Angeles is the 17th largest economy in the world and home to many unique cultural assets, some of which are economically valued and deeply tied to community identities. A community-driven partnership must recognize the importance of promoting local heritage and nurturing diverse economic sectors and regional opportunities. A diverse economic landscape is less vulnerable to downturns in a single industry, ensuring stability and sustainability for the local economy over the long term and fortifying communities against economic shocks.
Above all, partnerships across the region prioritize sustainability. By considering the interests and needs of communities and businesses, we will lay the foundation for development that aligns with the long-term goals and values of the community. Sustainability, in turn, ensures the longevity of economic development efforts, benefiting not just the present generation but generations to come.
A Call to Collaborative Action
Partnership and collaboration are the linchpins of successful economic development. They empower communities to tailor solutions to their unique needs, foster inclusivity, and drive sustainability. The California Jobs First Los Angeles Consortia recognizes the significance of partnership in the Los Angeles regional economy. It strives to reshape the economic landscape, balancing growth with equity, resilience, and sustainability. Collaborative efforts are essential in achieving this ambitious goal.
We encourage you to join the movement for collaborative economic development.
To learn more about California Jobs First and how to become a partner, visit lacerf.org. It's time to embark on a journey towards a brighter, more inclusive, and sustainable economic future for all.