Dear LAEDC Board of Governors, our community, and our partners: 
Thank you for allowing me the opportunity to serve as the Board Chair of the Los Angeles County Economic Development Corporation (LAEDC) this past year. Throughout that time, I have developed a deeper respect and appreciation for our community's work to ensure the Los Angeles regional economy is truly OUR economy. The LAEDC's thought leadership and convening power were on full display during the last year, and now that we have moved past the devastating effects of COVID-19 and can see the systemic problems the pandemic laid bare, we are on the path forward to an inclusive and equitable economy. 
This has been a unique year for LAEDC, which saw Bill Allen retire after 17 years at the helm. I am grateful to Bill for his incredible service to Los Angeles and, personally, for his guidance and friendship for many years.  It was an honor to serve alongside him for the first six months of my term and to help celebrate his retirement.  I was also fortunate to be present for the start of LAEDC's next chapter and to welcome Stephen Chueng to his new role as President and CEO after 8 years with the organization. It's not always common for one great organizational leader to be followed by another, but it's happened here.  Thank you to everyone who helped make that happen.  I look forward to ongoing collaboration with Stephen as I continue on as the World Trade Center Los Angeles Board Chair. 
This past year, LAEDC was selected as the lead facilitator for the California Community Economic Resilience Fund (CERF) process because of its power to elevate conversations by empowering community groups, government, philanthropy, and private stakeholders at an exceptionally large table. CERF is important because it is a one-of-a-kind program that provides a framework for equity and inclusion in economic planning. CERF will uplift under-voiced community needs to ensure they are included in Los Angeles County's 10-year Regional Economic Recovery Plans, ensure disinvested community members can access job and economic opportunities in high-growth sectors, and will map and support local community readiness to transition toward a carbon-neutral tomorrow and outline ways you can participate and benefit. 
Our 2023 Economic Forecast, released in February, highlighted challenges posed by high inflation and aggressive national monetary policies. Rising prices and sharp rate hikes by the Federal Reserve have raised concerns about a potential recession, leading to business closures, job losses, and reduced income and tax revenue. Skillful planning and execution by the Federal Reserve are crucial for controlling inflation without hindering economic recovery. We invited Dr. Darrick Hamilton, Founding Director of the Institute on Race, Power and Political Economy at The New School, to provide our keynote on how to create a human-centered economy and had a fireside chat with former LA Mayor Antonio Villaraigosa, in his role as Infrastructure Advisor to Governor Gavin Newsom, about some of the opportunities available to the Los Angeles Region if we all work collectively for our economy.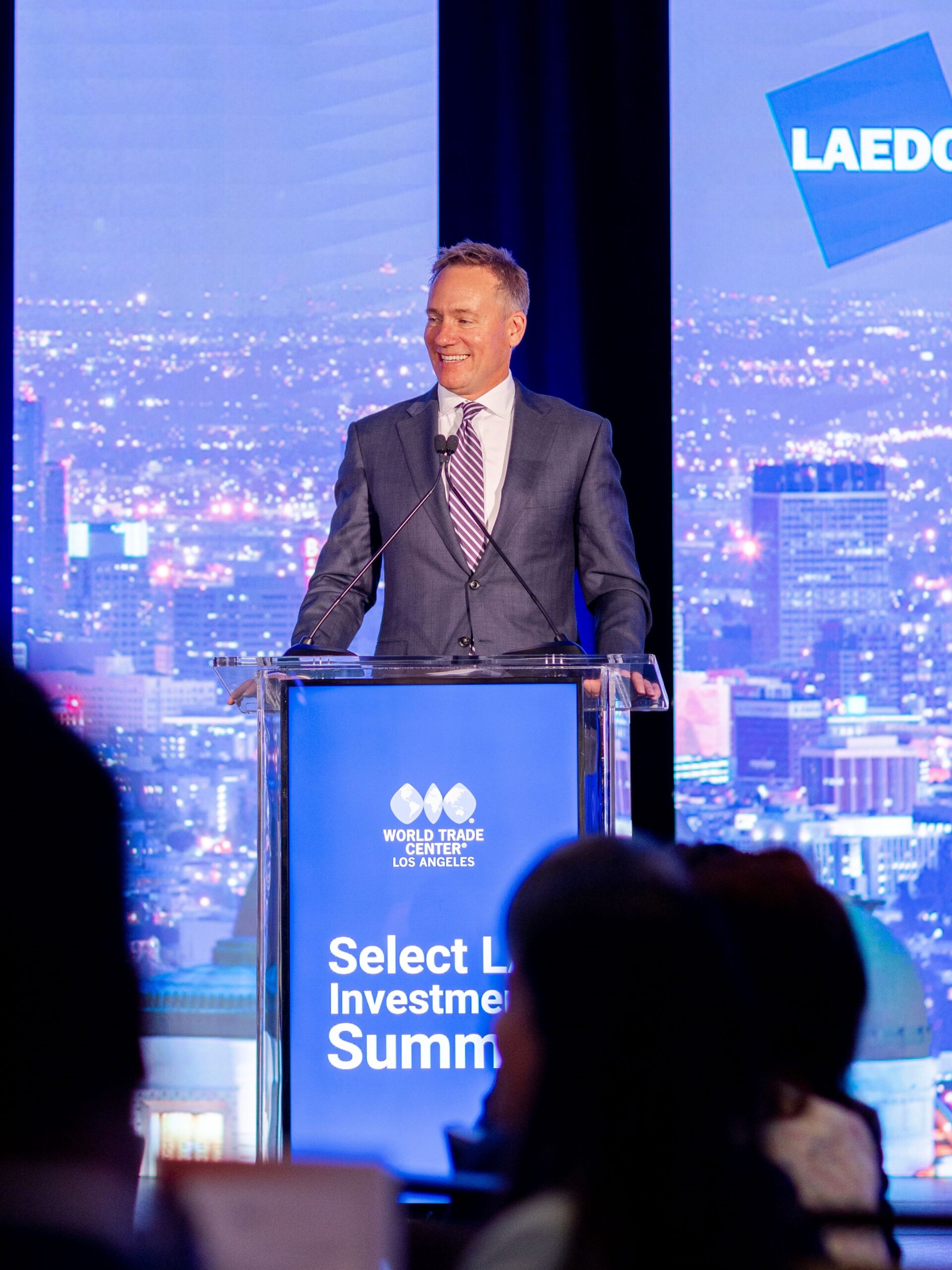 My favorite experiences as Chair this year include the many meetings and events with you all–our board, staff, members and partners – at locations that highlight our community's excellence, beauty, creativity, diversity, and resilience.  Our unique cultural museums, the LA Coliseum, SoFi Stadium, the UCLA and Loyola Marymount campuses, and buildings overlooking Disney Concert Hall and DTLA's skyline were all inspiring settings for our work together to maintain and improve our region. 
I am immensely proud of the LAEDC staff for their steadfast commitment to the organization's mission of reinventing our economy to collaboratively advance growth and prosperity for all Angelenos and those who choose to work here. 
Finally, I welcome and encourage everyone's support of Halé Behzadi as the next Chair of the LAEDC. Halé will begin her term on July 1st. Halé is the North America Head of Private Banking for Citi Global Wealth and a Private Banking Global Leadership Team member. Halé has more than three decades of experience working in her sector and leads the Private Banking activities in 25 offices across the United States and Canada. Additionally, I welcome Ron Frierson of Amazon and Efrain Escobedo of the Center for Nonprofit Management as incoming Vice Chairs of the LAEDC.  We are in exceptionally good hands.  Our region will benefit from their joint leadership combined experiences and passion. 
Sincerely,   

Steve Olson