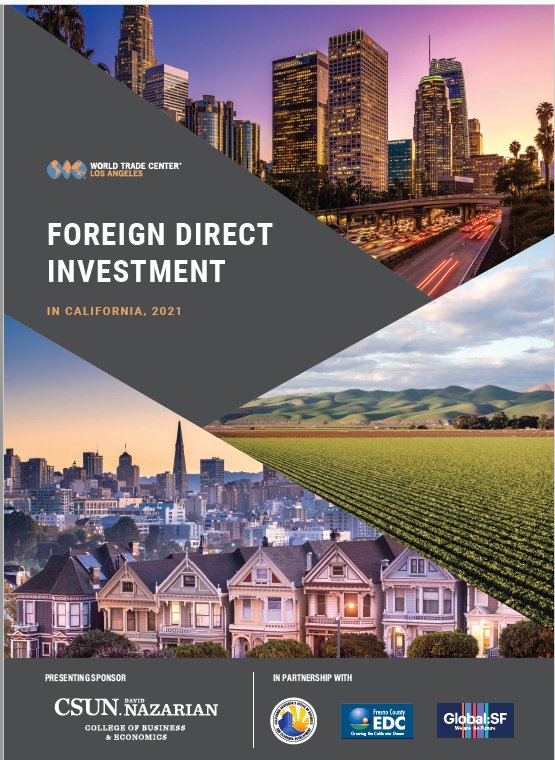 World Trade Center LA has released its 2021 report on Foreign Direct Investment (FDI) in California.
Foreign-owned firms in California employ over 700,000 workers, which is a major source of well-paying jobs for Californians.  WTCLA is focused on FDI attraction to the Greater Los Angeles region, and supports investors with good data, meetings and matchmaking to help those investments be successful, to drive even more job creation in the state.  This year's report reveals that California is the top state for FDI in the nation, although 2020 saw some pullback in global FDI due to the pandemic.  However, the long term trend is one of increasing job creation and the report provides details on industry sectors, countries of origin and regions of California including LA County.
The presentation of the 2021 Foreign Direct Investment (FDI) in California report is made possible by the support of our partners Global:SF, CSUN's David Nazarian College of Business Economics, and Governor Newsom's office.
Watch the full 60-minute webinar discussing the report, with analysis and expert perspectives below.
Media coverage
Read analysis in the 11 newspapers of SoCal News Group
Summary of the WTCLA Webinar – June 2nd, 2021
California's global connections are a powerful economic stimulus, and both international trade and foreign investment create hundreds of thousands of jobs in California.  The annual FDI report, published by WTCLA and LAEDC brings into focus the specifics of economic impact from FDI.
This year, the State of California reached out to ask us to expand the FDI report's scope to the entire state of California.  And in a special addition to this year's report, we compare FDI being invested into California with second-place Texas and third-place New York.
Much of the conversation in the webinar centered on the global economic disruption caused by COVID-19, which reduced FDI around the world, impacting California as well.  While the outlook for FDI is favorable and there is optimism about California attracting future investment, this year's report reflects a pullback in activity.  Here in the Los Angeles area, the region lost over 700,000 jobs due to the pandemic and several hundred thousand jobs are yet to be recovered to reach 2019 employment levels.  With such need to get people back to work, we must recognize the important role of jobs created through FDI and encourage these investments.
With webinar host, Mike Smith, director of international trade for WTCLA and our moderator, Stephen Cheung, president of WTCLA and COO of LAEDC, we heard from several experts, starting with Chandra Subramaniam of CSUN's David Nazarian College of Business Economics.
Chandra Subramaniam of CSUN said the pandemic's different impact on people and industries was notable.  He said that global investment was impacted but many global investors actually did well through the pandemic.  Many firms made changes to allow growth as they pivoted and found opportunity.  He indicated that we will continue to see an ebb and flow of international investment.  Businesses need to be able to operate in a continually changing world with adaptations related to "place and time," with remote work becoming an increasingly important tool.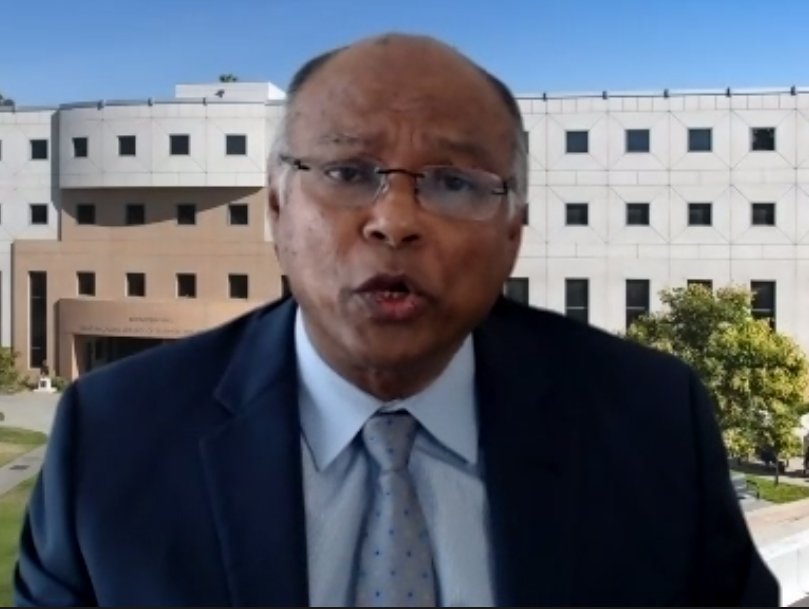 He also cautioned that tech innovation will continue to accelerate and our labor market must continue to focus on gaining technical skills, as well as an understanding of business technology, cultural agility and emphasized the importance of making additional connections.
Stephen Cheung, president of WTCLA agreed on the importance of reskilling and upskilling our workforce at this moment in time, thanked CSUN for being an integral resource to that work, and introduced the Lieutenant Governor.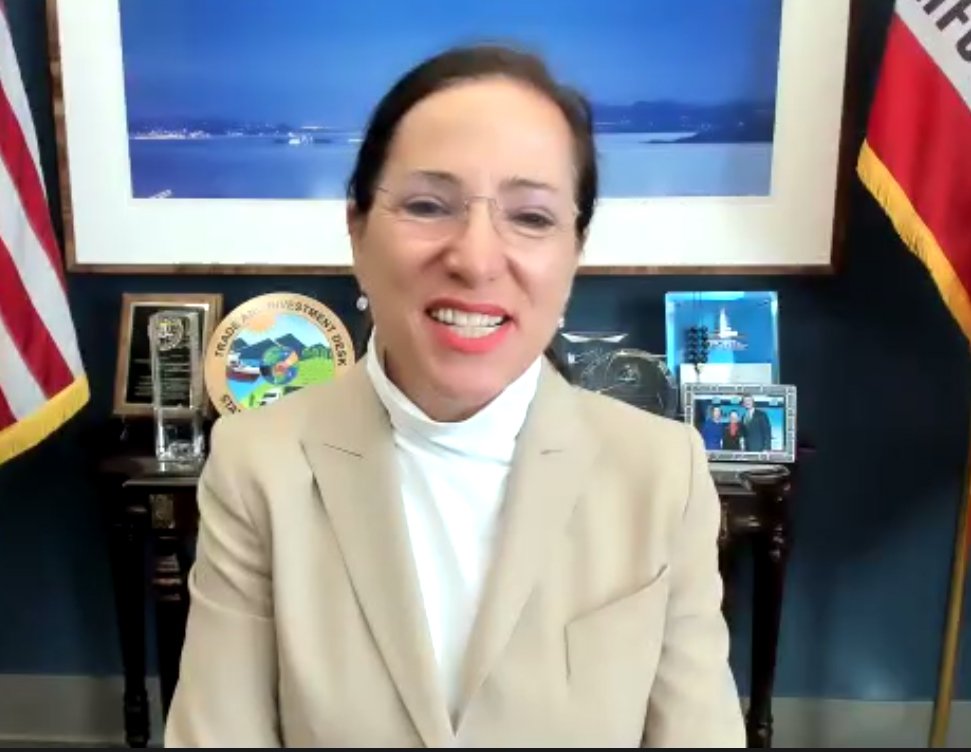 Lieutenant Governor Eleni Kounalakis opened by talking about the value of good data, such as in the FDI report.  The data collected is instrumental in attracting investment to CA.  FDI attraction is a top priority for California.  As the 5th largest economy in the world, California is deeply integrated into the global economy with successful partnerships from every corner of the globe.  In addition to attracting more FDI than any other state, we are #1 in two-way trade and a leader in manufacturing.  We did experience an overall reduction in FDI in 2020 due to the pandemic, travel was restricted which made site selection difficult, and she somberly noted many lives were lost around the world this past year.  There was a more than 40% reduction in FDI globally in 2020.
The state's reopening plan set for June 15th is a bright light at the end of the tunnel.  California is building an economy based more on environmental sustainability – with innovation driving commercial success.  The most clear example is the zero-emission vehicle (ZEVs) industry which has grown into a strong industry now, in large part due to policies enacted by the state and the strong interest from California's environmentally minded citizens.  ZEVS are now the state's #1 export, and all new vehicles sold in California will be ZEVs by 2035.  She also noted that for goods movement and supply chain resiliency, California is the place to be.  We have the logistics infrastructure.  And our state's innovative mindset is a product of our diverse global population.  She mentioned that California is the #1 global destination for venture capital deal flow.
The report shows that Japan is California's top partner, supporting 115,000 jobs paying $10 billion in wages, a historic partnership.  Also, in a year when most FDI decreased, we saw significant increases in investment in the state from Ireland and the Netherlands in 2020, targeted to renewable energy and cleantech in particular.  Those are just a few of the partners.
Select USA is coming up next week and will feature California prominently, as we continue to brand the state as the top destination in the US for FDI.  She said we have maintained and grown international connections during the pandemic.  We will continue to do this to bring high road jobs to California.  FDI will continue to be a vital part our recovery.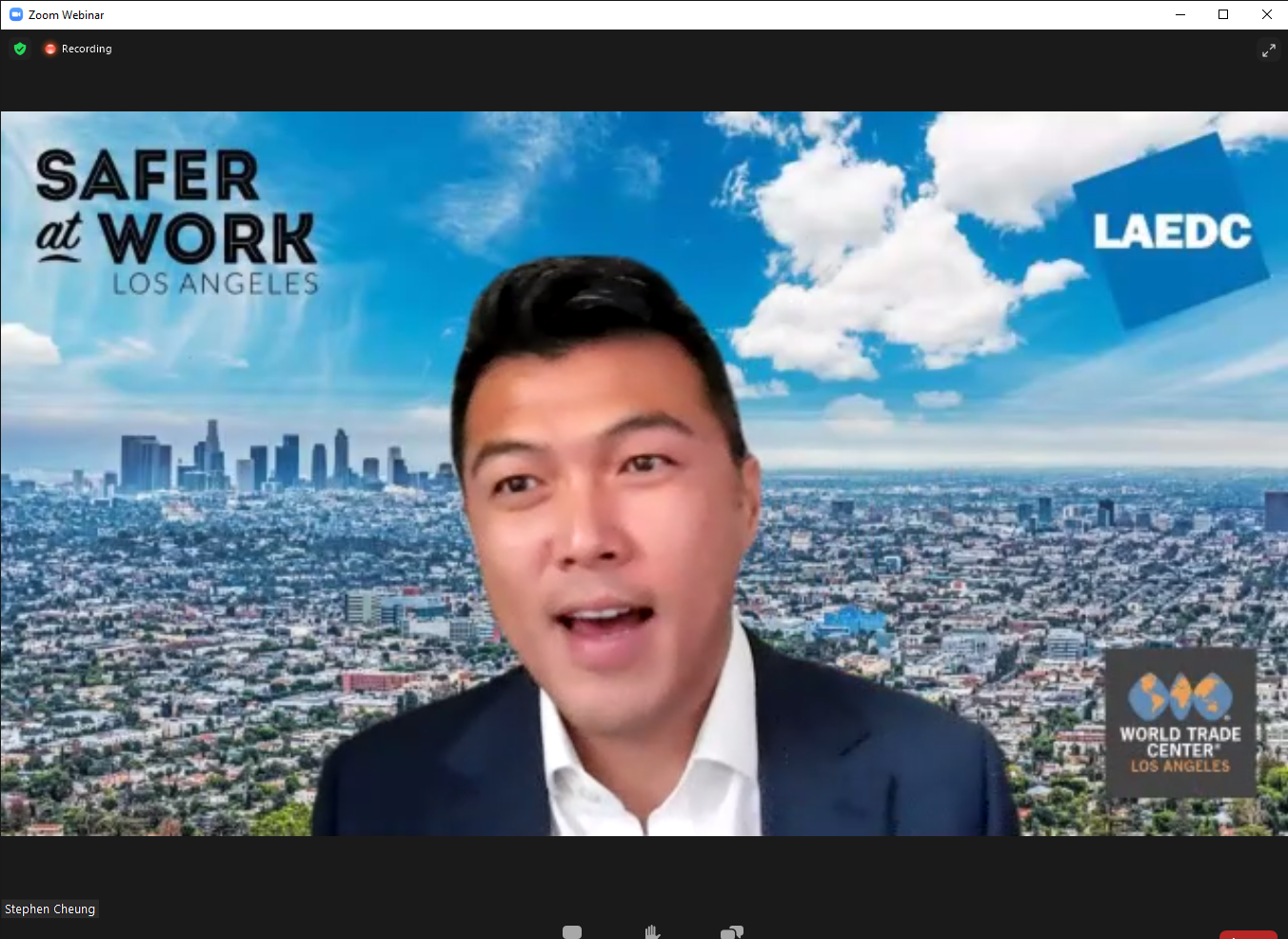 Stephen Cheung shared that LAEDC's goal is to build back an economy that is equitable, growing, sustainable and resilient, and FDI can support all those goals.  Also,  both Ireland and Netherlands opened up offices in Los Angeles this past year.
Ms. Kounalakis also commented that virtual tradeshows with various countries this past year allowed a lot of efficiencies since you can connect globally without the travel time — California did virtual tradeshows with Columbia, Chile, Mexico, Singapore, Australia and others virtually — although it is great to travel and connect in person.
Stephen Cheung asked how the state's innovation strength increases FDI, given that California was ranked #1 in Bloomberg's innovation ranking in 2020.
Ms. Kounalakis said we are innovative because of our people, 27% of whom are foreign born.  We are also the largest consumer market for new products and services.  Also, California's role as a hub for venture capital has powered many of these innovations into commercial success.  The more success we have, the more VC money that is here, and that in turn brings more companies.  She noted that Prezi is a great example — they came from Budapest to California for investment and patent protections among other things.  Compared to a state like Texas, we do need to keep an eye on competitiveness – including housing development – but 20 of the fastest growing companies are located here in CA.  Our combination of factors allow California to be the breeding ground for innovative companies.  The investment in our education system is a big part of that.  Our CSU, UC and K-12 investments are a huge part of the state's budget and it shows in terms of our talent.
Stephen Cheung thanked the Lieutenant Governor and closed this section of the event by inviting attendees to the Oct 20-21 Select LA investment Summit here in person in Los Angeles.
ECONOMIST PERSPECTIVE
Arthur Girard with LAEDC's Institute for Applied Economics shared the FDI report and offered analysis of the data.  He pointed out manufacturing is top source of FDI, and supports over 250,000 jobs in California, and worked through a series of illuminating slides (VIEW SLIDE DECK).  Japan, UK, France and Germany were the top nations for foreign-owned establishments.  He noted that California did lose some jobs and foreign-owned establishments due to the pandemic and related economic disruptions, with leisure and hospitality and several other industries taking a temporary hit.
To discuss the place-based branding of California as it pertains to FDI, Stephen Cheung welcomed Dr. Qin Sun, Assistant Professor from CSUN's Nazarian College, who collaborated on the FDI report.  She talked about "place branding," which showcases competitive advantages of a specific geography, and the relationship to FDI attraction.  California's strategic orientation and competitive advantage are reflected in the data from 2007 to 2014, which shows that California is the top state for FDI employment.  The increase in headquarters located in CA of 3.3% this past year creates attention and awareness and investors also look at California's strength in manufacturing, wholesale trade and retail trade.  She compared California's competitive advantages to the states that rank second and third for FDI (Texas and New York) and delved into details on which regions of California have competitive advantage in different industry sectors.  For more details on Dr. Sun's presentation please view the video of the event (at the 39:10 mark in the video).
Please view the video for a much more comprehensive summary of our expert guest remarks.
What FDI trends have you noticed in this past year?
Gurbax Sahota, president and CEO of CALED said the focus on "next" opportunity has helped us through this past year.
Darlene Chiu Bryant with Global:SF said that personal connections are important.  She highlighted that FDI from Mexico is increasing, based on the focused relationships we are nurturing. She offered the idea that our elected legislators can do more to consider regulation's impact on FDI.  For example, will a regulation hurt our competitive edge in a particular sector?  More guidelines and less legislation would be helpful to keep our economy strong, she indicated.
Arthur Girard:  The forecast for FDI is heavily dependent on how quickly the pandemic winds down and how federal stimulus will be directed towards recovery and production.  The outlook includes more M&A activity, particularly in healthcare and technology, and we expect growth in professional services and information industries.  We anticipate growth in FDI this year, but a full recovery will take a bit longer.
Stephen Cheung closed by stating the future is in our hands, and he thanked all the partners on the call, thanked attendees and once again reminded people that the SelectLA Investment Summit is a great way to learn about the investment opportunities in the Los Angeles region, with details on industries and connections to the partners that will help make those investments successful.
To engage with World Trade Center LA or LAEDC, please contact Michael Smith, WTCLA director of international trade: [email protected]