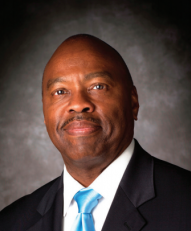 The Los Angeles County Economic Development Corporation (LAEDC) will host its annual Eddy Awards on November 7, 2019, and Los Angeles County Metropolitan Transit Authority (Metro) CEO, Phillip A. Washington, is this year's Individual Honoree. Phil has made notable business contributions which have positively impacted the development of critical infrastructure for LA County residents.
Washington, who grew up with his single mother and five sisters in a transit-deprived and polluted area of Chicago, is known for his relentless approach to conscious leadership exhibited by his 25 years of service in the US military; extending the social perimeter of diversity, equality and inclusion; creating opportunities for members of the community to access education and specialized jobs, which can further develop the transportation ecosystem.
"The need to rebuild infrastructure in this country is very important, and we need a qualified workforce. I'm excited about transforming communities through transportation investment, and I'm motivated about maintaining an equity framework, which can assess the impact to the poorest of our people. Transparency empowers people," the business leader said in an interview with the LAEDC. Phil is no stranger to the challenges of exercising good leadership and encouraging community integration to foster professional relationships.
Mr. Washington's legacy extends over three decades, advocating for extraordinary efforts to provide our city with enhanced transportation solutions for all. He will share LAEDC Eddy Awards' accolade's spotlight with Citi, the Corporate Honoree, and California State University Dominguez Hills, the Education Honoree. The Eddy Awards celebrate exceptional contributions to economic development in the L.A. region, consistent with LAEDC's focus on increasing shared prosperity for our residents and communities.