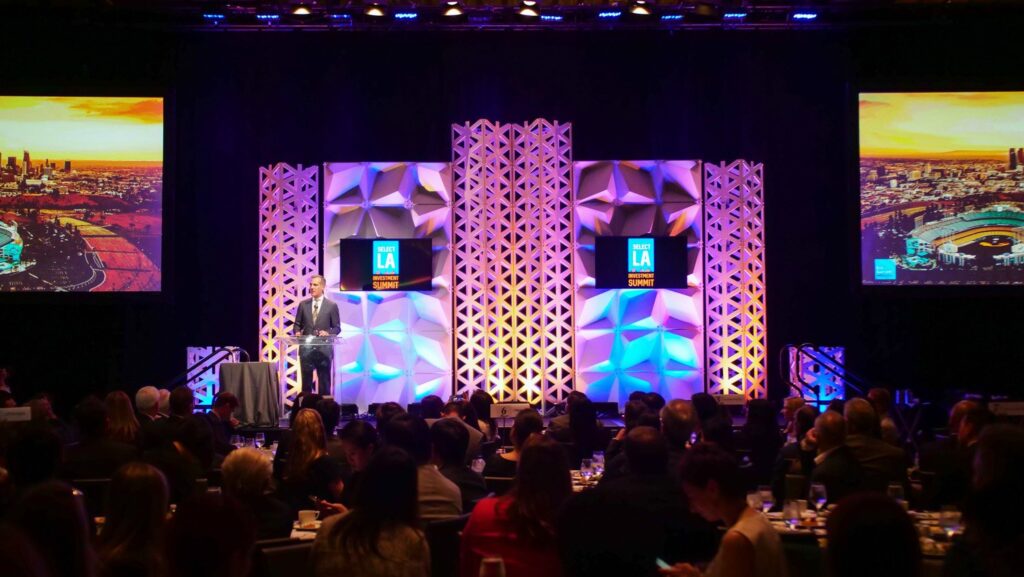 Global trade tensions didn't dampen investor interest; in fact California's pro-trade and pro-foreign investment environment were highlighted in contrast to federal policies at the 2019 Select LA Investment Summit.  This fifth year of the conference saw attendance slightly higher than prior years, with representation from 27 countries and territories including large delegations from Auckland, New Zealand and Beijing, China.  There was also strong participation by government officials, which included City of LA Mayor Eric Garcetti, LA County Supervisors Hilda Solis, Mark Ridley-Thomas and Kathryn Barger, the top economic advisor to California Governor Newsom, Lenny Mendonca and other great speakers.  The summit provided international and local companies with an understanding of the region's investment ecosystem with actionable insights to guide key business decisions, and helped attendees develop relationships to move investments and projects forward.
Lenny Mendonca addressed the current international situation directly, by saying, "We need to ensure that the World stays connected and we have friendly and collaborative relationships with our best partners around the world." He added, "California benefits enormously when we have a free flow of ideas and culture and exchanges…California has an open and outreached hand."  He also reaffirmed the State's commitment to international trade and investment in California, and pointed out that Lt Governor Eleni Kounalakis' appointment as chair of International Trade Committee is another sign of how much emphasis California places on global connectedness, recalling her prior role as US Ambassador.
As the conference started, the first plenary session on LA's upcoming mega-events set the stage for discussion of many opportunities in LA, especially in light of the coming 2028 Olympics and the related new stadium construction surrounded by live-work-play developments, new transportation projects, and related infrastructure.  This discussion revealed opportunities in several related industries.  The phenomenon of Esports was also discussed because this aspect of the gaming market is driving attendance, innovation and big investment in a whole new sphere of large venue events.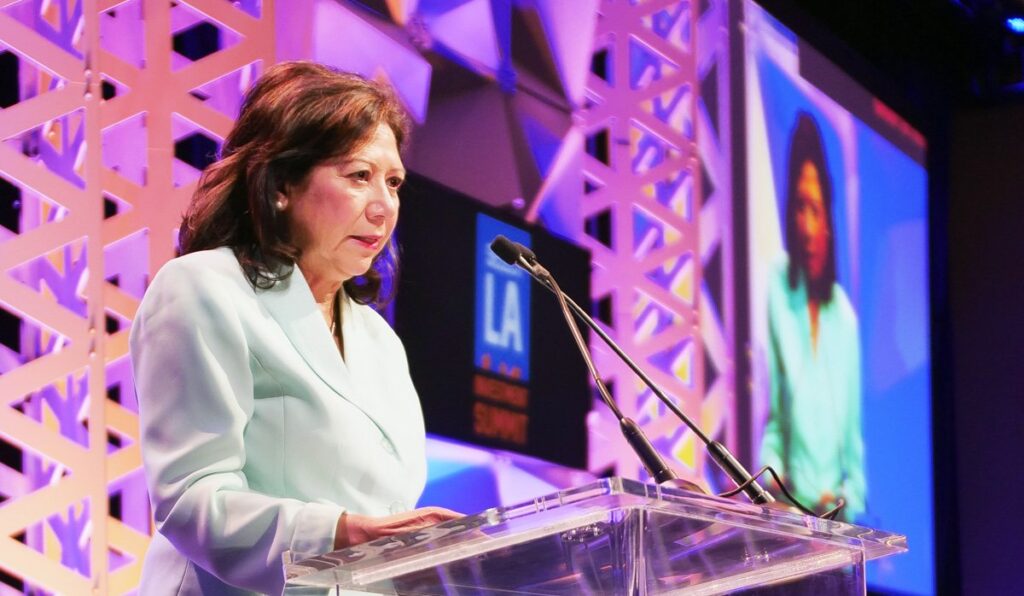 Two major new reports were presented at the Summit, including the annual update to the FDI in Southern California report, and a new report FDI in the City of LA, which quantifies the local and positive jobs and investment impact from foreign-owned establishments.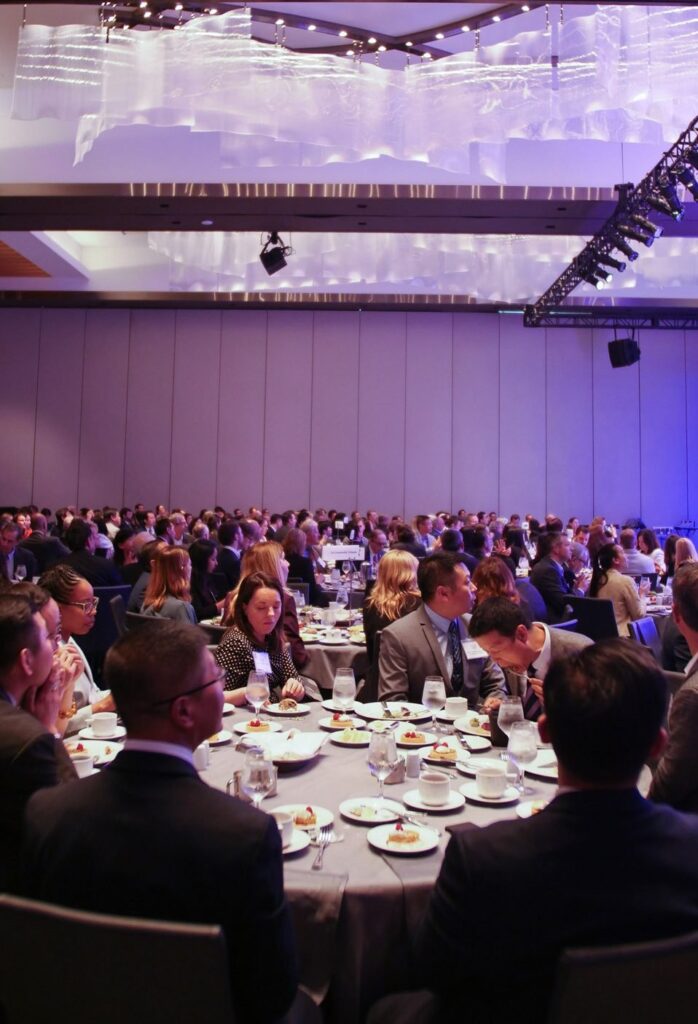 Several sessions explored industries which present investment opportunity, such as the mobility sector.  LA both needs innovative solutions to transportation, and is an innovator, with many startups building new models of mobility, in terms of apps, zero-emissions rideshare, scooters, bikes, hyperloop concepts, autonomous technologies and much more.  Additional topics at the summit included VC funding of the tech industry in LA, and the AI and big data industries in Los Angeles.
Select LA kicked off the prior evening, June 5th, with a lively evening mixer on the backlot of Warner Bros studios in Burbank, where great connections happened, thanks to our opening reception host Warner Bros.  The main full-day conference was conducted at the Intercontinental Hotel, an appropriate location considering the building was recently completed thanks to a $1.3 billion investment from South Korea.
The closing reception was graciously hosted at the residence of the Consulate General of Canada in Los Angeles, which also partnered with LAEDC to release a new report on Canada's close economic ties to Southern California.
We hope to see you in June 2020, when Select LA Investment Summit continues for a sixth year.
| | |
| --- | --- |
| Opening reception on the backlot of Warner Bros. movie studio | Attendees developed new relationship and discussed investment projects |
| WTCLA president Stephen Cheung welcomes international delegates | Closing reception at Canadian Consulate General's residence |
For information about sponsorship or attending, please contact Mike Smith, International Trade Director for WTCLA, by emailing [email protected] or calling 213-236-4883.
LAEDC and WTCLA thank all the sponsors which made this event possible!
| | |
| --- | --- |
| SPONSORS |   |
| City National Bank | Presenting Sponsor |
| American Airlines | Summit Sponsor |
| JP Morgan Chase | Presenting Sponsor |
| O'Melveny | Presenting Sponsor |
| JERDE | Premier Sponsor |
| Green Law Maple Group | Premier Sponsor |
| USC Marshall School | Premier Sponsor |
| Thimbelty LLC | Premier Sponsor |
| DWF | Premier Sponsor |
| EXHIBITORS |   |
| Port of Long Beach | |
| Economic Development Department, City of Long Beach | |
| Arent Fox | |
| Gree | |
| Elavare (+ 4 tix @ $250) | |
| SCVEDC | |
| GPSLA | |
| Cathay Bank | |
| Clifton, Larson, Allen LLP | |
| Riverside County EDA | |
| Mott McDonald | |
| CSUN | |
| Los Angeles Sports and Entertinament District | |
| Faraday Future | |
| D'Alessio Law Group | |
| LAEDC BAP | |
| Akerman LLP | |
| Hong Kong Trade and Development Council | |
| Optimum Seismic | |
| NON-PROFIT PARTNERS | |
| Loyola Marymount University | |
| Arizona State University | |
| Southern California Association of Governments | |