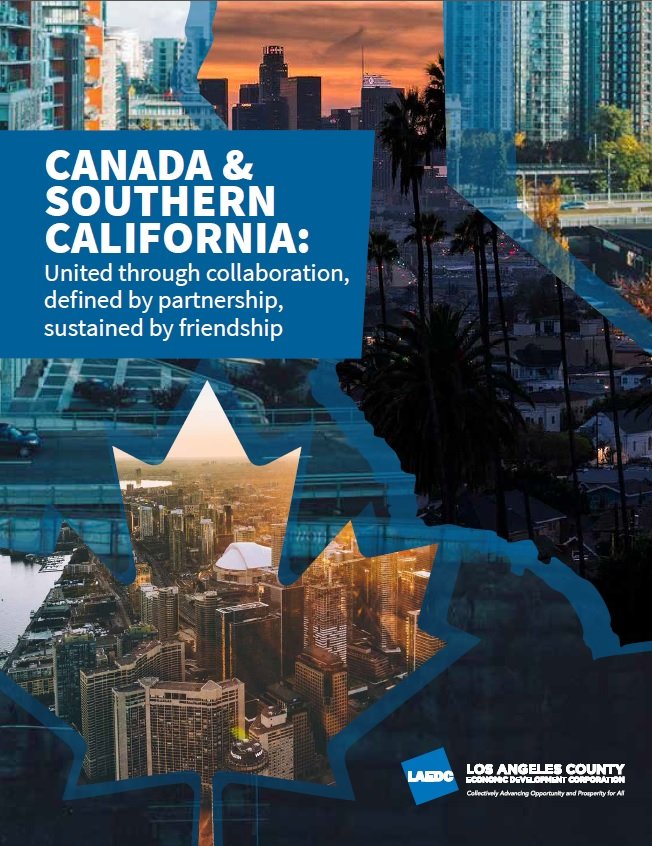 Happy Canada Day, one and all.  A new report is now available that highlights the strong connections between our friends to the north and Southern California, including Foreign Direct Investment (FDI), two way trade, cultural ties and more.  The report, CANADA & SOUTHERN CALIFORNIA: United through collaboration, defined by partnership, sustained by friendship,  was produced by LAEDC in partnership with the Consulate General of Canada in Los Angeles, which sponsored the report, with additional support from MAPLE Business Council.
The report finds that Canada is an essential economic partner in many regards.  Canada ranks #2 in two-way trade with Southern California, and is California's top international agricultural market.  California's computer product exports to Canada are quite significant, and our imports of transportation equipment (including heavy vehicles) from Canada are also quite significant.  There are close cross-border ties in the entertainment industry.  Canadian tourism is huge for L.A.  And, as it turns out, there are more Canadians living in Southern California than anywhere else in the United States, which may be one unfortunate reason the Toronto Raptors felt at ease playing the Golden State Warriors in the NBA Finals.  (Booo!)  All kidding aside, Canadians and Southern Californians get along famously well, and this report reveals some of the numbers describing our close economic relationship.
Read the report HERE. 
View a one-sheet overview of quick facts HERE.