How Mark Suster's Passion and Talent Help Power Our Regional Economy
Follow Mark Suster on Twitter: @msuster

LAEDC is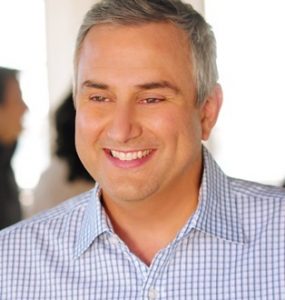 proud to recognize Mark Suster, Managing Partner of Upfront Ventures, as our Individual Honoree for this year's Eddy Awards. A two-time entrepreneur turned venture capitalist, Mark's extensive experience in leading investments that include MakeSpace, uBeam, mitu, Osmo, and Maker Studios (acquired by Disney in 2015) has significantly guided budding entrepreneurs through L.A.'s VC market.
Currently, Los Angeles ranks as the third-largest market for venture capital investment in the United States, with approximately $4.2 billion invested in 2016 alone. Not only are capital commitments increasing at a rapid pace, but the region has also proven to be a hub for investors to achieve real returns. In June 2017, Upfront Ventures secured $400 million for its sixth fund which brought the firm's total assets under management to $2 billion.
As Mark manages the largest and most active early-stage fund ever raised in the region, he has become a key player in the development of L.A.'s tech scene by concentrating about half of his investments in the local area. In efforts to promote and support L.A.'s burgeoning ecosystem of strong startup companies, roughly 45 percent of the capital from the new fund will likely be distributed in L.A. and parts of Southern California.
Over time, Mark has also continued to be one of the most influential voices in the industry. While Mark oversees L.A.'s largest venture capital firm, he also wields impressive clout via his popular blog Both Sides of the Table and startup advice platform Snapstorms. As part of a small handful of VC bloggers, Mark consistently provides excellent resources for entrepreneurs on raising angel funding, shares helpful insights on the early trials of startups, and drives the conversation around prominent issues in the industry.
Mark's unique perspectives provide continual reminders that fostering innovative growth is important for building and nurturing our growing economy and workforce. In a city with the nexus of its signature aerospace and entertainment industries, the development of L.A.'s high tech sector is critical to driving prosperity, jobs and innovation. In the face of globalization, strengthening our city's startup communities will allow us to continually compete in today's global economy.
Please join us in honoring Mark at our Eddy Awards on November 9th, 2017. This is LAEDC's only annual fundraiser in which we celebrate exceptional public and private leadership in LA County economic development and recognize honorees, like Mark, that demonstrate outstanding contributions to economic development in the region. Through your support, LAEDC's work in advancing opportunity and prosperity for all is made possible.
Read more details about the Eddy Awards here.