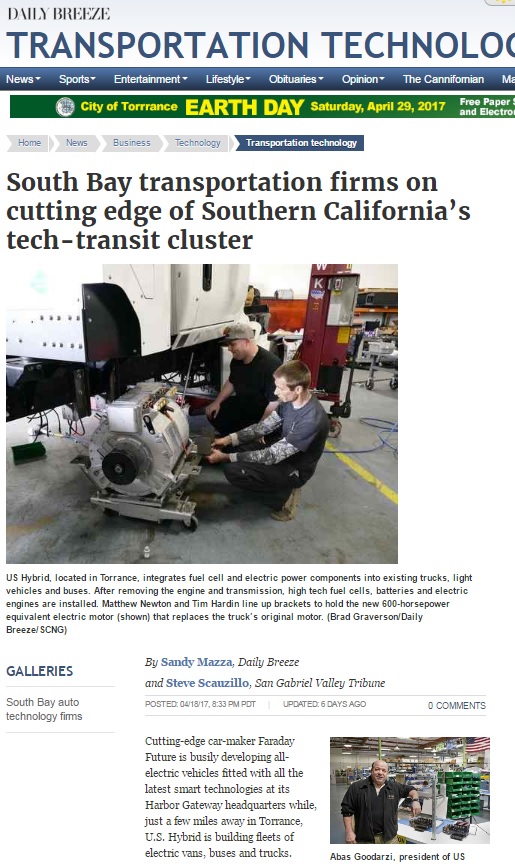 LAEDC's work fostering growth of the Advanced Transportation industry cluster is recognized in two lengthy articles in SoCal News Group's 11 newspapers.  The articles describe electric, autonomous, and new concepts in transportation like Hyperloop, which are driving significant economic activity and R&D in the Los Angeles region, creating good jobs.  Those who are participating in the growth of the industry are encouraged to join LAEDC's e4 Alliance, an industry council dedicated to fostering growth of Advanced Transportation in our region.  Work includes public policy advocacy, matchmaking, and various forms of business assistance to help talented workers and promising new companies succeed here in Southern California and LA County.  The article also mentioned Honda Motor Company's innovation in our region.
On 4/17/17 KNX AM news radio also provided coverage of LAEDC's work in this industry cluster.
Below is the alternate version of the article, by reporter Steve Scauzillo.
Mobility: the new space race
When the space race faded and the Cold War cooled, that signaled the beginning of the end of Southern California's aerospace industry.
But the decline of that once dominant industry opened up opportunities for others in need of high-skilled help. Tens of thousands of new jobs might now need to be filled as part of a loosely knit cluster of companies in what's known as the advanced-transportation technology sector.
In other words, the electric-vehicle jobs boom is on.
A record six companies are manufacturing electric buses in Southern California. Others are making electric cars, or EV components. Some are farming out production, but hiring the brains: civil, electrical and software engineers laid off from aerospace companies, as well as designers, analysts and human relations managers. They are part of a tech-and-transit boom popping up in places such as Santa Monica, West Los Angeles and the South Bay — otherwise now known as "Silicon Beach" — downtown Los Angeles, Orange County, the San Gabriel Valley and the Inland Empire.
"We have a highly developed aerospace ecosystem of supplier talent in research and development," explained Michael Boehm, director of the Advanced Transportation Center of Southern California. "We are borrowing on what they spent five decades getting established," he said.
Because these companies crisscross established economic categories, quantifying new advanced transportation jobs is a difficult task, said Lawren Markle, director of public relations for the center and its parent, the Los Angeles County Economic Development Corp. The center has offices in the L.A. Arts District, UC Irvine Innovation Center and in San Diego County.
"It's a new industry cluster," Markle explained. "It's actual manufacturers, suppliers, engineering firms, computer companies. The goal is to make L.A. an advanced transportation center. We look at ourselves as the glue that connects this industry sector together."
JOBS CROSS MANY CATEGORIES
Manufacturing jobs in the United States currently employ 12,392,000 people, according to data released Thursday by the Bureau of Labor Statistics. That is the most people working in manufacturing jobs in the U.S. since January 2009.
An LAEDC jobs report from 2016 seems to back up claims that advanced transportation is growing in California. The report shows:
Jobs in the manufacturing of durable goods in California dropped from 966,100 in 2004 to 810,600 in 2014. But the downward trend stopped and job numbers remained constant from 2011 to 2014, according to the report.
Advanced transportation jobs moving into Southern California stopped the bleeding, Markle said. Transportation and utilities jobs in California increased, from 482,800 in 2004 to 554,000 in 2015.
In Riverside and San Bernardino counties, transportation jobs rose during the same time, as well. While manufacturing of durable goods fell, they increased in the I.E. in 2014 and 2015. And manufacturing jobs in the area in general rose as well during those two years, the last years that employment data were made available.
Under "advanced technology firms," the number of computer system and design service companies climbed in 2014 to 28,864 in Los Angeles County, the highest in 10 years. Software publishers increased from 5,072 in 2004 to 6,118 in 2014, the highest in 10 years except for 2007.
"Absolutely we are bringing in new companies," Boehm said, estimating there are up to 100,000 jobs in Southern California under the advanced transportation technology umbrella. "They are all well-paying, skilled jobs."
NEW, GREEN AND TECH-FRIENDLY
Most of the evidence is anecdotal, Boehm and Markle admit. But they've watched new companies enter the market and grow exponentially for nearly a decade.
For example, two hyperloop companies exist in L.A., both attempting to build the technology to move people at 750 miles per hour inside a tube. Those two companies are Hyperloop One on Bay Street in Los Angeles, and Hyperloop Transportation Technologies in Culver City.
Drone delivery systems for packages and autonomous vehicles are some of the other futuristic transit products being researched and possibly manufactured by Southern California companies, Markle said. Also, L.A. is home to 20 automotive design studios, with transportation companies partnering with universities such as UCLA and Art Center College of Design in Pasadena.
Of the six electric bus companies — BYD in Lancaster, Proterra in City of Industry, EBus in Downey, Trams International in Bell Gardens, Complete Coachworks in Riverside and U.S. Hybrid Corp. in Torrance — some are exporting their goods.
Proterra has a deal to sell 120 electric buses to Seattle's transit agency. U.S. Hybrid is selling heavy-duty hybrid street sweepers made in Torrance to New York City. BYD is talking with cities in Latin America, Boehm said.
"They are starting to generate secondary markets by starting to go outside the region, even outside the United States," Boehm said. "Seattle and Portland come shopping (in Southern California) quite often."
EV Connect CEO Jordan Ramer said his company has doubled its revenue each year. Based in El Segundo, part of Silicon Beach, a coastal area known for the grouping of high-tech companies, EV Connect provides the software to manage power loads and set pricing for electric-charging stations in shopping centers and public lots. One of their biggest contracts is with the Los Angeles County Metropolitan Transportation Authority (LA Metro), which has installed EV Connect chargers at nearly every train station in L.A. County.
"There are a lot of opportunities (for growth), lots of good universities and plus, L.A. is the largest car market," he said. The LAEDC reports there are more hybrid-electric plug-in vehicles in the Los Angeles-Riverside area than anywhere else in the country, about 379,740.
NEXT JOB WAVE: DRIVERLESS VEHICLES
The Advanced Transportation Center hopes to catch the next wave in this new sector: self-driving vehicles. The group has asked the state Department of Motor Vehicles for rules to allow companies to test autonomous vehicles. They were joined by the cities of Santa Monica, Los Angeles and Irvine, Boehm said. Other cities in the South Bay and the Westside are warming to the idea, he said.
"By funding infrastructure, these cities can attract some jobs for people piloting their demonstrations," he said.
Former aerospace workers are a good fit in this industry — rockets and space probes must function autonomously, Boehm noted.
Some are testing automated trucks that drive themselves down the freeway from the ports of L.A. and Long Beach in a convoy, talking to each other via computer sensors.
While unions are concerned that automated vehicles will reduce the number of trucker jobs, Markle said the center is trying to stay ahead of the curve.
"We see a lot of jobs lost from trucks or driverless cars. But we also think we can create better paying jobs from the design of these systems," Markle said. "We can sit back and let it happen to us, or we can help this industry create jobs, good jobs."
MANUFACTURING: A TOUGH ROAD
The group started in 2010 and by 2013, with a $3 million grant from the California Energy Commission, started to attract environmentally green transit companies to Southern California cities where aerospace companies once existed. Today it has about 1,500 members.
One of those members is Abas Goodarzi, president and CEO of U.S. Hybrid, a company that builds the drive trains and motors for electric vans, buses and heavy-duty fleet trucks. The large company has operated a plant in Torrance since 1999, where it employs 56 workers.
Keeping manufacturing in Southern California has been a struggle, Goodarzi said. He has received solicitations to relocate to Nevada and Texas where taxes are lower, he said.
He wants to see the state environmental agencies, such as the California Air Resources Board and the South Coast Air Quality Management District, reward California companies with contracts for delivering cleaner and zero-emission vehicles that will help clean up L.A. smog.
He said he will keep the Torrance plant open, but the company will expand manufacturing in other states, where labor and other costs are cheaper.
AIR QUALITY DRIVING TECHNOLOGY
Matt Miyasato, deputy executive officer for science and technology advancement for the SCAQMD, said a major portion of its newly adopted clean air plan requires making diesel trucks and gasoline cars much less polluting. The plan calls for a 45 percent reduction in nitrogen oxides emissions from trucks and buses, he said.
Companies that are developing battery technology, making electric drive trains and the like are critical to Southern California meeting clean air standards for ozone and nitrogen oxides, main components of smog.
The air district is also relying on Cummins Westport to deliver a much cleaner diesel engine for heavy-duty trucks.
The SCAQMD has a vested interest in keeping these companies local, so their scientists can lend their expertise and test products for emissions.
"For our constituents, we prefer to have manufacturing close by, that way you are not getting delivery emissions," Miyasato said. "Plus, it helps our local economy."
LOW-VOLUME MANUFACTURING
Los Angeles may not be suited for large-scale manufacturing plants and that's OK, Boehm said. His team hopes Southern California can corner the advanced transportation market for companies making components and for smaller green companies that employ former aerospace engineers and designers to do blueprints.
Low-volume manufacturing, such as makers of electric chargers or electric vehicles that move goods at the ports emission-free instead of using heavy-polluting diesel, are good fits in Southern California, Boehm said.
Even small electric car companies are setting up shop locally.
Faraday Future in Gardena has hired more than 200 engineers and managers, some from Tesla, the electric car company, and some from aerospace firms as well as NASA and the Jet Propulsion Laboratory in La Cañada Flintridge. "They are designing the whole vehicle," Boehm said.
Ramer of EV Connect has witnessed green transportation and high-tech companies moving into Silicon Beach during the seven years his company has been located there.
"It is always good when there is an accumulation of companies," he said. "That way you have talent coming in, capital coming here. If you are on your own, it is always harder."