LAEDC hosted a Regional Economic Development (RED) Talk with Dollar Shave Club's CEO and Founder, Michael Dubin. This event was attended by dozens of entrepreneurs, business owners and innovators from throughout LA County. One of the businesses with representatives in attendance was Vroozi, a local startup whose CSO and Co-Founder, Shaz Khan, was kind enough to share more information about Vroozi and his entrepreneurial journey in LA.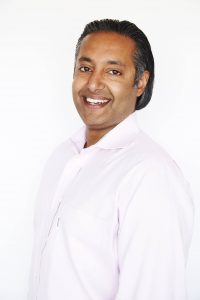 Q: Simplify for us what Vroozi does? Walk us through the narrative for how and why Vroozi came to be.
A: Vroozi provides a 'mobile-first' purchasing and spend-management platform, which provides companies with a simple and intuitive interface to purchase products and services for their business needs. From ordering camera equipment and catering services on a production set to allowing a supplier to check the payment status of an invoice, Vroozi focuses on automating and digitizing the entire business-to-business purchase-to-payment (P2P) process.
The concept for Vroozi formed after leading an implementation of a big-box ERP procurement system for a large utility in 2007. After long nights of systems coding, testing and drafting forty page training manuals on how to order a stapler for the supply closet, I went back to a local restaurant and started penning the tenets for what would become Vroozi.  The interfaces should be intuitive and consumer-like (Amazon, Best Buy, etc.), the platform should provide a customizable business and workflow rules engine with no coding, and employees should be able to register, log in and order a stapler without any training. Vroozi formally launched in 2012 to bring these principles to the market.
Q: Silicon Beach has become the dominant term to describe the breadth of innovation happening throughout Los Angeles. You're based in Sherman Oaks, in the San Fernando Valley. What led you to set up shop there and what can you say about the entrepreneurship climate taking place in the "valley"?
A: Much love to Silicon Beach (a lot of great new ideas and companies are coming out of the area), however, there is a wealth of talent and promising companies launching all over Southern California — from Downtown LA to Pasadena to the San Fernando Valley.  We chose Sherman Oaks for our offices, as it provides close proximity to major freeways and airports (we have a group of folks that commute on a biweekly basis from different parts of the US) and there is a great walkability factor around our office from fitness centers, restaurants, bars and retail, and great hiking trails five minutes away.
Most importantly, we chose Sherman Oaks for the tremendous pool of talent.  Most of our employees live within 15 miles from the office and we are fortunate to have a great group of folks who contribute to the growth and vision of the company.  The entrepreneurship climate is gaining momentum in the Valley, and we expect to see more investment in this area in terms of collaborative work spaces, design studios, and of course, the proverbial industrial coffee houses.
Q: A focal point of your business success and market leadership is through continuous innovation. What is the climate like for innovative technologies in the procurement process and how does Vroozi adapt to this changing nature while making sure it's customers are adquatelty and successfully, leveraging such changes across your various platforms?
A: Procurement is a function that has largely been viewed as one of those staid 'back office' functions that is not core to a company's organizational charter.   This has rapidly changed over the last five years, as procurement and finance have become areas for innovation and automation, yielding solid and measurable results and cost savings.
It is still surprising how many companies today run procurement transactions on paper and spreadsheets (or worse, using legacy or homegrown technology systems) that force employees into a corner.  Companies and their employees are demanding easier platforms and applications to perform their job functions more easily and efficiently, and we are finding great demand for our technology as a result.
While Fintech has received a lot of attention with innovations in financial transaction management and payments, Vroozi is spearheading the SpendTech movement to capture 100% of company spend.
Q: What pain points exist that Vroozi hopes to address in the coming year? Would you be able to provide a few examples across industry?
A: Despite advances in process automation in core business functions (such as HR employee onboarding and CRM sales orders), it is still cost prohibitive for companies to roll out purchasing software to every employee. Vroozi's philosophy is that every employee should be able to initiate a purchase request for any type of item or service.  Companies can invite all employees to use the Vroozi platform and electronically request and track purchase orders, yielding immediate benefits and efficiencies for companies.
A recent example is with one of our large Aerospace and Defense clients. Instead of provisioning expensive eProcurement licenses to employees with their existing financial systems, the organization rolled out Vroozi to all their employees in various sectors to reduce paper and allow them to request promotional items from the company store, as well as industrial parts for electronic components.
Q: Protecting vasts amount of data and personal information has never been more serious for an organization. We've seen widespread data breaches with severe repercussions. As Chief Strategy Officer, what steps and processes does Vroozi utilize to combat the cyber threat?
A: Vroozi invests heavily in protecting and strengthening our infrastructure and technology against potential security breaches and cyber attacks. We focus on two areas: fortification of infrastructure and software, and continuous employee training.  Every employee is required to go through compliance and security training which covers topics as what to do in the event of hardware theft to password change protocols. We also have received and retained certifications from established groups such as Plynt (which specializes in vulnerability and penetration testing) of our entire software platform.  As a Cloud provider, if these two things are not in your purview at a minimum today, make sure to implement them immediately.
Q: Where do you see opportunities for workforce development in your industry?
A: I'm excited to see video collaboration and remote workforce management become big areas for innovation, as corporate real estate continues to remain tight, and more organizations are providing remote work capabilities and options to their employees.   Employees need to be able to get work completed at a high level regardless of timezones, work office location, and geography. By providing more mobile capabilities, Vroozi is providing employees a platform where they can execute transactions and view mission-critical operational spend data at any time.
Another fast area of growth is the 'push' of information to employees.  Machine learning and AI advancements provide the capability for predictive purchasing and product recommendations where employees can receive better information on goods and services as well as alternative products.
Q: Forecasting the next 5 years, what economic impact do you see Vroozi playing in the procurement process?
A: We look at procurement as the central banking authority in a company managing thousands of  transactions and the flow of money daily. Companies need to gain visibility in spend activities not on a weekly or monthly basis, but on a 'right now' basis. Procurement departments can make real-time adjustments to procurement policies based on spend patterns, IT personnel can find energy equipment to help lower the carbon footprint and energy consumption, and Finance teams can optimize payment processing costs by automating the entire request to payment cycle.
The approach to procurement automation has to be holistic to see quantifiable results in cost savings, and most importantly, employee happiness.