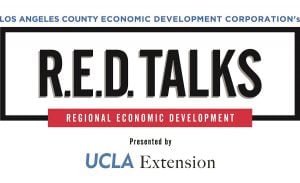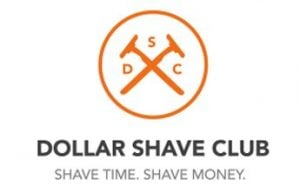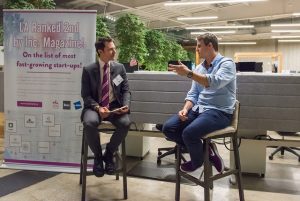 "The open-mindedness of  Los Angeles..the why not perspective instead of  the antithesis.."Michael Dubin, Dollar Shave Club CEO on the intangibles of recruiting talent in L.A. compared to other cities
Last Tuesday, November 15,  the LAEDC held its R.E.D. Talks on the campus of Dollar Shave Club in Marina del Rey. The spirited fireside chat between CEO and founder of Dollar Shave Club, Michael Dubin and the LAEDC's Center for Innovation Director, Chris Rico, elicited profound lessons for entrepreneurs and notable leadership qualities that many in the audience were able to takeaway and utilize in their own profession. Michael spoke in depth about the origins of Dollar Shave Club. Stemming from a holiday party conversation that just happened to meander to the absurd cost of buying mens razor blades, Michael explained how he was able to establish Dollar Shave Club and position it alongside name brands, Gillette and Schick.
"Building a business is grueling…it's emotionally gut-wrenching" CEO / Founder of Dollar Shave Club, Michael Dubin
One of the defining moments of Dollar Shave Club in how it grew to become a household name and how it was able to define its brand identity, was it's infamous, comedic video which debuted in 2012. This tongue in cheek video and its overt message directed towards customers paying a ridiculous amount of money for name brand razors and disposable razor blades, indirectly points the finger at market leaders Gillette and Schick. This video became the opening salvo for Dollar Shave Club to seize an untapped market for direct-mail razor subscriptions at an unbeatable price, leading the company to become one of Los Angeles' most valuable startup's.

Michael took many questions from an audience eager to drill down on the present and future of Dollar Shave Club especially since its reported $1 billion acquisition by Unilever. The full video of the fireside chat and audience Q & A can be found here: R.E.D. Talks With Dollar Shave Club
Event photos can be found here: http://bit.ly/2finaNM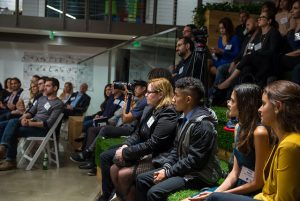 A  special thanks to R.E.D. Talks series sponsor UCLA Extension whose incredible array of course offerings were put on display as Michael was asked to choose from 5 UCLA Extension courses he would enroll in if given the opportunity. His choices were the following:
How Chocolate Conquered the World, Part I
The Art of Florence, Venice, and Rome: A Sampler of Italian Art and Culture
Photographing Architecture and Interiors
A Class of Beer: An Overview of the Craft Brewing Renaissance
Mathematics for Management
Michael enthusiastically chose both Photographing Architecture and Interiors and Mathematics for Management.
---
The goal of LAEDC's R.E.D. Talks is to first, shed light on regional economic development by leading innovators and entrepreneurs and second, to expand on the role that the business community can play in securing a sound future for L.A. County, one of the world's most vital economic powerhouses.
Keep up-to date with all of LAEDC's calendar of events at: LAEDC Events