Throughout L.A. County, legendary mild and beautiful weather allows a year-round outdoor lifestyle.  Residents enjoy miles of beaches, local mountains, music, sports, and unlimited entertainment and cultural choices.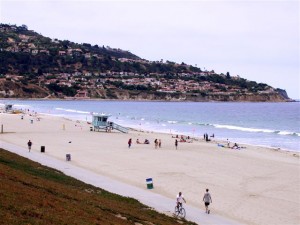 Ranked as the second-safest big city in America, and with an incredibly diverse population, L.A. County, is not only a great region for your business to thrive, it's a great place for you to thrive.
The Regions
L.A. County spans more than 4,000 square miles of diverse geography from snow-capped mountain ranges to the sunny shores of the Pacific Ocean.  Distinct regions of L.A. County offer unique characteristics and attributes ranging from quaint small town charm to the bustling cityscapes of downtown L.A.  The County is comprised of 88 cities and more than 100 unincorporated communities – each offering an abundance of activities to experience and enjoy.  Learn more about the regions
Education
L.A. County is a major center for higher education. There are 120 institutions of higher education in the County, including anchor institutions like Caltech, UCLA and USC.  Five Cal State universities are in the county, numerous community college districts, and many other highly regarded schools including the Claremont Colleges, Occidental College, Pepperdine and more. There are also specialized institutions which offer an array of programs, including computer assisted design and manufacturing, computer animation, apparel design, and culinary arts. In addition to its varied institutions of higher learning, L.A. County is home to some of the most prestigious centers for the arts including the Art Center College of Design, the Colburn School of Performing Arts, Otis College of Design, and the California Institute of the Arts.
Higher education is not the only place where students learn in L.A. County, as its K-12 school system further contributes to an overall more educated population. Numerous "blue ribbon" schools are located throughout in L.A. County, including California Academy of Mathematics and Science in Carson, McGrath Elementary in Newhall, Gertz-Ressler High School in Los Angeles and Merced Elementary in West Covina. The U.S. Department of Education designates schools as "blue ribbon" when they're among the nation's highest achieving in academics or in closing the achievement gap. Furthermore, in terms of Academic Performance Index (API), which the CA Department of Education implemented to measure academic performance and growth from a scale of 200-1000, Los Angeles County hosts 100 public schools attaining an API of 930 or over, compared to the state average of 755. In the 141 L.A. county magnet schools, a program increasingly perceived as one of the best free options for high-performing students, Gretchen Whitney High School in Cerritos, California scored an API of 993. For those seeking an alternative route, L.A. County houses 287 private schools, including nationally renowned preparatory schools such as Harvard-Westlake School, Brentwood School, Flintridge Prep School, and Chadwick School, among many others.
Climate
Sunny Southern California is widely known for its near-perfect weather. Los Angeles County in particular enjoys plenty of sunshine throughout the year, with an average of 263 sunshine days and only 35 wet days annually. In those 263 days, residents can expect around 3,000 hours of sunshine, more than enough to sunbathe in one of L.A.'s many relaxing beaches. The average temperature throughout the county averages a warm 66 degrees Fahrenheit, with the days over 90 degrees only occurring a dozen or so times annually.  Those who like cooler weather live near the beaches or in the mountains.  Those who like it warmer live in the Valleys including San Fernando Valley and San Gabriel Valley.
Activities and Attractions
L.A. County is a popular destination spot, with numerous attractions for every resident and visitor. LA LIVE in Downtown Los Angeles is a major nighttime attraction for Angelenos, and boasts a 40,000 square foot open-air plaza, the Nokia Theatre and Club Nokia, Regal movie complex, ESPN Zone and studios, the Grammy Museum, J.W. Marriott and Ritz Carlton hotels, and numerous restaurants. Residents and tourists alike can spend their day strolling through Hollywood's glamorous Walk of Fame. Thrill-seekers will enjoy the region's world-famous amusements parks, including the movie studio and theme park Universal Studios in Hollywood, classic thrill rides at Six Flags Magic Mountain in Valencia, and California's largest water theme park, Raging Waters in San Dimas.
Dubbed as "America's New Year Celebration" and dating back to 1890, Pasadena's New Year's Day Tournament of Roses Parade and Rose Bowl attract millions of viewers world-wide and hundreds of thousands of spectators to view the festival of floats, marching bands, followed by one of the most watched football games of the year.
For those looking for relaxation in vacation, a short one-hour ferry ride from one of five mainland ports will take visitors to Catalina Island, a tourist destination attracting 1 million visitors per year and known for its camping locations and beaches. Simply put, L.A. County life is teeming with new adventures and activities, making it one of the most dynamic counties in the United States.
Museums and observatories introduce the artistic side of L.A. County. The Getty Center in West Los Angeles and The Getty Villa in Pacific Palisades provide Angelenos and visitors with the some of the best displays of art, architecture, and spectacular views of the Los Angeles west side. On the other side of the city lies the largest art museum on the west coast, the Los Angeles County Museum of Art, and the largest hands-on science center in the west coast, the California Science Center. For those fascinated by the stars and astronomy, Griffith Observatory in the northern part of L.A. is one of the most famous visited landmarks and destinations in Los Angeles. Visitors can attend live planetarium shows, learn about the universe from displays and videos, or simply stargaze into outer space. Given that Los Angeles is the film capital of the country, it's not out of the ordinary to witness film shoots in progress around these landmarks, with scenes in over fifty Hollywood television shows and movies shot in Griffith Observatory alone.
Outdoor activities are abundant in L.A. County. With 75 miles of coastline, from Malibu to Long Beach, the region has no shortage of water-based sports and activities to enjoy. Runyon Canyon Park, the Santa Monica Stairs or the Culver City Stairs are just a few of the outdoor sites providing a rigorous workout.
Performing Arts
As the center of the entertainment world, L.A. County assembles the media world on multiple occasions annually to celebrate and recognize artistic achievement. World famous artists and the general public congregate in Staples Center in Downtown L.A. for the Grammy Awards, featuring musical performances by prominent musicians and an awards ceremony governed by the National Academy of Recording Arts and Sciences. In the immediate vicinity, the Emmy Award ceremonies award excellence in entertainment programming and television. Dolby Theater in nearby Hollywood completes the media ceremonies with the Academy Award recognizing excellence of actors, writers, and directors in the cinema industry.
Shopping
L.A. County is a shopper's paradise, with districts, streets, malls, and shopping centers providing offerings for the entire population, from the most upscale shopper to the most budget-conscious shopper. Rodeo Drive in Beverly Hills, The Grove in Los Angeles, Melrose Avenue in Hollywood, Westfield Mall in Century City, Beverly Center in Los Angeles, and Third Street Promenade in Santa Monica are world famous shopping districts hosting glitzy and iconic boutiques, vintage cafes, designer and brand-name clothing stores, extravagant movie theaters, and the finest of fine dining, making them meccas for up-scale shoppers. For those preferring a different atmosphere, shopping malls such as the Americana and Glendale Galleria, factory outlets such as Citadel Outlets and Nordstrom Rack, quality flea markets in areas such as the Rose Bowl and Pasadena City College, and farmers markets in over a hundred county locations, complete the shopping experience.
Culinary Cornucopia
With the incredible cultural and ethnic diversity of L.A. County, the fusion of different styles, and the creative freedom that permeates the region, it shouldn't be a surprise that L.A. County has become known for its restaurant and dining experiences.  Foodies have a lot of options here, and you could fill a book on the subject.  Conversely, this is a region that attracts top chefs and is known for culinary education.
Transportation
Los Angeles County is widely perceived as a car-county. However, an incredible amount of commuter light rail has been added in the past ten years.  With the help of Measure R and the newer Measure M, taxpayer mandates to build out a comprehensive transit infrastructure, residents can now easily navigate the county through an efficient and capable public transportation network, including bus, light rail, and subway transport.
LA Metro assists in intra-city Los Angeles mass transit transportation; while Metrolink, Metro Rail, Greyhound and Amtrak provide inter-city travel services.  .
Air travel options in LA County are also extensive. Six commercial airports service Los Angeles County, with Los Angeles International Airport (LAX) being the primary airport. Around 62 million passengers choose LAX as their flight of choice, making it one of the busiest commercial airport in the world and in the United States.
Sporting Events
Sporting events abound in L.A. County. Professional sports franchises in L.A. are world-renowned and encompass many of the popular sports, including winners of six World Series titles, the Los Angeles Dodgers of the MLB league; the Los Angeles Clippers and sixteen-time NBA Champion Los Angeles Lakers of the NBA; the C.D. Chivas USA and three-time winners of the MLS Cup, the Los Angeles Galaxy; and 2011-2012 and 2013-2014 Stanley Cup winning Los Angeles Kings of the National Hockey League. Additionally, the acclaimed collegiate teams of USC, UCLA and other universities are regulars in NCAA team championships. These coveted franchises, among many others, provide frequent events that contribute to the culture of the region.  Beyond the great professional and college teams, the youth sports opportunities are endless at the local community level.
Additional Resources
Explore L.A. County neighborhoods with the Los Angeles Times' L.A. County Neighborhood Interactive Map.
DiscoverLosAngeles.com contains the latest events and information on what to do, what to see, and where to stay in L.A. County, along with the neighborhood guides noted below.
Hollywood: Like a glamorous starlet, Hollywood has made a major comeback and is living like a newly discovered ingénue everybody is talking about.
San Fernando Valley: The San Fernando Valley (we just call it "the Valley") is part suburb, part entertainment hub and all excitement!
Westside: Affluent and influential, the Westside is pure LA glamour. Even Westside neighborhoods have as much fame as the celebrities who live in them.
Beach Cities: Each of these waterfront wonders offers its own personality and its own take on dining, shopping, attractions and activities.
San Gabriel Valley: With the classic California style of Pasadena at its heart, the San Gabriel Valley overflows with fine dining, beautiful rose gardens, lovingly restored Mission
Neighboring Regions: From the desert to the sea, and the mountains to the valleys, the diversity of the greater Los Angeles area is just one more reason to visit.