Why South Bay
The combined ports of Los Angeles and Long Beach make up the nation's number 1 port complex
Areas of specialization include global telecom, advanced manufacturing, international trade, aerospace, and automotive
South Bay schools are among the nation's highest rated
With more than 90 languages spoken in the region, it is among the region's most ethnically diverse
The City of El Segundo was the first ever winner of the LAEDC's Most Business-Friendly City in L.A. County Award in 2006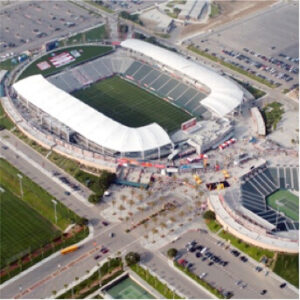 Los Angeles County's South Bay communities offer an outstanding quality of life amidst a thriving economic engine. The area hosts some of the biggest names in the region's key industries along with some the most prestigious residential addresses in the Southland.
Blessed with a temperate coastal climate, the South Bay enjoys cleaner air, warmer winters, and cooler summers than surrounding areas.
Beautiful beaches, scenic harbors, and the lure of the Pacific surf have brought many visitors and residents to the area, while an attractive business climate has brought scores of global corporations to the South Bay.
The region hosts American headquarters for Honda, as well as key divisions or headquarters for Raytheon, Lockheed Martin, Computer Sciences Corporation, Boeing, Chevron, British Petroleum, Mattel, Northrop Grumman, and Xerox and many others.
Doing Business in the South Bay
Industries such as aerospace, technology, global communications, medicine, military, and business applications are key areas of excellence in the South Bay. El Segundo is home to Los Angeles Air Force Base. Its Space and Missile Systems Center is responsible for creating much of the nation's preeminent global space platform and over 60,000 jobs in L.A. County.  Hawthorne is home to SpaceX, which has become a major employer in space commercialization and a leader in innovation.
Other areas of specialization include global telecommunications, media production, advanced manufacturing, financial services, biomedical research, and international trade.
The South Bay's Business Resource Network is a consortium of business, government, and educational entities dedicated to providing business assistance with hiring, training, organizational development, and more. They help businesses overcome regulatory and permitting issues and can even help uncover financing opportunities.
Local Government & Business
Three organizations form the foundation of the South Bay's effort to bring public and private institutions together in the interest of business. The South Bay Cities Council of Governments is a Joint Powers Authority formed by 15 area cities, while the South Bay Association of Chambers of Commerce represents business interests throughout the region. Each of these organizations, as well as the L.A. County Board of Supervisors and their respective staff members, are dedicated to providing the tools for South Bay businesses to grow and prosper.
The South Bay has justifiably earned a reputation as being one of the nation's most desirable places to do business.
Quality of Life
From the industrial heart of El Segundo, just south of LAX, to the beauty of the Palos Verdes Peninsula, the South Bay puts a great deal of focus on maintaining a great quality of life.
South Bay schools are among the nation's highest rated and offer competitive programs and after-school activities in oceanography, astronomy, robotic engineering, and nanotechnology.
The communities of the South Bay offer many parks and recreational activities close at hand to pleasant neighborhoods. Museums and cultural attractions are plentiful and include the Western Museum of Flight, Lomita's Railroad Museum, and the Banning Residence Museum which celebrates the "Father of the Port of Los Angeles."
There are over 90 languages spoken in the 13 school districts of this ethnically rich area which includes the largest Samoan community in the continental U.S. and several generations of Japanese Americans. While diverse in their origins, the people of the South Bay are united in creating great communities with superior education, tremendous business potential, and a reputation for good governance.
Cities
Carson – 2010 & 2011 LAEDC Most Business-Friendly City finalist
El Segundo – 2015 LAEDC Most-Business Friendly City winner with Population Under 65,000; 2012 LAEDC Most Business-Friendly City finalist; 2006 LAEDC Inaugural Most-Business Friendly City winner
Gardena – 2011 LAEDC Most Business-Friendly City finalist
Lomita
Torrance – 2009-2011 LAEDC Most Business-Friendly City finalist