Why San Fernando Valley
San Fernando Valley is a major center for creative, technical, and professional talent with offices for ABC, CBS, and NBC, and several cable networks located here
Home to outstanding community colleges, private colleges, and universities
Aerospace is also a key industry in the region
The cities of Burbank and Glendale were named finalists for the Most Business-Friendly City award by the LAEDC
Griffith Park, the nation's largest municipal park, occupies over 4,200 acres, much of it in the San Fernando Valley
Doing Business in the San Fernando Valley
Comprised of nearly 350 square miles of prime southland real estate, the San Fernando Valley is home to more than 1.8 million residents. About 80 percent of the San Fernando Valley is actually part of the City of Los Angeles, but the Valley also includes other independent cities which are attractive locations for business: Burbank, Calabasas, Glendale, Hidden Hills, and San Fernando.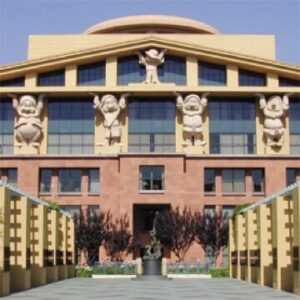 As the Valley's population grew in the 20th Century so did the region's business opportunities. One of the earliest industries to arrive in the Valley was film making and today this "Valley of the Stars" is the center of motion picture and television production in America. Disney, Warner Bros., Universal Studios, and Dreamworks Animation are all headquartered here.
This multi-billion dollar economic engine supports countless allied companies and creative professionals who showcase their art from here. However, entertainment is far from the only star that lights up the San Fernando Valley's economy.
Aerospace is also a key industry here. Aviation and defense interests employ thousands of skilled research and development engineers and designers.
The Valley is very independent and quite entrepreneurial. Half of all L.A. County contractors, a third of all business professionals, and many healthcare professionals have Valley addresses. Professional service firms are also major employers from Calabasas and Warner Center in the west portion of the San Fernando Valley to Burbank and Glendale in the east.
Feeding technical, creative, and professional talent to these core industries is an outstanding group of educational institutions including Cal State University, Northridge, Woodbury University, and four community colleges as well as suburban campuses of many private colleges and universities.
Local Government & Business
San Fernando Valley cities have earned a reputation for being business-friendly, proactive, and noted for "less" government and more effective policies.
The Valley Economic Alliance, the Valley Economic Development Center, the Valley Industry and Commerce Association, community development, city business teams, and City Council offices, as well as the L.A. County Board of Supervisors and their respective staffs, all play important roles in helping businesses in the San Fernando Valley to succeed.
Quality of Life
More San Fernando Valley residents own homes, go to college, and achieve higher incomes than the County as a whole, on a percentage basis.
The Valley's unique entertainment focus makes it a great place after hours with scores of landmark restaurants, night spots and theaters. Universal Studios and its unique City Walk entertainment scene are at the heart of the Valley. Ventura Boulevard, made famous in both film and song, stretches 17 miles across the Valley from Studio City to Calabasas.
Griffith Park, the nation's largest municipal park, occupies over 4,200 acres, much of it within the San Fernando Valley. The L.A. Zoo, Gene Autry Western Heritage Museum, and Travel Town are all family favorites.
From the Commons at Calabasas to the Americana at Brand in Glendale, which features unique shops and luxurious residences, to the expanded and renovated Westfield Topanga Plaza, the Valley is a shopper's delight. The San Fernando Valley offers a wide range of retailers from hip boutiques to upscale department stores.
Cities
Burbank – 2006, 2007, 2011 LAEDC Most Business-Friendly City finalist
Calabasas
Glendale – 2015 winner LAEDC Most Business-Friendly City, and finalist in 2008, 2011-2012