Why Gateway Cities
Key hub for international trade – the combined ports of Long Beach and Los Angeles make up the nation's number 1 port complex
Textiles, food products, automotive parts, and furniture are some of the items manufactured here
Doing Business in Gateway Cities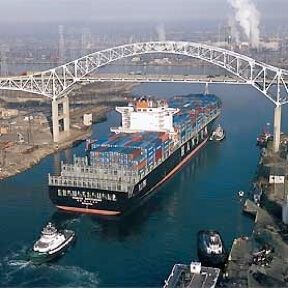 Los Angeles County's Gateway Cities cover a crescent of land along the southeast edge of the County, bordering nearby Orange County. This diverse collection of 27 cities and communities represents neighborhoods as well as many thriving industrial and manufacturing areas.
The region is best known for its international trade facilitated by the Ports of Long Beach and Los Angeles where millions of containers of cargo are transported monthly. With such a large container volume handled through the ports, the area's importance as a logistic and warehousing center is evident.
Trucking and transportation are also big contributors to the economy, complemented by two rail yards that are located within the region. Burlington Northern Santa Fe's (BNSF) rail yard is located in the City of Vernon and the Union Pacific Railroad switches cars in the City of Commerce. An intermodal transfer facility is located in North Long Beach, which provides additional transportation capabilities.
A number of high-tech and aerospace companies, including Boeing are located in Long Beach.
Manufacturing is also a key economic driver here. Things such as textiles, food products, automotive parts, and furniture are just a few of the items manufactured in the Gateway Cities region.
The area's seaside communities, including Catalina Island and Long Beach (home of the Queen Mary) are major tourist draws.
Long Beach Airport is a popular alternative to LAX and is the Southern California terminus for the popular JetBlue airline.
Local Government & Business
The Gateway Cities have a pro-business attitude and work together to achieve success for their local economy and the businesses that choose to locate here.
Communities work hard to bring to the table the resources needed to attract and retain quality employers. Cerritos and Long Beach are examples of cities in the region that exemplify a business-friendly attitude. The region hosts a Small Business Development Center for the SBA at Long Beach Community College, while coalition groups like the Gateway Cities Council of Governments promote regional economic development.
Local chambers of commerce, neighborhood councils, city governments, and economic development agencies as well as the L.A. County Board of Supervisors and their respective staffs work together to make doing business here easier. Those who choose to locate within the Gateway Cities will find a great experience from the start and a great place to live and grow.
Quality of Life
From modest homes and apartments close to work to luxurious waterfront properties, the Gateway Cities offer a myriad of lifestyles from which to choose. An abundance of parks and tree-lined streets are found in the area.
Cal State University Long Beach, one of area's largest universities, hosts a population of 37,000 students, faculty, and staff on its 322-acre campus minutes from the Pacific Ocean. Other prestigious educational institutions include Biola University, Whittier College, and five local community colleges, which are magnets for innovation and research as well as serving the local business community.
The Gateway Cities offer well-balanced, ethnically diverse communities with a highly-trained and educated workforce making it an ideal location for business.
Cities
Bell Gardens – 2009 LAEDC Most Business-Friendly City finalist
Cerritos – 2010 Winner LAEDC Most Business-Friendly City in L.A. County
Commerce – 2009-2012 LAEDC Most Business-Friendly City finalist
Downey – 2009-2010 LAEDC Most Business-Friendly City finalist
Huntington Park
La Mirada – 2013 LAEDC Most Business-Friendly City
Lakewood – 2009 LAEDC Most Business-Friendly City finalist
Long Beach – 2009 Winner LAEDC Most Business-Friendly City
Pico Rivera – 2012 LAEDC Most Business-Friendly City finalist
Santa Fe Springs – 2009 Winner LAEDC Most Business-Friendly City
Vernon – 2008 Winner LAEDC Most Business-Friendly City
Whittier – 2012 Winner LAEDC Most Business-Friendly City; 2009-2011 LAEDC Most Business-Friendly City finalist