Why Central Los Angeles
Downtown L.A. is home to the largest concentration of government offices and employment
Government offices for County and City of Los Angeles
It is the economic and financial hub of the West Coast
Home to the Fashion, Toy, Jewelry, Flower, and Produce districts where a wealth of economic activity takes place
Ideal location for those who work regularly with public agencies
Doing Business in Central Los Angeles
Central Los Angeles has undergone a metamorphosis as recent private investment has fueled a major economic revitalization.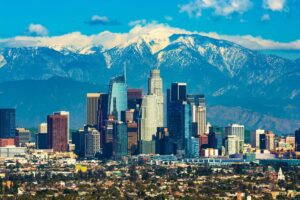 In recent years, the City's center has seen an explosion of residential building that has made Downtown a vibrant 24/7 center of activity.
LA LIVE is a vast complex incorporating major entertainment venues, a 1,000-room convention hotel along with luxury residences, restaurants, and clubs. Grand Park allows the public to enjoy the outdoors.
A large number of museums, music performance venues and schools, cultural attractions, and dining options make "DTLA" a destination for many.
Light rail and other public transit, as well as micro-mobility solutions also make DTLA very easy to visit and navigate.
In addition, the Hollywood area is undergoing a major rebirth with billions more being invested in residential and commercial projects including several high-rise condominium developments, the W Hotel, and the Hollywood and Highland retail complex, which includes the Hollywood & Highland Theatre, home of the Academy Awards®.
Located three miles south of downtown, the University of Southern California is one of the world's leading private research institutions and consistently enrolls more international students than any other U.S. university. USC, the largest private employer in the City of Los Angeles, and the County of Los Angeles are planning a world-class biomedical research park adjacent to the USC's Health Science Campus located east of downtown.
Local Government & Business
As the economic and financial hub of the West Coast, the Central Business District hosts the region's top professional services firms including banking, law, accounting, insurance, architecture, engineering, and consulting. Businesses in this region are served by organizations such as the Central City Association and the L.A. County Board of Supervisors and their respective staffs.
Beyond the tall towers, downtown offers several vibrant areas of industrial activity including the Flower and Produce Districts, important hubs for the fresh flower and produce trades; the Fashion District, the Toy District, and the Jewelry District, are all part of the economic fabric.
City
Los Angeles – which includes the communities of Downtown, Hollywood, LAX area, Miracle Mile, Playa Vista, Wilshire Corridor, and Venice.