Why Antelope Valley
In the northern reaches of Los Angeles County, about an hour out of Downtown L.A., you can find the fast-growing high desert cities of Lancaster, Palmdale, and their surrounding communities, which encompass more than 1,000 square miles. The landscape, climate, and opportunities are distinctly different here. Clear blue skies and wide-open spaces drew early aviators to the area while in more recent years, a housing boom has attracted many growing families.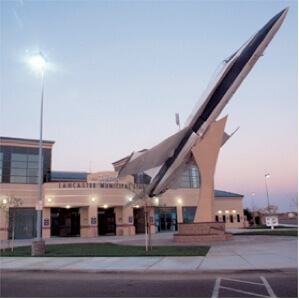 Doing Business in the Antelope Valley
Aviation and aerospace continue to be an important aspect of the area's economy, much of it centered at Palmdale's Air Force Plant 42, birthplace of the Space Shuttle. Edwards Air Force Base, the nation's premier flight test facility, is in nearby Kern County. Boeing, Northrop Grumman, and Lockheed Martin all have a significant presence in the Antelope Valley as do many of their suppliers and subcontractors.
Today's Antelope Valley is very diversified. Available & affordable land, an educated workforce, pro-business local government, and easy access via State Route 14 (Antelope Valley Freeway) have made the area home to over 13,000 businesses.
The Valley is a choice for logistic operations companies, manufacturers, and top Fortune 500 firms. Two major call centers are located in the area, employing thousands of residents. The influx of upper-middle class residents has attracted many new retailers, restaurants, and professional service companies to fulfill these consumers' wants and needs.
Local Government & Business
The Greater Antelope Valley Economic Alliance, the dedicated economic development staff of the cities of Lancaster and Palmdale and the L.A. County Supervisors and their respective staffs members can help streamline the process of establishing a new business in the region. Much of the Antelope Valley's success is due to its pro-business attitude, skilled and motivated workforce, and availability of large blocks of industrial and commercial land.
The Antelope Valley has its own Foreign-Trade Zone and Recycling Market Development Zone. Located outside of the South Coast Air Quality Management District (AQMD), the Antelope Valley's AQMD can often be more flexible in addressing air quality concerns with businesses.
When available land, lower cost of doing business, and a ready pool of talented labor are high priorities, consider a move to the Antelope Valley.
Quality of Life
The allure of some of Southern California's most affordable home prices along with fresh air, a four-season climate, and an abundance of family-oriented activities have drawn many new residents to the Antelope Valley, making it the fastest-growing area of the county.
Lancaster and Palmdale are two large cities, while surrounding communities bring the total population close to half a million. The area offers many cultural and recreational opportunities with a lively theater scene, its own minor league baseball club and world class amateur sports facilities.
Education is a high priority. The area's outstanding schools include Antelope Valley Community College, expanding to a second campus, Embry Riddle Aeronautical University, and satellite campuses of Caltech, Pepperdine, Purdue, UCLA, USC, and four California State Universities.
Major Cities
Why Antelope Valley
Located an hour north of Los Angeles, the Antelope Valley boasts blue skies and four seasons of natural beauty
Abundance of available land for development
Home to aerospace and agriculture industries
Lower cost of living