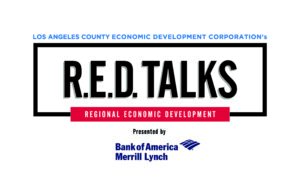 Investment in Technology and Automation Across Industry in LA County – How is Digital Transformation Shaping our Region?
Technological innovations like artificial intelligence and automation are impacting how businesses are looking to the future investments in their organizations, and their industries as a whole.  Software robotics (i.e. RPA = Robotic Process Automation), and data analytics technology are permeating just about every aspect of business going forward, and companies are seeking answers for where they should be investing in the rapidly changing environment happening around them.
We will be taking a close look at how industries like transportation, aerospace, trade & logistics, manufacturing, and banking are adapting to this new horizon and the impact on businesses in the future.