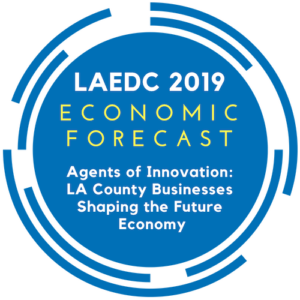 Gain valuable insights on what's coming next for the LA economy from LAEDC's economists and expert speakers listed below.  Hear perspectives on whether a slowdown will impact LA and your organization in the coming two years, and gain other valuable insights that can inform your planning.
The global economic outlook is shifting, which could lead to new turbulence in markets in 2019. While LA County is a thriving center for innovation, companies still need to adopt more agile business models and operate like a disruptor to sustain themselves in this 4th Industrial Revolution we are experiencing.
Here are just some of the global and local issues that will be covered at the LAEDC's annual Economic Forecast.
AFFORDABLE HOUSING CRISIS
– Likely impacts of the crisis on our economy, workforce and poverty
– Governor Newsom's plans to address housing shortage
INTL TRADE & TARIFFS
– Update on the trade war with China and its likely impact on LA
– The slowdown in the Chinese economy
– The new Mexico-US-Canada trade deal (USMCA)
– Implications of Brexit
ENVIRONMENT, NATURAL DISASTERS, & CLIMATE CHANGE
– California's economy is being increasingly impacted by fires, floods, mudslides and more
Join us on February 20th, 2019 to engage in the conversations which will shape the economic landscape for the near future.