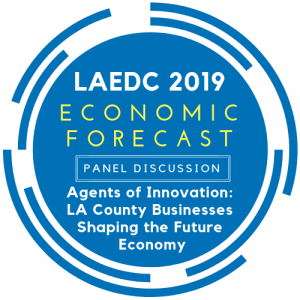 One of the first events of it's kind in Los Angeles, The LAEDC's annual Economic Forecast has long been lightning rod for cultivating meaningful economic advancement within our city. For the past 10+ years, our region's top influencers gather to ask the most pressing questions, take on challenging issues, and shape the relationships which keep LA strong.
The global economic outlook is shifting, which could lead to new turbulence in markets in 2019. While LA County is a thriving center for innovation, companies still need to adapt more agile business models and operate like a disruptor to sustain themselves in this 4th Industrial Revolution we are experiencing.
Join us on February 20th, 2019 to engage in the conversations which will shape economic landscape for near future. Take advantage of presale registration  and save $30 until January 19th, 2019!