e4 Mobility Alliance Quarterly Meeting
January 23, 2018 @ 10:45 am

-

12:30 pm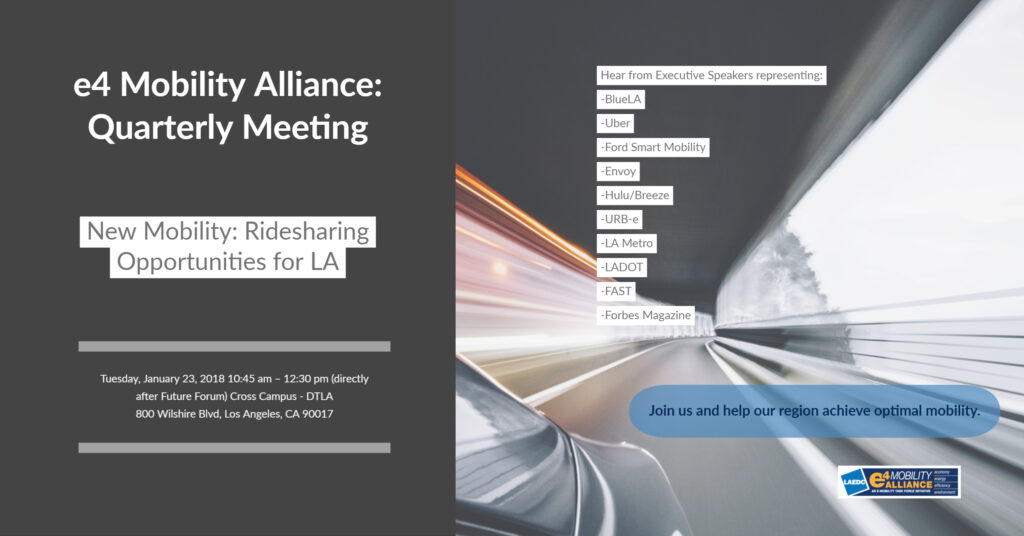 We will have three panels that will be focusing on vehicle, bike/scooter and project/procurement opportunities in the region and discussing the impacts and initiating strategies to address the changes to the mobility landscape in the region.
Moderator:
 Alan Ohnsman, Senior Editor at Forbes
Alan covers the evolution of transportation and intersection of the auto industry, tech and Silicon Valley. He is based in Los Angeles, the U.S. capital of cars and congestion, and has covered global automakers, advanced vehicle technologies and environmental regulations for two decades. Alan joined Forbes in 2016 after a two-year stint as Chief Communications Officer for TrueCar, an online automotive retail service. Prior to that, he was an editor and transportation reporter for Bloomberg News, initially in Tokyo before being transferred to Los Angeles.
Over the course of a dozen years in Japan, Alan worked in equity research departments for two brokerages, was a staff writer and editor for the Asahi Evening News, Tokyo Journal and NHK's Radio Japan, and a special correspondent for Businessweek.
Panel One: Vehicle Focus 
 Mitch Moore, Marketing Manager, Blue LA
Mitch Moore is the current Marketing Manager for Blue LA: a 100% electric vehicle self-service car sharing program that will launch in 2018. He graduated with a Bachelor's degree in Advertising from Michigan State University. Moore's expertise spans the development of new customer acquisition campaigns, marketing and communications, and successfully launching new products, services and brands to national markets via integrated marketing approaches. His extensive list of clients includes Sony, American Express, Canon and AT&T U-Verse. Beyond his ability to attract new business and loyal customers of such prominent companies, Moore also cares deeply about education and making better choices for our environment.
In 2016 he successfully led a student-oriented campaign of Energy Upgrade California, educating close to 8000 California students on how to make substantive changes to protect our state and reach our energy goals. Now with Blue LA, Moore will not only bring positive changes to our environment, but also to underserved communities of Los Angeles with the provision of this affordable car sharing program. Moore is a true innovator and will always bring his passion, dedication, and expertise to his projects.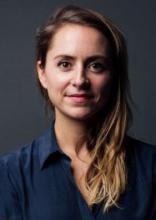 Sarah Ashton, Public Affairs – Southern California, Uber
Sarah joined Uber in October of 2016, and oversees the company's public affairs and policy work in Southern California. Most recently, Sarah served as Faraday Future's Associate Director of Government Relations & Public Policy, where she developed and drove the emerging automaker's first national government affairs strategy and portfolio. Sarah was previously with the Obama Administration, where she was the Director of the White House Climate Action Champions Program, launched by the President to accelerate sub-national climate action via cross-agency solutions.
In addition, Sarah also served on the President's Community Solutions Task Force, a team developed to re-examine Federal programs to improve how the government designs and implements efforts to support local communities across environment, health, economic development, etc. Prior to joining the Administration, Sarah served as the Deputy Director of Global Strategy for the C40 Cities Climate Leadership Group, and the Los Angeles City Director of the Clinton Climate Initiative.


 Michael Lawrence, Head of Envoy City
Michael Lawrence is the Head of Envoy City, which provides EV car share and fast charge deployment in collaboration with municipal, county and state bodies and via grant funding. Michael previously served as General Counsel and Vice President of CycleHop, one of the largest bike sharing companies in North America. At CycleHop, he oversaw the company's expansion into new markets and managed relationships with fifteen municipalities. Following CycleHop, and immediately prior to joining the Envoy team, Michael served as U.S. General Counsel for Blue Solutions, a subsidiary of the Bollore Group, which operates the BlueLA and BlueIndy EV car share systems in the U.S.
Michael has twin ten-year-old boys, twin seven-year-old poodle sisters, and a hamster named Mousie.
Panel Two: Bike / Scooter Focus 
Chelsea Davidoff, Director of Marketing and Communications, CycleHop
Chelsea Davidoff is the Director of Marketing and Communications for CycleHop's Southern California region where she manages all marketing efforts, strategic partnerships, sponsorship commitments and local government relations for CycleHop. CycleHop is the largest 'smart bike' bike share program operator in North America. Current programs under Chelsea's leadership include Santa Monica's Breeze Bike Share, Beverly Hills Bike Share, West Hollywood's WeHo Pedals and UCLA's Bruin Bike Share.
Prior to CycleHop Chelsea worked at Paramount Pictures in the Corporate Social Responsibility department where she worked cross-functionally to develop, implement and promote programs and events that aligned with company's giving back initiatives. Chelsea is recognized as an up-and-coming sustainability leader and was profiled by GreenBiz. She attended the University of Vermont and has a Master of Science in Community Development and Applied Economics and a Bachelor of Science in Public Communication.
Chelsea serves on the Young Professionals board for Back on My Feet – Los Angeles Chapter, the Board of Directors for the Santa Monica Junior Chamber of Commerce and an active member of WISE-LA (Women Investing for a Sustainable Economy).  In her free time, Chelsea participates in triathlons – including the occasional 70.3 half ironman distance races.

 Sven Etzelberger, Chief Technology Officer,  Co-Founder, URB-e
Sven has more than 20 years of experience in the automotive industry around the globe, and he is passionate about anything that merges clever engineering with gorgeous design. In Germany, he worked at Porsche on the development of formidable sports cars. He eventually moved to Porsche's Californian design center to head up studio engineering and lead the release of the Cayman.
Sven has also served as the VP of Advanced Engineering at Saleen Automotive and the Chief Engineer and Vehicle Line Executive at Fisker, where he earned his stripes in alternative energy transportation.
Panel Three: Project / Procurement Focus 
 Nolan Borgman, Senior Transportation Planner, LA Metro 
Nolan is a Senior Transportation Planner in Metro's Office of Extraordinary Innovation (OEI) where he manages the Unsolicited Proposal process, which allows companies to submit innovative ideas to improve mobility, safety, environment, internal practices and more. He also manages the Ride Along program which gives employees stationed at Metro HQ an opportunity to walk in the customer's shoes. Nolan currently serves on Metro's inaugural Women and Girls Governing Council, is enrolled in Metro's 2018 Leadership Academy, regularly participates in Metro's Homeless Count and Transportation Career Academy Program (TCAP) for high school interns, and holds an ENV-SP credential from the Institute for Sustainable Infrastructure.
Prior to joining OEI, Nolan worked in the Office of the CEO and Management Audit Services Department. Before joining Metro, Nolan completed the Coro Fellowship in Los Angeles and earned his Bachelor's Degree cum laude from Occidental College, majoring in Urban and Environmental Policy and minoring in French Literature.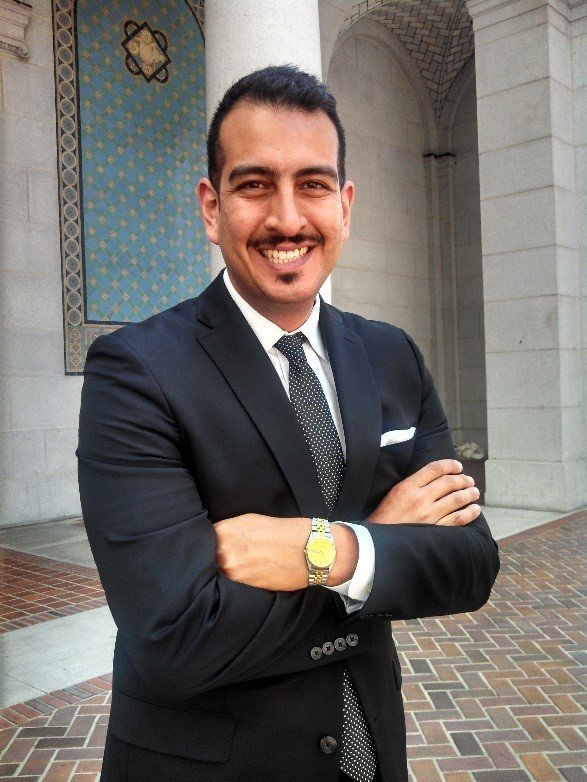 Marcel Porras, Chief Sustainability Officer, LADOT
Marcel Porras directs the city's newly established Shared Mobility Group including taxis, bike share, car share, ride share, and autonomous and connected vehicles to ensure that available transportation amenities are maximized in Los Angeles. Most recently, Marcel worked in the Office of Mayor Eric Garcetti as Associate Director of Transportation where he worked to develop and implement the Mayor's transportation agenda. Prior to joining the Mayor's Office, Marcel worked on various issues related to planning, economic development, and transportation for then Councilman Eric Garcetti.
Born and raised in Southern California, Marcel is an avid traveler, who has lived and worked in Latin America. These experiences provide him with a unique range of perspectives on cities, urban development, and mobility. Marcel holds a Master's Degree in Urban Planning from UCLA, as well as a Bachelor's Degree in History and Latin American Studies.

 Hilary Norton, Executive Director, FAST LA
Hilary Norton is the founding Executive Director of FAST – Fixing Angelenos Stuck in Traffic. FAST's initiatives include expanding LA County's ExpressLanes and Bus Rapid Transit (BRT) networks, increasing Mobility Hubs, optimizing congested corridors, and launching FASTLinkDTLA — a new Transportation Management Organization (TMO) for Downtown Los Angeles, focused on zero emission micro-transit, active transportation, establishing DTLA as a mobility innovation testbed, improving traveler information delivery and stronger synergies with the emerging built environment.
Hilary holds a Bachelor's degree from Wellesley College and a Master in Public Policy from Harvard's Kennedy School of Government. She is the 2018 Chair of the LA County Business Federation (BizFed). Hilary is also the Business Community representative on LA Metro's Policy Advisory Committee (PAC) and a member of LA Metro's Office of Extraordinary Innovation (OEI) Advisory Board.
Contact Alicia Walker to RSVP/Information
Parking Information
For information about upcoming events, please get in touch with  Riccardo Ruffolo.