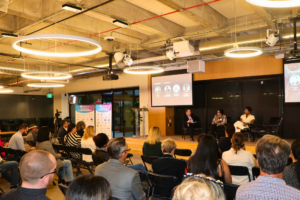 October 19, 2023 – The Future Forum series, hosted by the Los Angeles County Economic Development Corporation (LAEDC), plays a pivotal role in shaping the economic landscape of the region by delving into emerging industries and fostering collaboration.
The Future Forum series does not just observe; it actively participates in shaping the region's economic landscape. A prime example of the series' impact was the recent securement of $1.2 billion from the U.S. Department of Energy for California's hydrogen future, announced shortly after last year's Future Forum event on the Future of Hydrogen.
On October 19th, LAEDC hosted the Future Forum: LA Genes and Geniuses, centering a dialogue around Los Angeles County's bioscience sector. Bioscience covers our health and the our interaction with the environment, encompassing fields such as biology, biochemistry, and biotechnology. Bioscience is not just an industry; it is a thriving community committed to inclusivity and accessibility. Significant investments have already been made in biosciences, positioning LA as a significant contender in this expanding field.  
California State University Dominguez Hills has been the main sponsor of LAEDC's Future Forum Series for the last seven years. We were joined by Dr. Phillip LaPolt, Dean of the College of Natural and Behavioral Sciences at California State University – Dominguez Hills. CSUDH and Dr. LaPolt's dedication align with the Future Forum series' mission, which is not to give a status report of emerging fields but to create dialogues that reimagine a future where these industries flourish and remain accessible to all. Dr. LaPolt also highlighted CSUDH's College of Natural and Behavioral Sciences' commitment to offering equal opportunities for students from underrepresented backgrounds in STEM fields. CSUDH emphasis on research, education, and service aims to prepare students not just for careers but for leadership roles in the STEM workforce.
Our opening presentation was given by Jessica Ku Kim, Chief Deputy, Department of Economic Opportunity County of Los Angeles (and LAEDC-alum). Ms. Kim presented LA County's dedication to economic and workforce development, and she stressed the vision of a more inclusive economy with opportunities for everyone.
Kim discussed the potential of the bioscience and life science industry in LA County, which employs over 100,000 workers, encompasses 4,000 businesses, and offers an average salary exceeding $100,000, with more than half of the jobs requiring less than a bachelor's degree. However, she recognized that the County was lagging in fully realizing the industry's potential, especially regarding workforce growth and wage increments.
She shared LA County's commitment to making decisive investments to ensure a qualified workforce, affordable real estate, and infrastructure.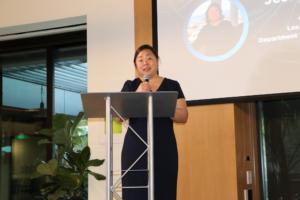 Kim listed three main initiatives to achieve this:
Developing cradle-to-career talent pipelines through collaborations with community organizations, universities, and workforce boards. 

Constructing new wet labs and affordable spaces to attract entrepreneurs and businesses.

Creating a bioscience-focused center of excellence in the public workforce system and appointing a life sciences liaison in the Department of Regional Planning to simplify land use entitlement and

permitting

processes.
Kim underscored the importance of inclusivity in the bioscience sector, ensuring that neglected communities receive equal access to opportunities and resources.
The event also featured a panel discussion led by Dave Whelan, CEO of BioscienceLA, with panelists Dr. Chander Arora, Biotech Program Director, Los Angeles Mission College and Morgan Pegus-Thomas, Manager, Marketing & Programs, California Life Sciences.
Dr. Arora began by recalling an instance when she noticed graduates uncertain about their post-graduation paths. Recognizing the discrepancy between job postings and the uncertainty of these graduates, Dr. Arora took the initiative to understand industries' "wish list" for an ideal employee. This collaboration with industry leaders resulted in identifying and addressing gaps in the academic curriculum, leading to a program with a 100% success rate in just one semester. The main challenge was not only training these students but also retaining them. Dr. Arora's approach incorporated hands-on learning, project-based teaching, and real-world application. Dr. Arora was highlighting a recent accomplishment of getting a bachelor's degree in bio-manufacturing approved and introducing a new training program on cell and gene therapy.
Morgan Pegus-Thomas shared her unique journey into the life sciences sector, having a background in design and architecture. Despite her non-scientific background, her background was perfect for the role at California Life Sciences, which revolves around storytelling and marketing, with a focus on spotlighting the achievements of women and people of color in the industry. Pegus-Thomas did draw a distinction between the life sciences sectors in Northern and Southern California and expressed her enthusiasm about the industry's future.
Dave Whelan also brought attention to the rising interest in cell and gene therapy and asked for opinions on current industry trends.
Dr. Arora stressed the industry's dynamic nature and the importance of adaptability and continuous learning. She also emphasized community contributions and the importance of setting a positive example for the upcoming generation.
Dave Whelan was emphasizing the need for more expansion and lab space in Los Angeles. He was asking Pegus-Thomas for her insights given her association with firms that offer such facilities.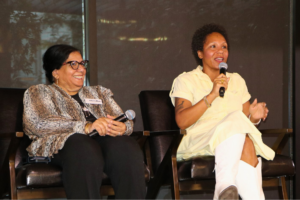 Pegus-Thomas responded that while LA has plenty of space and transport corridors, it's crucial to strategically place labs so that they are accessible to the workforce. She praised areas like Thousand Oaks for their bustling activity and incubators, while noting that the distance to travel to those hubs create barriers for some individuals to access the industry and noted the potential of areas closer to Downtown LA. Morgan drew comparisons with the Bay Area, emphasizing its non-compact nature in life sciences. She underlined the role of policy in determining the location of these spaces and their accessibility to various communities. 
Concluding, Pegus-Thomas highlighted the role of all bioscience organizations to bridge transportation and networking gaps, recalling an initiative she participated in that aimed to foster collaboration between academic institutions and entrepreneurs.
Both speakers highlighted the need to continually listen to industry and the workforce, ensuring that everyone with a fire and passion is not deterred by barriers or lack of resources. All participants in the bioscience ecosystem will play a role in continuing to move the industry forward and making Los Angeles a more attractive region for people to start, expand or relocate their business.
The conversation continued after the event, when panelist, event guests, and LAEDC staff participated in a networking reception.
Save the date for LAEDC's next Future Forum on Sports & Entertainment; January 23, 2024!