As part of Digital Inclusion Week, we want to take the time to highlight our LAEDC staff member who is leading the charge on digital equity in Los Angeles County, Suli Kenyatta.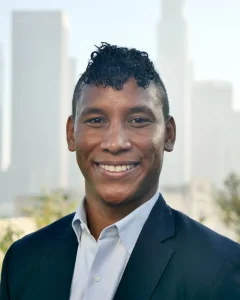 Suli is responsible for directing LAEDC's policy portfolio and managing the Los Angeles Digital Equity and Action League (LA DEAL) in collaboration with partners at UNITE-LA. LA DEAL focuses on broadband equity in Los Angeles County. It serves as the official state's regional broadband consortia with the aim of convening stakeholders to address challenges related to digital equity, including broadband infrastructure deployment and adoption.  
LA DEAL was established during the height of the COVID-19 pandemic, when the shift to remote work and learning exposed disparities in broadband access. Research demonstrates a correlation between underinvested communities and low levels of digital literacy and adoption. Suli and LA DEAL work to improve access to quality broadband internet, which plays a pivotal role in economic development and civic participation. 
Suli joined LAEDC due to its mission and unique position as a nexus for various stakeholders in the region, enabling him to engage in diverse economic activities. He attended Morehouse College and experienced the importance of community connection. His experiences in Atlanta influenced his approach to economic development in Los Angeles, aligning with LAEDC's goals of partnership and collaboration with all regional communities. 
When transitioning from Atlanta to Los Angeles, Suli observed the distinct cultural and economic aspects of these cities. He acknowledges LA's unique mix of people, food, environment, and culture, emphasizing the city's appeal and opportunities. 
Suli discusses his approach to professional growth, emphasizing the value of attending events and learning from others to broaden his knowledge. He mentions that his role at LAEDC has allowed him to develop skills related to stakeholder engagement and strategy. Suli collaborates with various community stakeholders, including chambers of commerce, coalitions, and other organizations, to work collectively on economic development initiatives. He focuses on fostering teamwork among partners, elected officials, and regulators, emphasizing the importance of identifying opportunities that benefit multiple teams and sharing them effectively. 
Suli is also known for his ability to learn and adapt, a valuable trait in his role, and his passion for making a difference through LAEDC's programs. He stays updated on industry trends and developments through reading news, staying informed about policy portfolios, and conducting research as key strategies. 
Suli outlines his aspirations within the organization, which include integrating policy further into LAEDC's Five Pillar Strategy for Economic Development, setting the strategic plan for policy, and laying the foundation for a policy team. 
Learn more about LA Deal at www.ladeal.org
See more of our team at: https://laedc.org/about/team/