September 11 – Every quarter, the Los Angeles County Economic Development Corporation's (LAEDC) Institute for Applied Economics delivers a snapshot of the region's economic pulse. These briefings offer critical insights into the region's economic currents, trends and challenges.
U.S. ECONOMIC PROJECTIONS
Remember all the talk of an impending recession back in March?
The continued interest rate increases orchestrated by the Federal Reserve did cause concern, with the collapse of Silicon Valley Bank, Signature Bank, and First Republic Bank amplifying those fears. The dark clouds of 2007's Great Recession seemed to loom once again.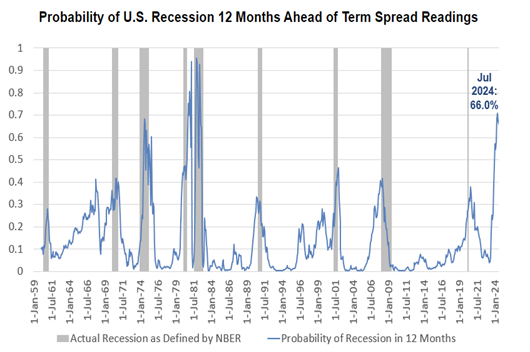 However, here is the twist: The U.S. economy proved resilient and powered through. The Federal Reserve now projects steady, albeit slow, growth for 2023. Projecting real GDP (Gross Domestic Product) growth of 1.0 percent and an unemployment rate of 4.1 percent for this year, the outlook is brighter than predicted in March. Institutions such as JP Morgan Chase and Goldman Sachs are now revising their recession predictions downwards.
This optimism springs from a tamer inflation scenario. July's Consumer Price Index data show year-over-year inflation at 3.2 percent and year-over-year core inflation (which excludes volatile components like food, shelter and energy) at 2.5 percent. Both are still above the Federal Reserve's 2.0 percent target, indicating more action from the Fed is possible.
The Federal Funds Rate
Given this, is a recession still looming sometime in the next 12 months?
The term spread between the 10-year and 3-month Treasury rates used by the Federal Reserve Bank of New York puts the probability of a recession in the next year at a daunting 66 percent. However, treating this as just a probability and not a prophecy is essential.
An emerging trend in non-housing debt balances is the surge in auto loans and credit card debt. With the latter breaching $1 trillion (about $3,100 per person in the U.S.) and reports of increasingly late payments, it signals that consumers are feeling the pinch of higher prices from inflation. Even though inflation is now lower on a year-over-year basis, the cumulative damage from inflation has already been done. For example, food prices measured by the CPI have been up 19 percent since January 2021.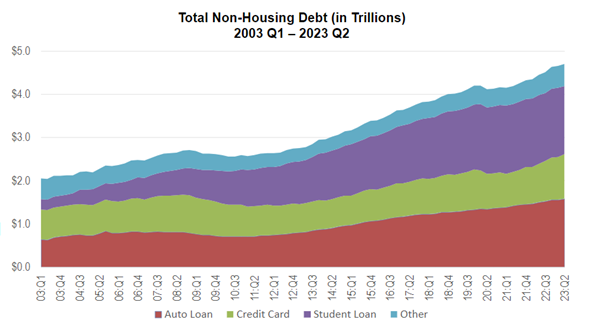 – Looking ahead, another potential shutdown of the U.S. Government is on the horizon as the new fiscal year is fast approaching on October 1. Congress has yet to finalize a budget, and with only a few days left before its funding deadline, there is only more uncertainty.
A Closer Look at Los Angeles County Employment
The vibrant labor market of Los Angeles County remains a topic of interest for both local businesses and job seekers alike. Recent data has painted a multifaceted picture of the County's employment situation. Here is a breakdown based on a review of July's employment data.
Employment
There's positive news: nonfarm payroll jobs remain steady at around 4.6 million throughout 2023. Notably, there is a significant increase of over 100,000 jobs in July compared to last year.
However, the unemployment rate tells a slightly different story. In July 2023, the rate stood at 5.4 percent, representing a marginal rise from the previous month and the previous year. This is in tandem with the national trend, where the U.S. rate for August also showed a slight increase.
A more granular view reveals that from June to July, there was a dip in total nonfarm employment of over 25,000 jobs. A surge in the healthcare and social assistance sector was a highlight, while the summer vacations predictably saw a drop in educational sectors. The ongoing WGA and SAG-AFTRA strikes are also dragging down employment in the information sector.
When we compare July of this year with July of 2022, L.A. County has a net addition of 104,300 jobs. The healthcare and food services sectors have particularly flourished, while the strikes have impacted the information sector. Some industries like manufacturing, construction, and wholesale trade hint at a potentially decelerating economy.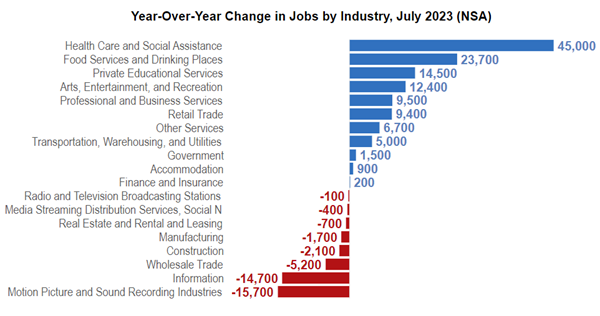 Current job postings indicate the real-time employer demand. Postings have been slightly subdued since April, but industry sectors like Professional Business Services and Health Care and Social Assistance continue to dominate employer demand.
Pre-pandemic Comparison
The shadow of the pandemic still looms large. Comparing job data from July 2019 with July 2023, jobs in health care have grown well beyond pre-pandemic levels, and food services have finally rebounded, surpassing pre-pandemic levels. However, the accommodation sector has never fully recovered and is still short of pre-pandemic employment levels.
The Hollywood Strikes: WGA and SAG-AFTRA
For the first time in over six decades, both writers and actors are on strike, demanding better pay, residual benefits, and safeguards against the use of AI (Artificial Intelligence). This impacts the entertainment sector and the entire economy of the County.
The film and television industry is a key driver in the Los Angeles County economy, forming a sizable chunk of the County's nonfarm employment and Gross County Product (GCP). L.A. County represents a significant share of total employment and value added (GDP) specific to the film and television industry. The high concentration of film and television industry activity in the Los Angeles region means we feel the impact of the dual strikes more severely.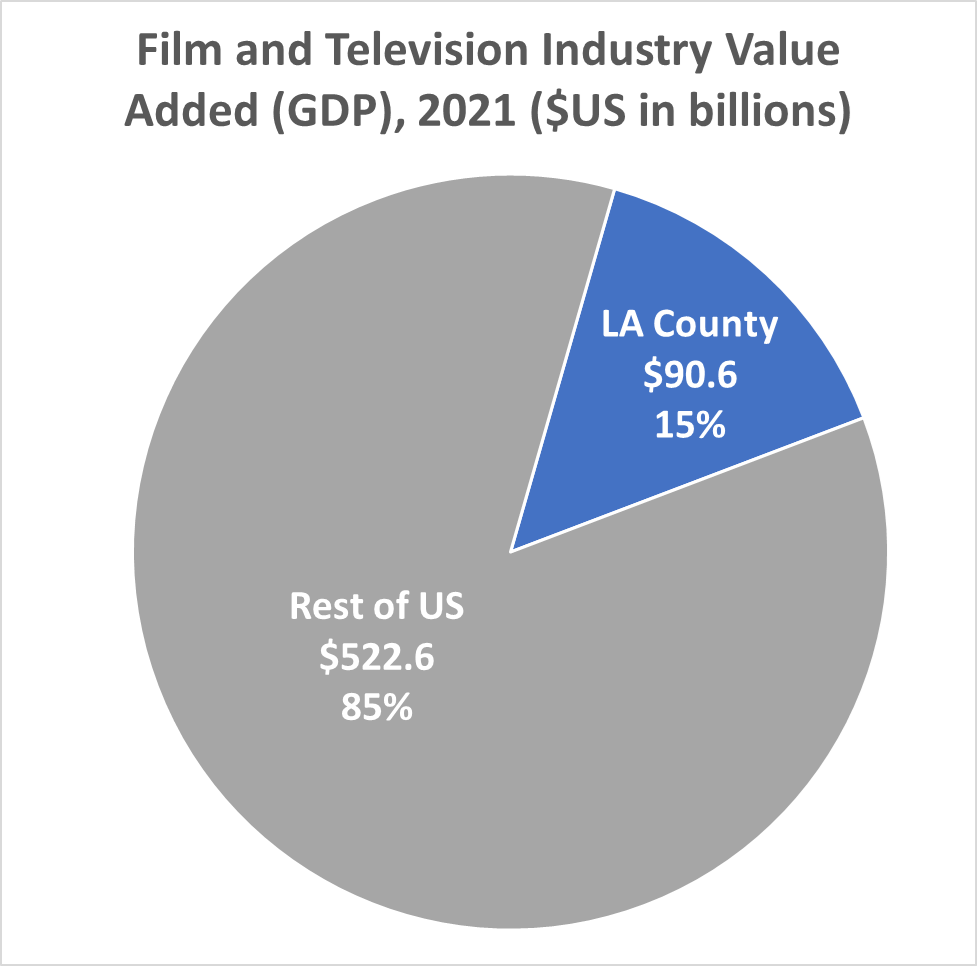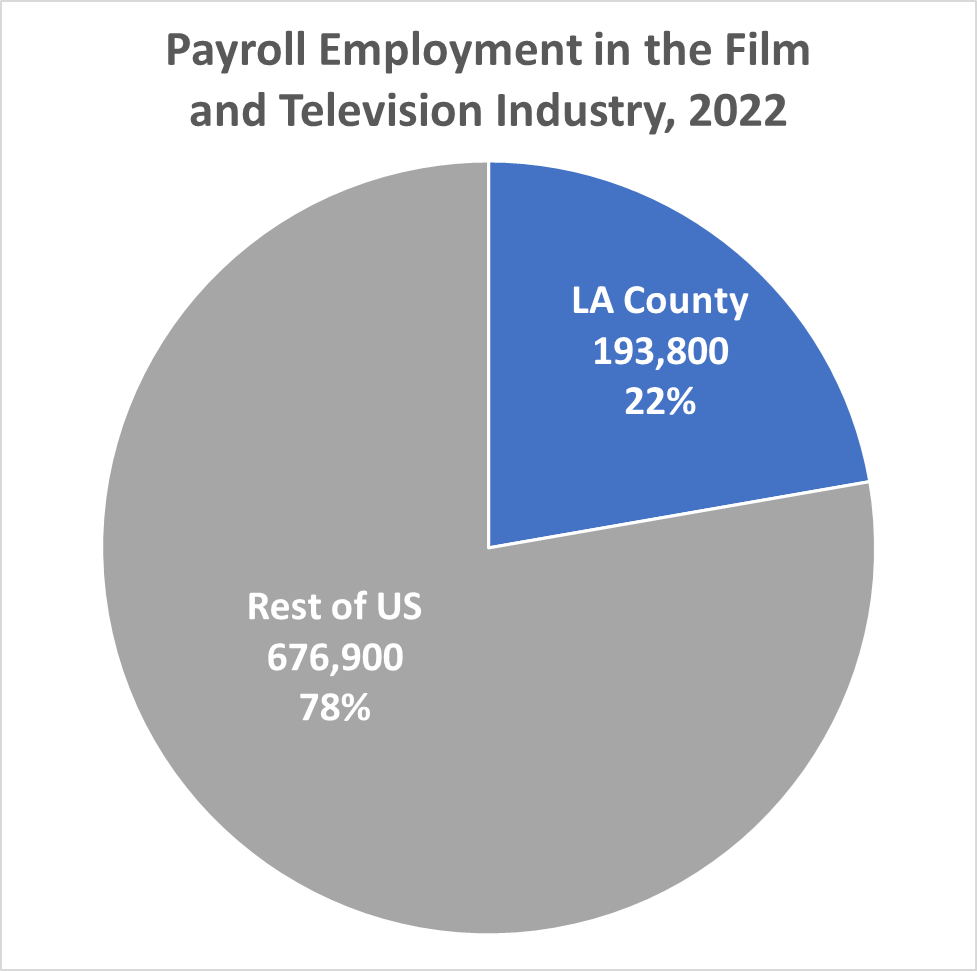 Strike's Immediate Effects
By July 2023, the strikes had already begun to display their negative effects. A combined loss of nearly 12,000 direct jobs over three months hints at the impact the dual strikes have already had in the film and television industry. While data for nonemployer firms is only available annually, small businesses without employees and independent contracted workers are also likely to be experiencing negative effects related to the strikes.
The aftershocks of the WGA and SAG-AFTRA strikes are not just confined to the film and television industry; reduced spending and an impacted supply chain have a cascading effect on the overall regional economy. The longer these strikes persist, the more damage they will inflict on the Los Angeles economy.
While certain sectors in L.A. County flourish, challenges remain. The upcoming employment figures for August will further shed light on the evolving situation, particularly the ramifications of the ongoing strikes.
L.A. County Office Market: Current Challenges and Glimmers of Hope
The past two years have presented unprecedented challenges for Los Angeles County's office sector. From a stable 14 percent office vacancy rate pre-pandemic, we witnessed an unsettling hike to 21.3 percent by the third quarter of 2022. This substantial increase, attributed to the COVID-19 pandemic and the ensuing economic impacts, can be connected to businesses shifting gears towards remote and hybrid work schedules and downsizing their office spaces.
Uneven Vacancy Rates Across Submarkets
The office vacancy landscape in L.A. County reveals disparities across submarkets. For instance, according to the latest CBRE office market report, while Los Angeles Downtown East recorded a staggering 46.3 percent vacancy rate in Q2 2023, other submarkets like the Mid-Counties and San Gabriel Valley seem to be faring better, observing just 7.9 percent and 10.4 percent vacancy rate respectively. Big players like West Los Angeles, LA Downtown, South Bay, and Tri-Cities/Glendale have observed vacancy rates floating between 20-25 percent.
Surprisingly, the County's average full-service gross (FSG) asking rate in Q2 2023 marked a record high of $4.01 per sq. ft. per month. Despite the high vacancy rates, landlords have maintained stable asking rents by offering generous concession packages to attract potential tenants. A notable mention is West LA, leading the pack with the highest average FSG asking rate at $5.44, closely followed by DTLA at $4.75.
Signs of Distress & Reasons to Remain Optimistic
The downtown area also grapples with office market stress. Several office properties have unfortunately undergone foreclosure due to missed payments and defaults. Couple this with major office sales in the L.A. downtown area over the past year, often listed at prices considerably lower than their previous sale, and we get a concerning image of the local office market's health.
However, every cloud has a silver lining. While the market endures present-day weaknesses, indicators are pointing towards potential recovery in the forthcoming years:
Resilient Leasing Activity – Despite the hesitance from companies in making real estate decisions, new lease agreements (predominantly in Downtown and Mid-Wilshire) constituted 60 percent of Q2 2023's overall leasing activity. This suggests a latent demand for office spaces.
Unyielding Construction – The construction of office spaces has not hit the brakes. L.A. County currently boasts 27 properties, equaling 3.1 million square feet (about 71 acres) of office space under construction, primarily in Tri-Cities/Glendale and West LA.
Adaptive Reuse Potential – The concept of transforming underutilized office spaces into residential housing is gaining traction. With state support in the form of regulatory measures and financial programs, this initiative has a promising outlook. A RAND study highlighted the potential of converting underused spaces, like offices and hotels, into housing units to meet L.A. County's housing needs over the next eight years.The L.A. office market, particularly downtown, has hurdles to overcome, yet several indicators project optimism. As we navigate the new post-pandemic reality, it is imperative to stay updated on market conditions, recognizing challenges and emerging opportunities that will be key to the health of the County's commercial real estate market.
Contrary to earlier apprehensions of an impending recession, the U.S. economy exhibits resilience, with major financial entities revising their recession outlooks. Notwithstanding the bullish sentiment, there are signs of caution, with the Federal Reserve Bank of New York estimating a 66 percent probability of a recession in the coming year. On the employment front, L.A. County's labor market is mixed. Although nonfarm payroll jobs have grown in the County, strikes by WGA and SAG-AFTRA are disrupting employment in the film and television industry. The LA County office market, despite its challenges, including heightened vacancy rates post-pandemic, shows glimmers of hope with new leasing activity, construction projects underway, and potential adaptive reuse opportunities, signaling a potential rebound may be in the County's future.
Download the Slidedeck HERE
---
1 CA EDD, Labor Market Information Division, Current Employment Series, Accessed 8/4/2023, https://labormarketinfo.edd.ca.gov/data/employment-by-industry.html