The first six months of 2023 has been an intense, exciting, and exhilarating experience.  Reflecting on my first six months as CEO of the LAEDC, I am proud to say that we have made positive strides in our vision to create a more equitable, sustainable, and resilient economy.  
Implementing LAEDC's strategic plan to transform our region through a human-centered economic development lens, we have launched our 5 Pillars Strategy to bring more communities, organizations, and voices to the regional economic development table. The entire LAEDC team has been focused on improving and strengthening our strategic partnerships by convening and meeting with partners across the region to advance a more inclusive approach that will shape the future of Los Angeles.  
In the past six months, our work has focused on our 5 Pillars Economic Development Strategy, which includes: 
RESEARCH – Our data-driven research provides a fact-based understanding of our current economic landscape that identifies, targets, and guides key industries and clusters of potential growth.
The

2023 LAEDC Economic Forecast: Moving Beyond the Recovery

report focused on what looms on the horizon for the U.S., California, and Los Angeles County regarding inflation, supply chain issues, and the effects of monetary and fiscal policy on economic growth.  The report emphasizes the

economic uncertainty due to high inflation affecting the US, with potential risks for a recession

. It also puts a lens on the impact economic disruptions have amplified poverty and inequality, particularly impacting small businesses within our region, and calls for resilient, inclusive economic systems to navigate these uncertainties.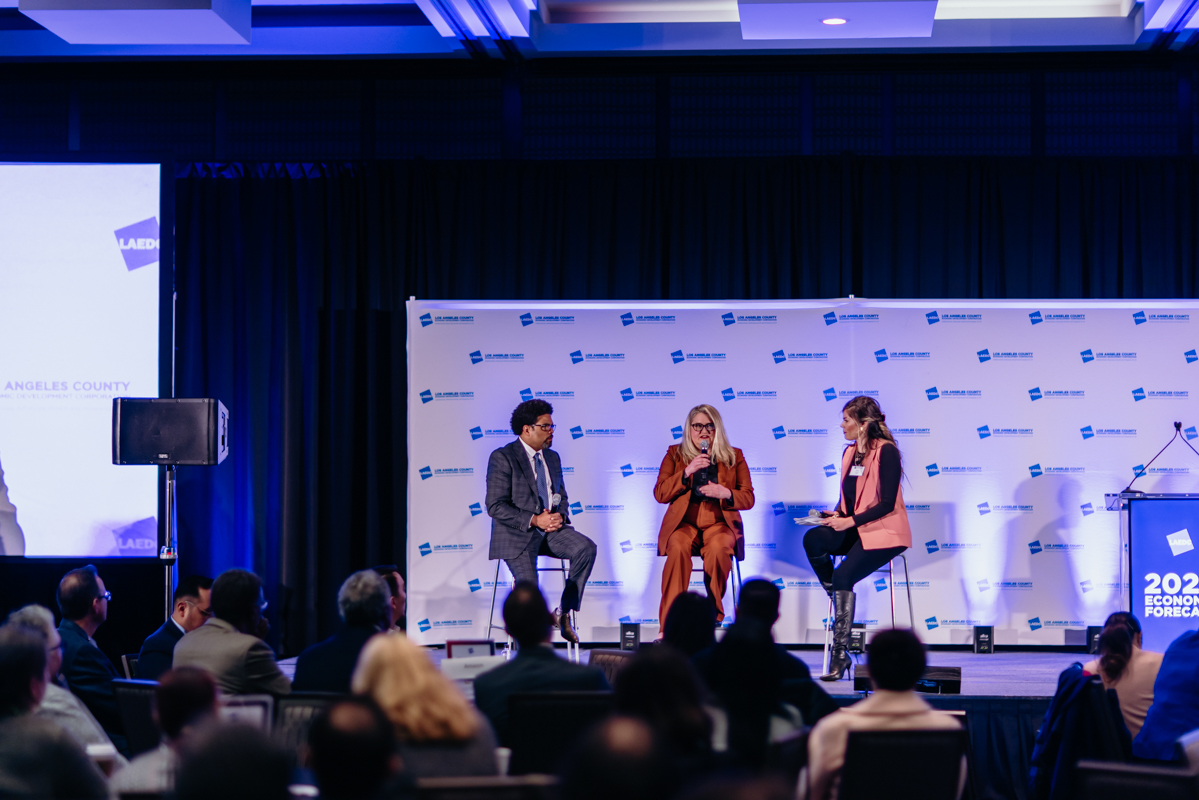 In February, we held our

2023 Economic Forecast Event

and offered

over 400 attendees

a valuable look ahead at national, state and local economic projections with global implications. Our featured speakers,

Dr. Darrick Hamilton, Founding Director of the Institute on Race, Power, and Political Economy, at the New School

and

former City of L.A. Mayor Antonio Villaraigosa

,

Governor Gavin Newsom's Infrastructure Advisor

, urged our region to collaborate on a

united effort

to secure billions of federal dollars and ensure those resources are purposefully guided to support the most underinvested and disadvantaged communities and populations in our region.

 
INDUSTRY CLUSTERS- Utilizing our research to inform and guide our Industry Cluster Development, LAEDC convenes industry, business, governmental, academic, non-profit, philanthropic, labor and stakeholder partners to support the growth of targeted key industries in our region. Our strategy is to work with our regional partners to develop industry-specific economic development blueprints to drive collaboration, innovation, and knowledge-sharing through an eco-systems-based approach that will lead to thriving industries that provides entrepreneurship and job opportunities to our communities.   
In February, LAEDC partnered with BioCom California, Bioscience LA, and Larta Institute to

launch the GrowLABio initiative

that will serve as the convening partner to develop and enhance the Bio and Life Sciences Industry Cluster in the Los Angeles region.  

 

GrowLABio is working with the County of Los Angeles Department of Economic Opportunity and philanthropic partners to conduct an industry-focused report that will

guide the Bioscience Industry Cluster Economic Development Blueprint

.  The blueprint will lay out specific strategies and tactics to guide Workforce Development, Business Assistance, Foreign Direct Investment, and continued Research that will build our ecosystem.

 
WORKFORCE DEVELOPMENT – Building on our Research and Industry Clusters Development efforts, LAEDC partnered with regional schools, colleges and universities, and talent development systems to create and enhance workforce development strategies and career pathways. These programs connect our workforce and talent development systems with industry and employers to train students and job seekers for high-growth and upskilling career opportunities.  
LAEDC hosted employer-led Program Advisories under our

Pasadena City College (PCC) & L.A. Regional Consortia (LARC) partnership

centered on Bioscience, Healthcare, Aerospace & Defense, and Informational Technology (with industry partners such as

Google, Apple, Microsoft, and Metro

).

 

We also

partnered with the City of Los Angeles's Economic & Workforce Development Department to

create HRTPs (High Road Training Partnerships) within the Entertainment, Bioscience, and Renewable Energies/Green Jobs sectors.

 

As a result of those partnerships and initiatives, LAEDC was able to connect

11 targeted employer & training partners in the Information Technology sector with over 250 student participants

.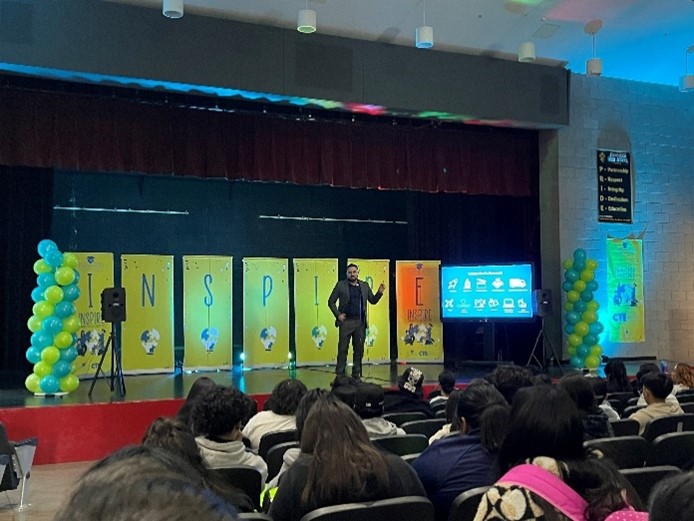 BUSINESS ASSISTANCE – Our Business Assistance Program (BAP) provides direct technical assistance to ensure that businesses of all sizes can prosper and grow in our region. Over 94% of all businesses in Los Angeles County have less than 20 employees, and many of these small businesses are still recovering from the impact of the pandemic.  To build resiliency for our small business community, LAEDC partnered with the County and City of Los Angeles to support our most vulnerable businesses through the Business Technical Assistance and Layoff Aversion programs. 
LAEDC provided direct technical business assistance to

1,044 businesses that resulted in 1,031 layoffs averted since July 1, 2022

by helping primarily sole proprietors, micro enterprises, small and diverse-owned businesses sustain their operations using or recommending a variety of programs and resources to assist them. These businesses are comprised of approximately 226 women-owned businesses, 187 Black-owned businesses, 33 veteran-owned businesses, and 261 Latinx-owned businesses. 

 
INTERNATIONAL TRADE AND FOREIGN DIRECT INVESTMENT (FDI) – Los Angeles is one of the most globally connected regions in the world and home to the second largest consulate corps in the United States . Our FDI Pillar allows LAEDC and the World Trade Center Los Angeles to leverage valuable resources to attract and retain more global companies to the region, bringing in high-paying jobs and supporting ancillary vendors and industries.
In April, the WTCLA and LAEDC released our annual Foreign Direct Investment Report of Los Angeles and the State of California that revealed over 18,000 Foreign-owned enterprises throughout California has contributed close to $70 billion in estimated direct wages to over 635,000 workers.

 

On May 4, LAEDC was honored to host

US Trade Representative, Ambassador Katherine Tai,

for a special round table with our local business partners to discuss Indo-Pacific trade challenges and opportunities. Ambassador Tai shared her vision for more inclusive strategies and initiatives as the US seeks to strengthen ties with Indo-Pacific partners. The dialogue created a platform for LAEDC and WTCLA partners to share recommendations for the federal government to enhance trade relations domestically and abroad that would benefit Los Angeles as the top trading hub in the nation.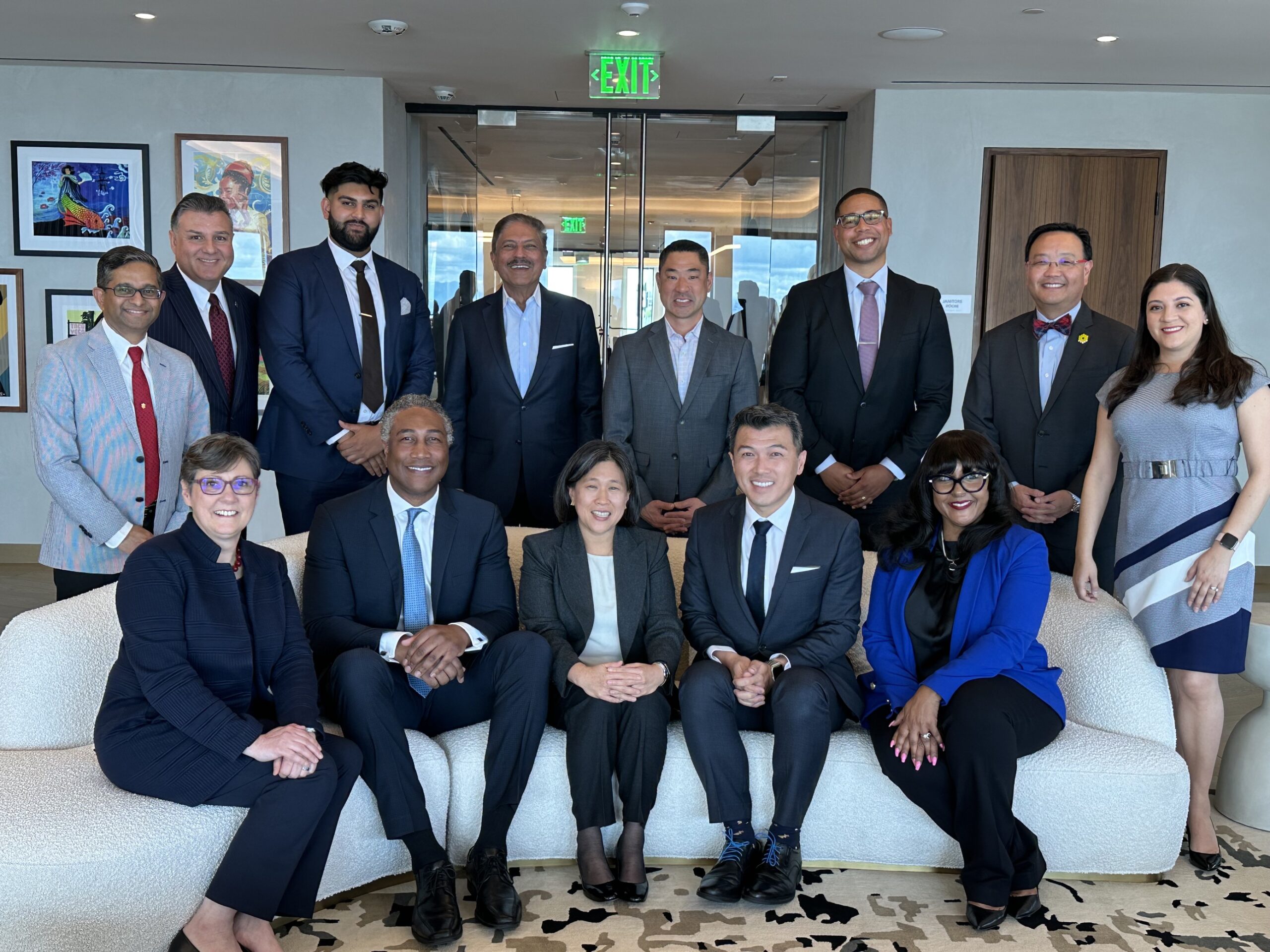 In addition to our 5 Pillars Economic Development Strategy, LAEDC continues to provide Regional Leadership to support our public, private, academic, non-profit, labor, philanthropic and community partners through our work as thought leaders for economic development. 
CERF 
Our deep engagement with our regional partners allows LAEDC to fully develop and implement our 5 Pillars Strategy that will complement and supplement our role as the regional convener for the California Community Economic Resilience Fund (CERF). The initial $5 million planning grant from the State of California enabled LAEDC to organize the Los Angeles High Road Transition Collaborative (HRTC) that boasts an impressive network of over 400 fully onboarded regional groups and stakeholders.  
If you are not a part of the coalition and need more information or would like to invite other organizations to join, please go to www.laedc.org/cerf for more information on how to get involved.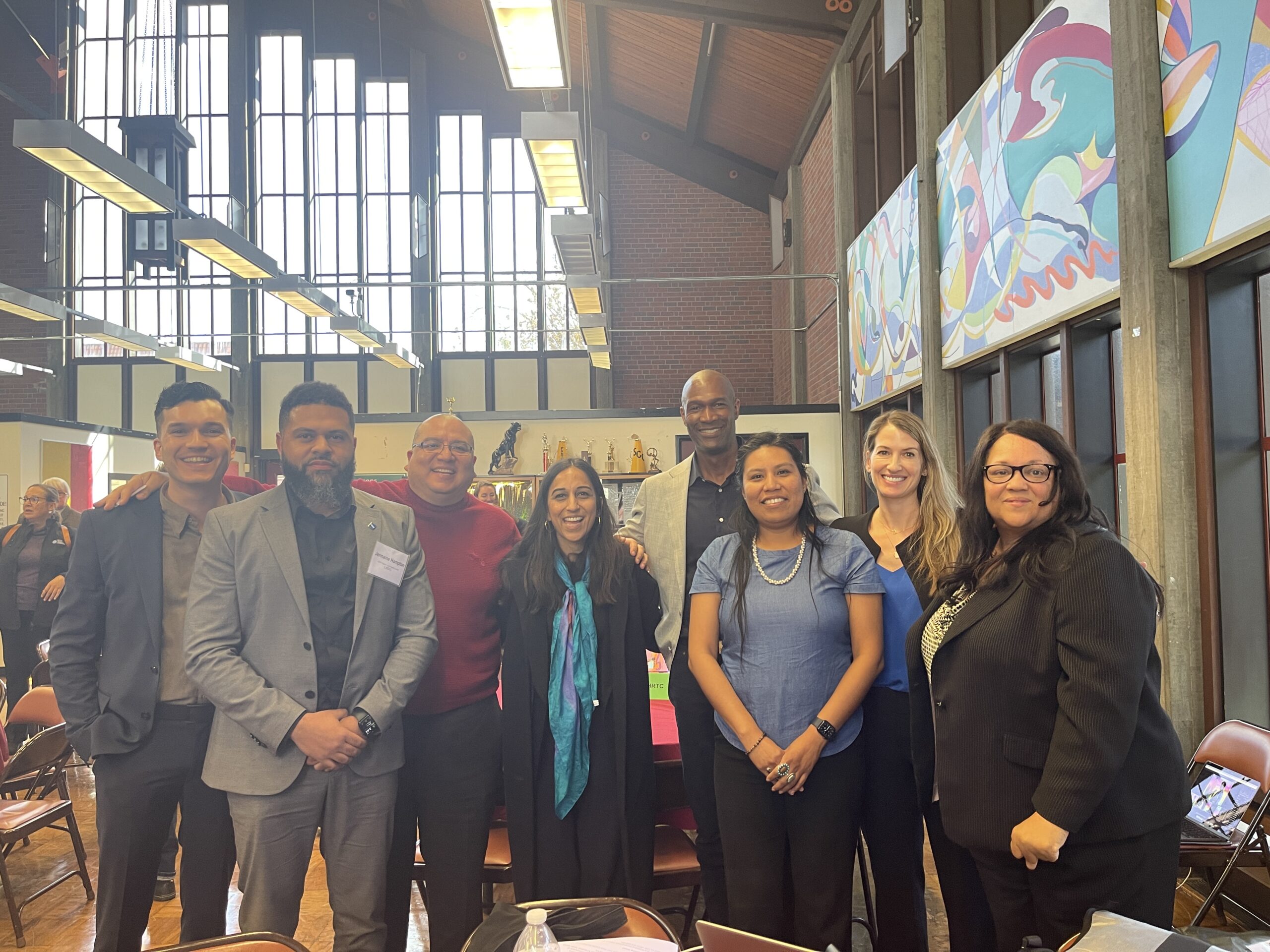 LA DEAL 
A partnership between Unite-LA and LAEDC, the Los Angeles Digital Equity Action League (LA DEAL) is entering an exciting phase of growth. Through collaborations with the California Emerging Technology Fund and the California Department of Technology, LA DEAL is actively engaged with local communities to gather input for the state's Digital Equity plan. A prime example was the South LA Broadband Equity, Access, and Deployment (BEAD) Workshop, an event where community members and stakeholders came together to identify key issues for the upcoming Broadband Digital Equity Plan and learn about the $42.45 billion federal grant aimed to expand high-speed internet access by funding planning, infrastructure deployment and adoption programs in all 50 states. 
 REGIONAL LEADERSHIP 
In six months, we've convened several large-scale events, including our annual

Economic Forecast, 88 Cities Summit, and Select LA

– each bringing in more than 400 regional and international partners and leaders in the same room together to learn and share ideas about how to improve the economic competitiveness of the Los Angeles region with a focus on bringing economic opportunities to our most underserved and underinvested communities.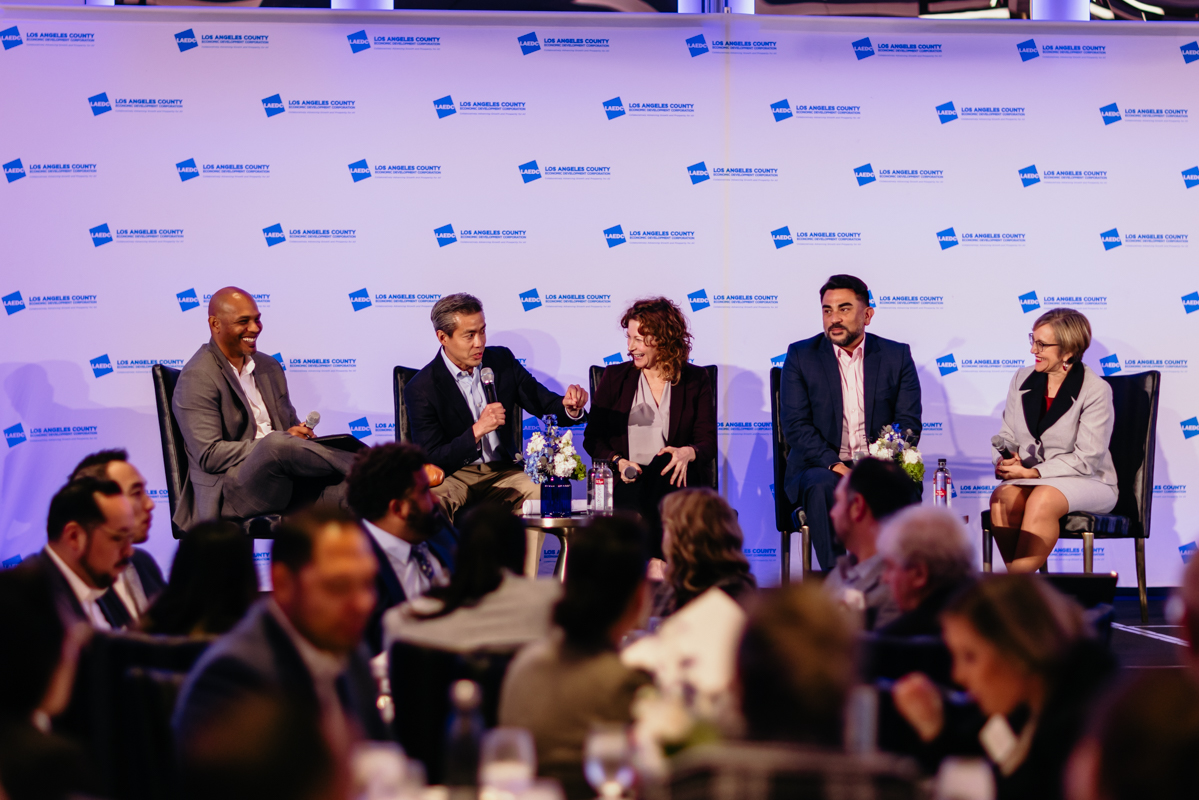 In March, our

Future Forum series

looked at the equitable transition toward a green economy with a keynote from Los Angeles County's Rita Kampalath, Acting Chief Sustainability Office, and in June – as part of Tech Week – we looked at the future of AI with a keynote from Jessica Ku Kim, Chief Deputy of the Los Angeles County Department of Economic Opportunity, that highlighted growth industry sectors and the opportunities that could be available if our region could harness the growth potentials of these industries.

 
Cal Transportation Commission Dinner

– We convened top transportation leaders on behalf of the California Transportation Commission (CTC). CTC Chair Lee Ann Eager, Vice Chair Carl Guardino, Commissioner Hilary Norton, and Governor Newsom's Infrastructure Advisor, Antonio Villaraigosa, shared invaluable insights on the future of our region's transportation infrastructure. The gathering emphasized CTC's commitment to enhancing mobility, economic growth, and safety and equity across California, and calls for Angelenos to unite in our efforts to advocate for our fair share of funding from state and federal resources.  

 
Our collaborative efforts have helped create a strong foundation for LAEDC to drive economic growth in the region.  I am so proud of the LAEDC team for the amazing progress we have made over the last 6 months.  However, to move the needle further in a vast region like Los Angeles, LAEDC will need to continuously grow our board members and create strategic partnerships that leverage our collective resources.  
Thank you for your continued support, and if you are not currently a part of the LAEDC, please join our efforts to build a reimagined regional Los Angeles economy that will provide a healthy and high standard of living for all.