This month's member spotlight is Monica Banken. Ms. Banken is a policy deputy for Los Angeles County Supervisor Kathryn Barger, who represents the Fifth District. In this role, she develops and oversees the implementation of policy recommendations for the County of Los Angeles related to child and older adult welfare, social services, film policy, education, economic and workforce development. Since 2018, she has also provided oversight for COVID-19 health codes related to schools and businesses, helped ensure County loans and grants were provided to those in need, and led events and community outreach programs.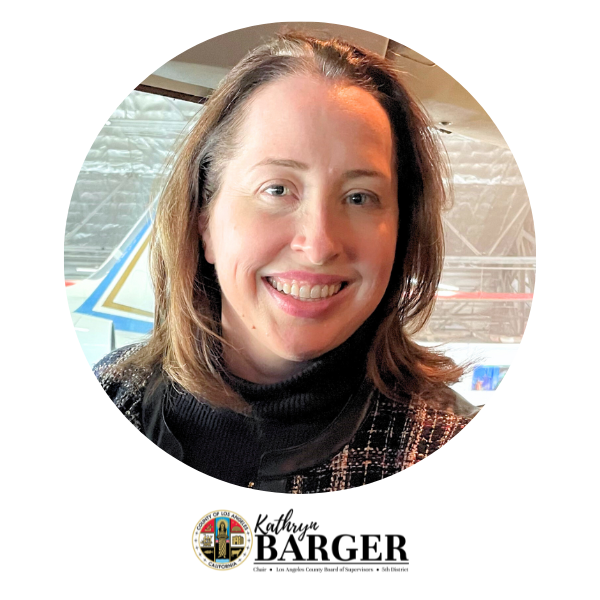 Ms. Banken's current projects include bringing SOS Villages to the City of Palmdale, an initiative that will provide up to 50 foster youth siblings a place to live while in foster care; overseeing County fiscal support for training programs needed in aerospace manufacturing in the Antelope Valley, including programs focused on training homeless veterans and low income and homeless youth; and re-envisioning  Challenger Youth Memorial Camp as a community services site that provides housing, workforce development training, and supportive services to foster, homeless, justice involved, and low-income youth.
Ms. Banken previously worked at the RAND Corporation, responsible local and state government affairs, working with researchers to promote their non-partisan findings. Ms. Banken is chair of the Legislative Outreach committee for the Los Angeles Area Chamber of Commerce World Trade Week Committee. She currently serves on the boards of LAEDC, Kollab Youth, and the South Bay Aerospace Alliance. She is also a civic leader for the U.S. Air Force/Space Force Civic Leaders program, representing LA Space Force Base, and was appointed by the U.S. Secretary of the Air Force  in 2021.  Ms. Banken served as Chair of the Trade Commissioners Networking Group of the Los Angeles Area Chamber of Commerce. She was a member of the Occidental College Board of Governors and was honored as the 2015 Los Angeles Area Chamber of Commerce Volunteer of the Year.
We are thrilled to have Ms. Banken as an LAEDC Member! Membership with the LAEDC directly supports our mission. It allows you to partner with like-minded organizations and an expert team of economic development professionals and economists to promote innovation around economic and workforce development, small business assistance, and Los Angeles' leading and emerging industry clusters.