On Friday, May 5, LAEDC was honored to welcome and host U.S. Trade Representative Ambassador Katherine Tai for a special round table with our business partners to discuss Indo-Pacific trade challenges and opportunities. Her visit underscored the critical importance of trade relations and the pivotal role that cities like Los Angeles will assume. This presented a significant opportunity for the Los Angeles region to reimagine the global supply chain as a global leader. 
Joseph Ahn, Manager of State and Local Affairs, Northrup Grumman; Nav Brar, Co-Founder, Five Rivers Construction; Jasson Crockett, Policy Manager, Snap Inc.; Ron Frierson, Director of Economic Development of the U.S. West Region, Amazon; Travis Kiyota, Senior Vice President – Head of Global Corporate Affairs, East West Bank;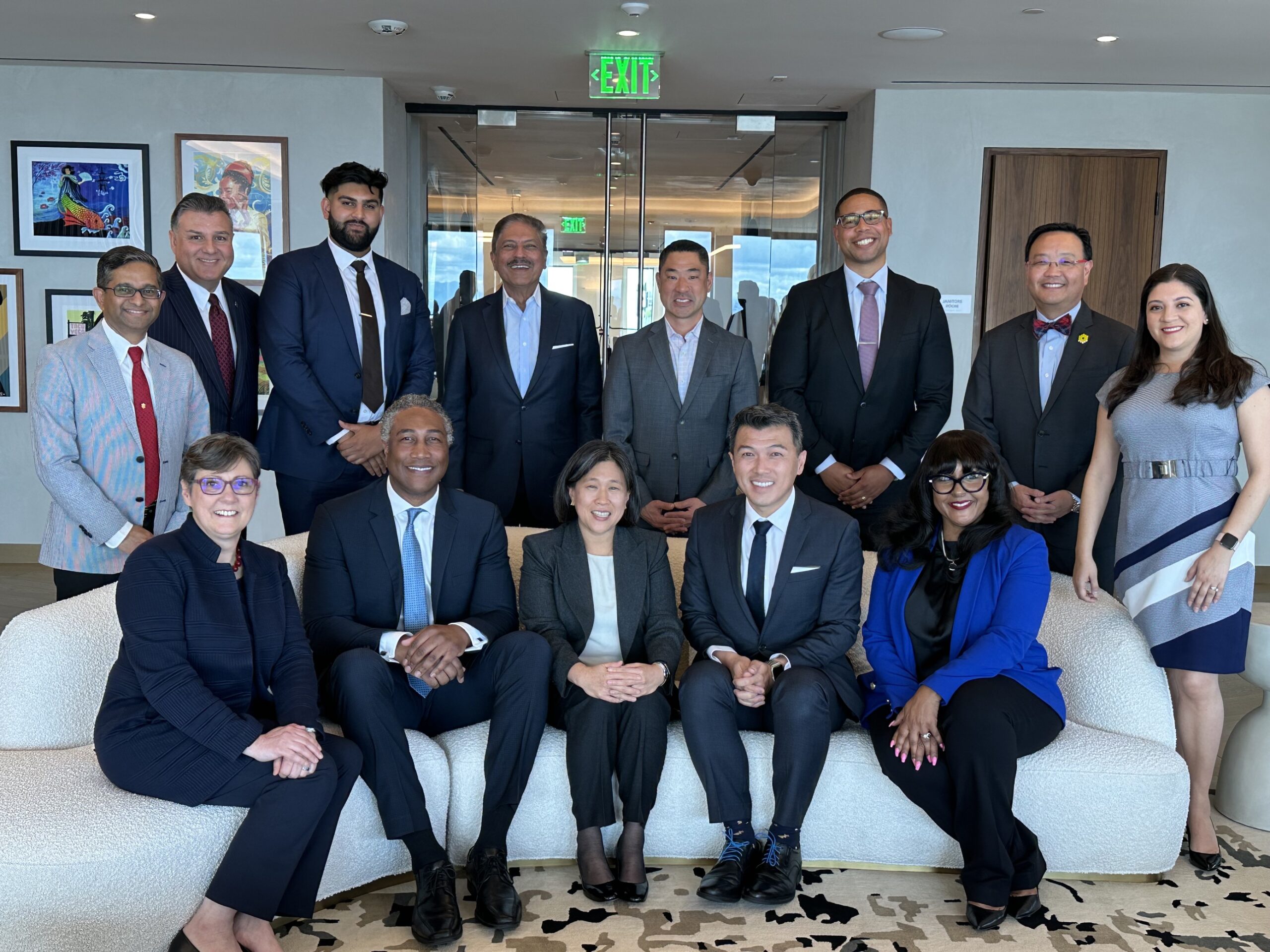 Praful Kulkarni, Principal, Cannon Designs; Corrine Murat, Director of Government Affairs, Mattel Inc.; Sanjay Murty, COO, Aura Seating; Gerard Orozco, VP and Executive Client Account Manager, Jacobs; Roberto Soberanis, Assistant U.S. Trade Representative for Intergovernmental Affairs and Public Engagement; Melissa Kham, VP Strategic Relations, LAEDC, and Ina Woullard, VP Mission Assurance and Programs, Northrup Grumman.
Their presence added immense value to our conversation, reflecting the vibrant diversity that defines Los Angeles and acknowledging the unique perspectives of our trade relationships. 
Ambassador Tai shared her vision for more inclusive strategies and initiatives as the U.S. seeks to strengthen ties with Indo-Pacific partners. The dialogue created a platform for LAEDC partners to share recommendations for the federal government to enhance trade relations domestically and abroad.  
Key takeaways from Ambassador Tai's visit: 
Diversity at the table matters

: Ambassador Tai appreciated the diverse and insightful group assembled by the LAEDC. She commended the organization for bringing together such a range of perspectives, highlighting the value of inclusivity in shaping Indo-Pacific trade relations here in the Los Angeles region.

 

The importance of Los Angeles in the global landscape

: The conversation delved into the Biden administration's efforts to restore America's global standing, with Ambassador Tai emphasizing the crucial role of Los Angeles as a global city. She acknowledged the important contributions of LAEDC and its partners in advancing the administration's international goals and expressed pride in collaborating with them.

 

Reinventing the Global Supply Chain

: The roundtable included a vibrant discussion on the reinvention of the global supply chain. Ambassador Tai shared her vision of Los Angeles as a beacon of hope, exemplifying Equity, Sustainability, and Growth (ESG). She highlighted the triple bottom line approach, emphasizing the need for Los Angeles to remain competitive while positively impacting the economy, the environment, and the well-being of communities.

 
In addition to sharing her vision of inclusive strategies and initiatives, Ambassador Tai, who is the first female Asian American U.S. trade representative, was also commemorating Asian American and Pacific Islander Heritage Month. Throughout her visit to Los Angeles, I spoke with her multiple times about LAEDC's projects and programs that bring together people to the table for inclusive economic growth. This is especially important to me as an Asian American in Los Angeles. 
The LAEDC round table discussion was Ambassador Tai's last meeting in Los Angeles; she spoke to our audience and specifically mentioned how impressed she was that LAEDC is able to bring together a room that was 100 percent full of diversity and truly reflected the Los Angeles Region.  
This recognition at a federal level is important because it acknowledges LAEDC as a convener and a thought leader, and an organization that passionately works to fulfill its mission for a reimagined and inclusive economy. We thank Ambassador Tai for her support of LAEDC, and we look forward to working closely with her in the future on Indo-Pacific trade issues and beyond. 
If you want to learn more about our work with international trade, please contact me or Joseph Chicas, Executive Liaison, at [email protected].
Sincerely, 
Stephen Cheung
President & CEO, LAEDC