Colleagues, as my year as Chair of the Los Angeles County Economic Development Corporation draws to a close, I want to express my sincere gratitude for the opportunity to work so closely with the Board and staff of the LAEDC to further our mission to collaboratively advance growth and prosperity for everyone in Los Angeles County.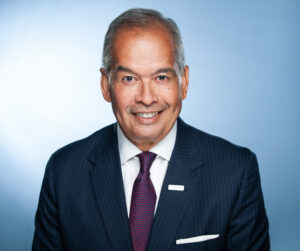 I know I join you all in appreciating the tireless and impactful work of the LAEDC staff throughout the last year. We have seen new challenges and opportunities for the business community in Los Angeles, and the staff of LAEDC has stepped up with an unprecedented workload of economic research, business assistance, policy advocacy, and workforce development to meet these challenges head on. LAEDC has strengthened its position as the trusted thought leader on inclusive economic development for Los Angeles County because our staff increasingly reflects the communities we serve and brings relevant and insightful information and counsel to decision makers in both the public and private sectors.
LAEDC has also built upon its role as a trusted convener and partner. We continue to bring more of our community together to ensure that everyone can participate in our economy. We have advanced our 25-year legacy of no-cost support to small businesses through our Business Assistance Program and our Together for LA and Together for South LA initiatives, which provided vital technical assistance to small businesses and microenterprises owned by women and people of color including those hit hardest by the COVID-19 pandemic. Through our LA DEAL regional broadband consortium– co-convened with UNITE-LA – we made important strides towards eliminating our region's digital divide and connecting the more than 400,000 LA County households without high-speed broadband in their homes. 
LAEDC further cemented its trusted role as regional convener by being selected by our civic partners as the lead organization for our region's applications to the U.S. Economic Development Administration's Build Back Better Regional Challenge (BBBRC) grant and the state's Community Economic Resilience Fund (CERF). Throughout the next year and beyond, LAEDC will be collaborating with our hundreds of regional partners to improve the economic well-being for all in our area. 
With a foundation of research from our Institute for Applied Economics and connections across industries through our Center for Competitive Workforce, we have also collaborated with our regional educational institutions to ensure that our talent development pipelines are on a solid foundation and accessible to all as we continue to attract and retain businesses in Los Angeles.  
I want to thank all the members of the LAEDC Executive Committee and Board of Governors. Your investment in, and guidance of, the work of the LAEDC actively provides the staff with the required financial resources and valuable insights into the needs and trends within the economy of Los Angeles County. Without your wise counsel and generous support, LAEDC would not be able to meet its mission. 
Finally, I welcome and encourage everyone's support of Steve Olson as the next Chair of the LAEDC. He will begin his term on July 1. Steve is a partner in O'Melveny's Los Angeles office, serving as the firm-wide Co-Chair of the White-Collar Defense and Corporate Investigations Practice. Steve has also been Advisory Board Chair for our World Trade Center Los Angeles since 2015 and helped create our annual Select LA Summit. LAEDC and our region will benefit from Steve's experience and passion. 
Thank you again, and I look forward to continuing to work alongside all of you to advance the mission of LAEDC. 
Rudy Medina