LAEDC-Led Coalition chosen as finalist in EDA's Build Back Better Regional Challenge
Coalition will compete for up to $100 million to supercharge Southern California economy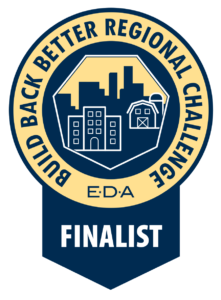 DECEMBER 13, 2021 – LOS ANGELES – The Economic Development Administration (EDA) today named a coalition of regional stakeholders, led by the Los Angeles County Economic Development Corporation (LAEDC), as a finalist in the $1 billion Build Back Better Regional Challenge. The coalition will advance to Phase 2 and compete for up to $100 million in American Rescue Plan funding to develop and scale blue and green growth innovations within the Goods Movement Ecosystem (GME) in Southern California.
"LAEDC and its community partners are doing such important work to ensure a robust and equitable economic recovery from the pandemic," said Mayor Eric Garcetti. "This coalition embodies the spirit and innovation of our region, and I wish them success as they continue on to the second phase of this competition."
"Our diverse coalition of public and private partners is thrilled to be awarded these resources to intensify our planning for more robust, equitable and sustainable growth for our Goods Movement Ecosystem, leveraging the innate convergence of our blue and green economies at our ports and beyond to grow new jobs and enterprises for our region, particularly for historically excluded populations, while improving our environment and increasing the resilience of America's leading trade gateway", said Bill Allen CEO of the LAEDC, lead applicant for the LA Region's proposal to the EDA. "Our COO Stephen Cheung has been designated the Regional Competitiveness Officer for LA and will coordinate the coalition partners in pursuit of further federal and state resources to enable the realization of our vision." 
The EDA Challenge is assisting communities nationwide in their efforts to build back better by accelerating the economic recovery from the coronavirus pandemic and building local economies that will be resilient to future economic shocks. The Build Back Better Regional Challenge is the largest economic development initiative from the U.S. Department of Commerce in decades.
"The Build Back Better Regional Challenge aims to supercharge local economies and increase American competitiveness around the globe," said Secretary of Commerce Gina M. Raimondo. "The outpouring of interest in this program shows the demand for the Build Back Better agenda and the desire to not only create good-paying jobs but also strengthen our country's economic resiliency for years down the road."
"We are thrilled to help communities work together—in coalitions of government, nonprofits, academia, the private sector, and others—to craft ambitious and regionally unique plans to rebuild their communities," said Alejandra Y. Castillo, Assistant Secretary of Commerce for Economic Development. "These projects will help revitalize local economies and tackle our biggest challenges related to climate change, manufacturing, supply chains and more. EDA is proud to ignite these plans and help communities nationwide build back better."
Phase 1 of the Build Back Better Regional Challenge invited coalitions to apply for funding to implement a collection of three to eight distinct but related projects in their region. Projects need to be in coordination with industry and community partners and aligned around a holistic vision to build and scale a strategic industry sector.
LAEDC assembled and facilitated a regional coalition of area stakeholders from government, business, nonprofits, and academia including The City of Los Angeles with leadership from Mayor Eric Garcetti's Office and the City Council, the Economic and Workforce Development Department (EWDD), LA Department of Water and Power (LADWP), Public Works, LA Department of Transportation, the Port of Los  Angeles, AltaSea at the Port of Los Angeles, Los Angeles Cleantech Incubator (LACI), Urban Movement Labs (UML), Santa Monica College, the Los Angeles Regional Strong Workforce Consortium of 19 area community colleges, The Entrepreneur Education Center, Inc. (EECI) in South LA, the Long Beach Economic Partnership, and PledgeLA. As a finalist, the coalition is being awarded $500,000 to further develop its plans for several coordinated projects to advance more equitable and sustainable growth in goods movement in the region and position LA as a more environmentally responsible creator of value from the ocean, upon which the region's position in global commerce depends.
EDA received 529 applications from regions in all 50 states and five territories, and the 60 finalists represent regions that formed extraordinary coalitions, demonstrated regional needs, and presented bold proposals to grow their target industry clusters. Ranging from rural communities and coastal towns to major metros, the finalists make up a diverse cross-section of the United States.
In Phase 2, finalists will compete for significant implementation assistance. EDA will award 20-30 coalitions each up to $100 million. These awards will assist communities in executing ambitious plans to supercharge their regional economies across a variety of strategic growth sectors. The deadline for Phase 2 applications is March 15, 2022.
Learn more at eda.gov/arpa/build-back-better.