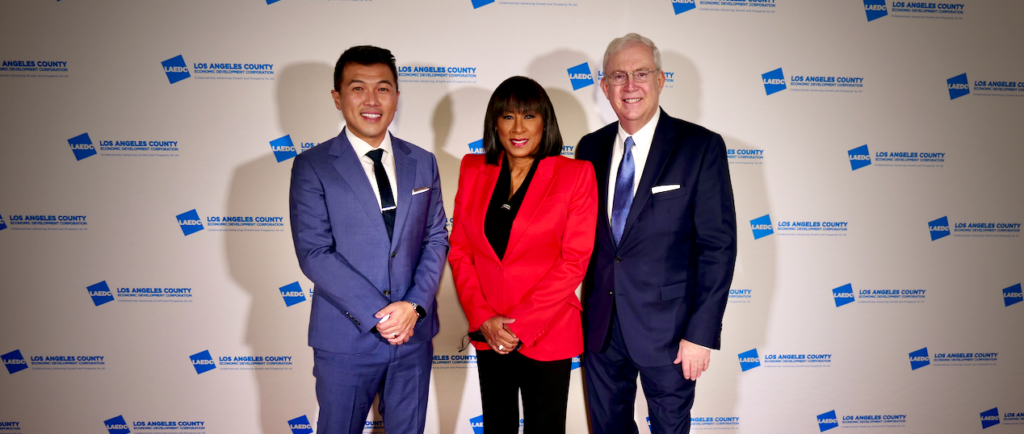 Last week, the LAEDC hosted our 26th Annual Eddy Awards to recognize the work of local government, education, and business leaders during the past year.
Over 650 guests gathered at So-Fi Stadium and enjoyed a cocktail reception hosted by Chevron, a guest appearance by Emmy award-winning actor Edward James Olmos, and a live performance by the Lynwood High School Marching band. Our emcee for the evening, Pat Harvey (CBS2 News), celebrated with our guests and spoke about the nominees for the prestigious Most Business-Friendly City award. This year's award recognized the cities that took proactive steps to mitigate some of the effects of the COVID-19 pandemic and helped small businesses keep doors open and people employed.
Congratulations to the City of West Hollywood (population less than 60,000) and the City of Palmdale (population more than 60,000) for winning the 2021 Most Business-Friendly Award.
LAEDC presented additional Eddy Awards to The Hospital Association of Southern California, The Employees of Los Angeles County, and The Community Colleges of Los Angeles County, who demonstrated outstanding contributions to the health, education, and economic development in the region during the COVID-19 pandemic.
We would like to thank our generous sponsors, who made the night's celebration possible, and all attendees who joined us.
Become an LAEDC Member!
LAEDC's annual membership provides cooperative action, real impact, and substantive direction through involvement with top business, education, government, and nonprofit leaders in LA County. Please contact Melissa Kham, VP of Strategic Relations, if you are interested in working shoulder to shoulder with other leaders in LA to advance our mission, or click here.