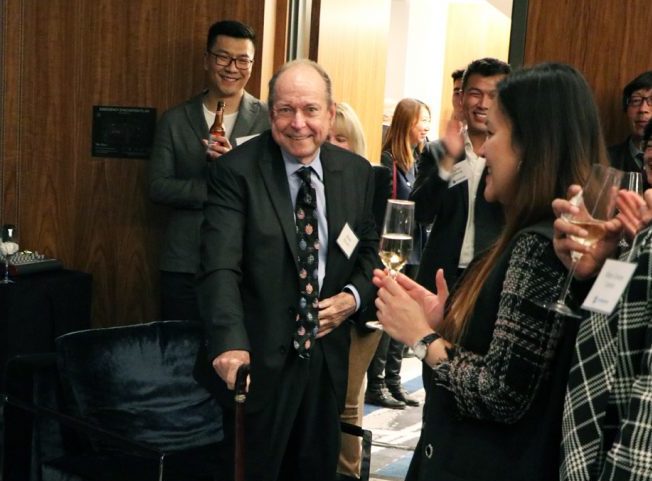 Bob Bush receives a round of applause from LAEDC members at 2019 LAEDC Holiday Mixer
It is with a very heavy heart that I announce the passing of our longest serving member and co-founder of the LAEDC, Bob Bush. Bob was a founding director, past chair and 40-year member of the Board of the Los Angeles County Economic Development Corporation (LAEDC). During his four decades of active engagement with us, Bob received numerous commendations for his work with LAEDC and was one of four persons to receive our Lifetime Stewardship Award.
He was a genuine champion of our mission and a particularly gracious mentor to me during my 15 years as CEO, sharing important perspectives on the organization's roots and history, advocating on our behalf with our County leadership, and making introductions to influential people in the region who could help advance our mission.
Bob Bush was the owner of the Robert E. Bush Corporation, a lobbying firm specializing in and registered with the County of Los Angeles. He and his affiliates worked with cities and public agencies in the Los Angeles area. Experienced as a lobbyist, public relations director and governmental affairs consultant since 1979, Bob represented a variety of real estate, financial, insurance, cable television, architectural, building contractors, public utilities, and health and welfare associations.
Bob was also a member of the LA County Library Foundation's board of directors, where he was dedicated to promoting literacy and lifelong learning in Los Angeles County's diverse communities as a pathway for success in our society.
From 1969-1979, Bob served as senior deputy to legendary County Supervisor Kenneth Hahn, father of current Supervisor Janice Hahn.  He also served as President Carter's California press secretary during the 1976 primary election. And prior to that Bob was editor of Plane & Pilot Magazine and a journalist for the Los Angeles Herald-Examiner, United Press International, South Bay Daily Breeze and the Los Angeles Times.
A fixture with his devoted wife Judy at LAEDC meetings and events for four full decades, both always willing to help welcome new members to our LAEDC family and encourage their support of our mission, Bob will be sorely missed. A memorial service is being planned by Judy and his family for later in the month and we will share details as they become available. In addition, the annual meeting of our Board on July 30 will be adjourned in his honor.
-Bill Allen, CEO of the LAEDC