"You will see an explosion of research on mRNA, which has now been proven effective and gained approvals, and LA will get its share of this money and research work."
Experts at Future Forum: Future of Medical Research and Treatments said that LA's advantages and progress of numerous local companies this past year have positioned the LA region for exciting growth opportunities in the bio- and life sciences industry.  In addition, LA's workforce is creating medical solutions valued the world over for lifesaving capability.
A new website LAlifescience.org maps all the bioscience and lifescience assets in LA,
from education programs to incubators, investors and companies.
LAEDC hosts it and we ask you to use it as a resource!
Also, engage with LAEDC's Bioscience Council, focused on workforce development
The event was hosted by LAEDC on March 18th, 2021, with keynote speaker Dr. Patrick Soon-Shiong and a panel of experts, who discussed the ways the COVID pandemic has accelerated and changed the LA medical research ecosystem and affected companies involved in the research and treatment response to COVID-19.
LAEDC CEO Bill Allen started the event by thanking CSU Dominguez Hills which has sponsored the LAEDC Future Forum series for several years.  CSUDH president Dr. Thomas Parham spoke briefly and framed the event's topic by quoting Dr. Martin Luther King Jr., saying, "Life's most persistent and urgent question is, what are we doing for others."  He also talked about the importance of the many students training for healthcare, medicine and bioscience careers, which represents the talent and creativity our industry needs to grow and thrive, and to support the healthcare needs of our region and beyond.  Employers can work with CSUDH to recruit from its 17,000 students and programs.
Bill Allen introduced speaker Dr. Patrick Soon-Shiong, who serves as CEO of NantWorks, and under that umbrella is chairman of NantQuest, executive chairman of ImmunityBio, and CEO of NantHealth, all of which are doing amazing work in the bioscience and lifescience fields.
Dr. Soon-Shiong talked about his company's approach to fighting COVID infection.  ImmunityBio is integrating natural killer cells with T-cells to develop the "Nant Cancer vaccine."  He said the vaccine is in numerous clinical trials for a chemotherapy-free, immunotherapy platform that addresses various cancers and infectious diseases like COVID and HIV.  Prior to COVID – fortunately – his company had decided to scale up and built over 400,000 square feet of biological manufacturing capacity, to work towards the goal of transforming the way we treat cancer and infectious diseases.  Now, with the urgent needs surrounding COVID he feels it is good timing to have this manufacturing facility, and will be investing more in the build-out of the facility. With a market cap of over $10 billion and 450 people on staff, the task ahead is to build out that bio-manufacturing and R&D space.  He also talking about the importance of sharing knowledge and treatments with the developing world.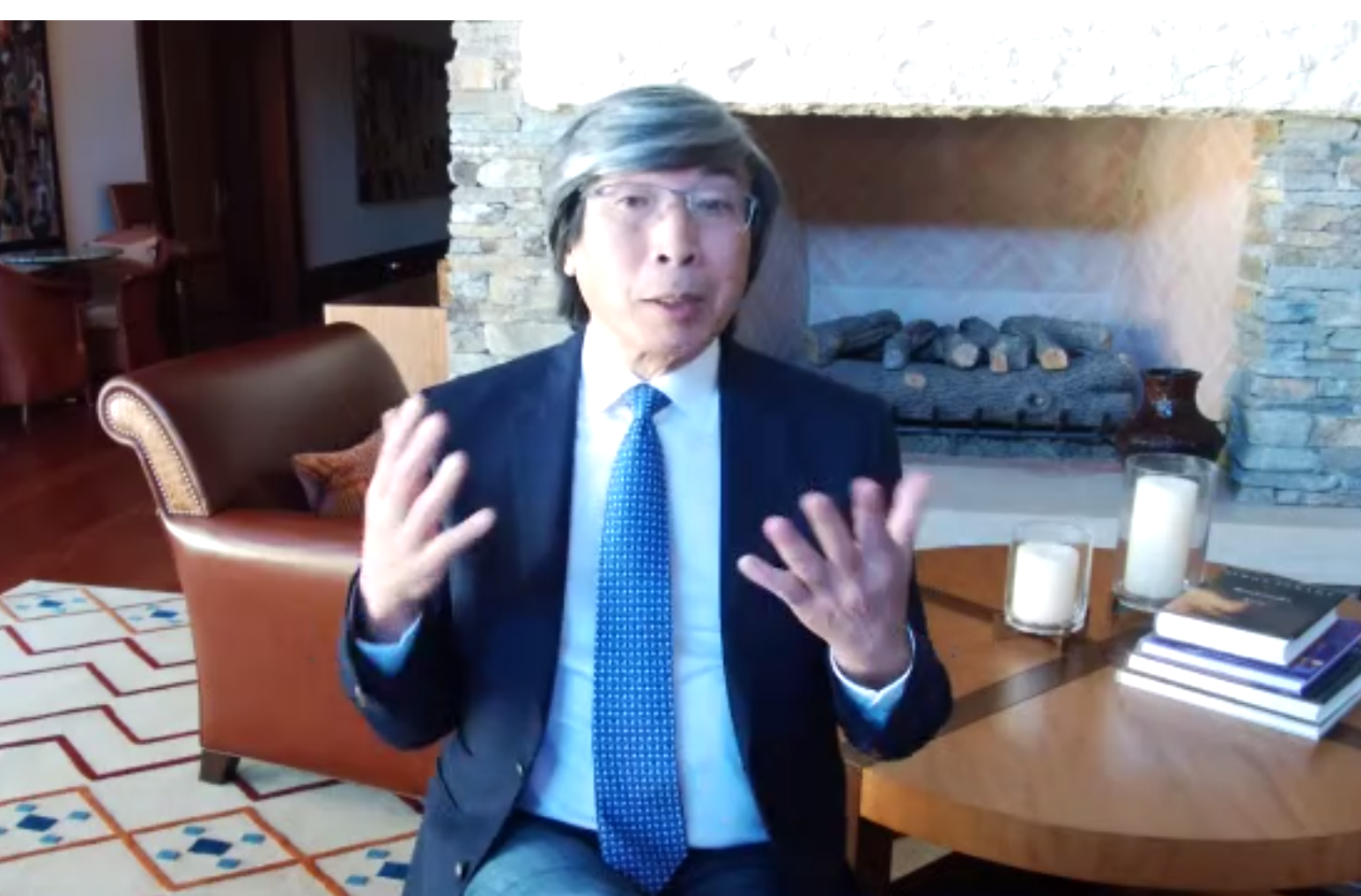 He talked about the company's successes in using its approach to achieve remission in specific types of cancers like pancreatic and breast cancer, using the Nant Cancer vaccine.  The approach is to activate the patient's own immune system, using the body's natural killer cell, using the T-cell, to activate the host rather than try to nuke the disease.  "For 40 years we've been treating cancer by trying to nuke the cancer cell with chemotherapy and radiation, but inadvertently we've been killing the body's natural killer cell, your own T-cell."
When COVID hit, he recalls meeting Governor Newsom and they discussed the gravity of the situation.  "I believe that going into early shutdown in California saved tens of thousands of lives," Soon-Shiong said. His Los Angeles Times newspaper launched a series called, "The Second Opinion," to educate the public about how dangerous the virus is, and simple things we can do to save ourselves.
"When I looked at COVID, it looked to me like cancer.  It evades the immune system, invades the cell and spreads like cancer throughout the body and all its systems.  This is the danger of COVID."  He said he realized the Nant Cancer vaccine was an approach to attack the COVID cells.   Industry has generally looked at the solution as a flu vaccine, to block the entry of the virus into cells with antibodies.  And clearly it is important that the vaccines have become available.
He emphasized the importance of using the vaccines on the market now, and suggested his company's approach may be complimentary. "We designed a vaccine that treats COVID like cancer, to not just block entry but kill the cell that is infected."
Dr. Soon-Shiong went into some technical detail which can be heard in the recording of the event (see video player in this post)
He said, "We want to immunize the world, but developing countries don't have the deep freezers to store the current vaccines."  So, he said an oral capsule at room temperature is the goal, which will allow parts of the world without deep freezers to have options.
The virus is evolving around the vaccines, including the South African variant and Brazilian variant.  He said we need to be ahead of the game in terms of not needing a new vaccine every year for new strains, like the flu shot.  He hopes his solution, developed as an oral capsule vaccine, will be seen as a universal "boost" to regular vaccines, and he hopes clinical trial approvals will be coming soon.
There are more variants coming, and he expressed concern about these new variants, which are already showing up in the U.S.
He said, "There is light at the end of the tunnel," and while some of this is depressing, he wants to let people know that the science is rapidly getting better and giving us more options to fight COVID.  Soon-Shiong feels California can lead the nation and the world finding a solution to COVID-19.
Regarding the entire bioscience industry, medical research is rapidly evolving, even the understanding of molecules in the body that proliferate T-cells in your body.  Fusion proteins and cell therapies will move to a whole new paradigm, so we are moving away from toxic chemotherapy, towards a combination of fusion proteins and cell therapies.
Soon-Shiong closed by saying, "Regarding Los Angeles, I am both excited and worried," he said. He noted this city has some of the most amazing human capital and brainpower, with universities and scientists.  But he is worried that we put ourselves at a disadvantage to other states because of tax regimes and other issues, and some business is leaving.  He said we need to find a balance.  We need to address inequities, the wealth gap, but there needs to be a level of balance so we are not killing the opportunities we want to address.  He compared the situation to the movie industry, which has lost some production to other regions, and said we don't want to see that happen in bioscience too.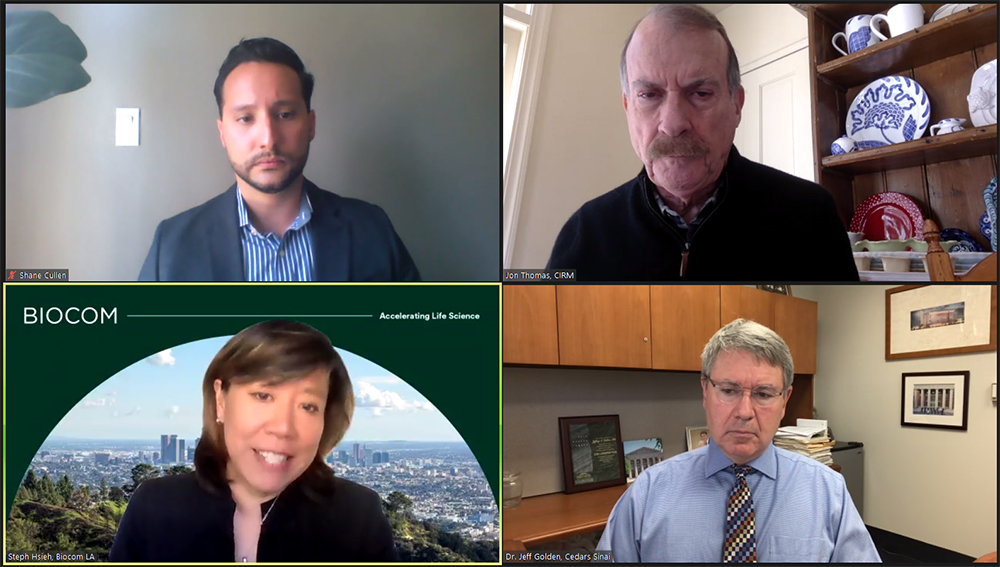 Top left clockwise: Moderator Shane Cullen of LAEDC, Dr. Jon Thomas, Dr. Jeff Golden, Stephanie Hsieh
PANEL:
Stephanie Hsieh, executive director for Biocom's LA office spoke about Biocom's role of serving as the 1400-member industry association that helps the industry and its businesses grow in the LA region, including via policy and other advantages they offer bioscience companies, and she noted that Los Angeles is at a tipping point as the bioscience industry enters a new phase of growth in the region.
Dr. Jon Thomas, chairman of the governing board, California Institute for Regenerative Medicine (CIRM), described the agency's role, which was created in 2004 via ballot measure to allocate $3 billion in research grants throughout the state of California in stem cell related fields. He noted CIRM has delivered 1200 grants to 70+ entities from schools to research institutions and biotech companies, dealing with 70+ disorders and diseases. Dr. Jon said, "We are excited that a "re-up" November measure passed for an additional $5 billion, that funds research and keeps California at the top of research in this field.  "So, we are trying to figure out how to deploy $5.5 billion in the fields of stem cell therapy and gene therapy, and other areas of regenerative medicine."
Dr. Jeff Golden, director of the Burns & Allen Research Institute at Cedars Sinai talked about his federally funded research lab studying brain development and the massive pivot needed during the COVID crisis.
How is the bioscience industry in Los Angeles developing?
Steph: There was good momentum in LA just before COVID, but way back in 2015 it was hard to find a place to grow and stick here in LA.  But that growth is obvious lately – more incubator space, more investment funds, more VCs, more institutions like Westlake Village Bio Partners, so LA had good momentum coming into the pandemic.
Jon: Every year at the JP Morgan conference in the Bay Area, the regenerative medicine "state of the union" is presented, focused mainly on companies, and just these past several years you can see the field is multiplying logarithmically, and in California there is an unusual amount of funding that spawns new companies and spin-outs.  In the LA region, we've been able to fund a great amount of research in academia and increasingly in industry.  The research has led to a best-in-class portfolio of solutions that has led to a strong ecosystem… that was all in place prior to COVID.  So we could see a real increase in immunotherapies, such as at Kite Pharma and Patrick Soon-Shiong's companies, which are making LA a real hub.
When did you realize the impact of COVID on the industry?
Jeff:  We became extremely concerned in January of 2020, and even before we had heard about the growth of COVID, and we all had hoped testing would help prevent the pandemic from coming here and limit its spread.  But we felt our hands were tied.  We typically build tests in our centers under CLEA standards, but because this became regulated by the FDA we were not allowed to do that.  The turning point was March 2nd, that the FDA announced we could develop our own tests, and by that Friday we were running our first tests.  We had never moved that fast before.  It typically takes a minimum of 2-6 months.  So it took 4-5 days.
Jon:  One main way it impacted us was, we quickly mobilized a program for requests for grant proposals for COVID work in our field as part of this collaborative effort.   Over 2.5 months, we awarded 17 grants for clinical trials and pre-clinical work.  So we moved fast to deploy grants, and it was a real pivot in subject matter, so we did our part to get the state's taxpayer dollars applied to the problem.
FDA approval process and mRNA?  Long term impacts?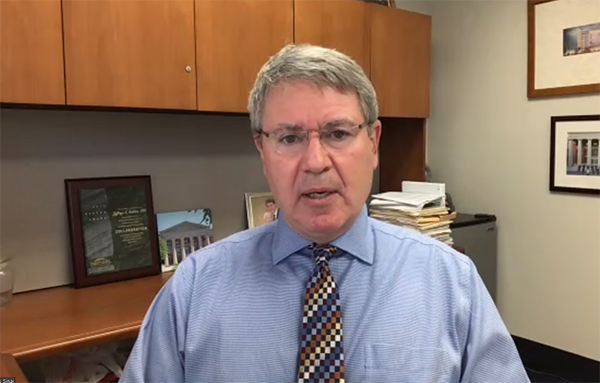 Jeff:  With testing, the first thing you need is a sample, and we didn't have enough FDA approved swabs anywhere in the country.  Early on, we partnered with industry to 3D print swab samples to see if they were working well, and print millions so we could do the tests.   So even at the collection point we had challenges.  Then transport, we didn't have enough viral transport media and that required an approval process as well.  The FDA will give emergency use authorizations and they expanded use of that authorization, which was a huge help.  Then the actual testing, PCR, needed to be amplified, to detect single strands of RNA in the virus.  We needed to have enough patients to get a good read on our positive/negative confirmation….and during this process we were running out of supplies.  So we were asking closed labs if we can get their supplies to be able to do clinical testing in our labs.
We needed to have three different tests in our hospital because at any one time the reagents might be in low supply for a given test, so we needed to pivot between tests as a solution.  We talked about moving tests to a different place, so we could support the entire state and brought Quest in to help, as well as Broad Institute, point being the partnership with government to call companies made a difference.
How did availability of resources in the industry as a whole impact the effort?
Steph:  We heard Patrick talk about pivoting from cancer to COVID, and we all started collaborating, using pieces of the solution to try to make progress.
Jon:  Regarding the mRNA technology, the insertion of new genetic code into RNA, to give instructions to cells to produce certain types of protein…  This really triggered a huge inflow of capital into mRNA technology.  In 2019, there was $596 million in funding of mRNA at different companies.  It ballooned to $5.2 billion in 2020.  There are currently 150 vaccines or therapeutics – projects currently underway  — to address RNA-based viruses, e.g. HIV, and e.g cystic fibrosis.  You will see an explosion in this research on mRNA, which has now been proven effective and gained approvals, and LA will get its share of this money and research work.  We are at an inflection point in approach to these diseases as a result of mRNA.  In 2006 we funded a post-doc, who left to found Moderna, which is actually saving the world.  So funding matters.  But COVID is the tip of the iceberg for mRNA applications.
Equitable access to treatment?  Funding for institutions that serve communities of color?
Jon: DEI is front and center at CIRM, we look at grant applications for involving underserved communities in the research we are doing, in terms of the products they are developing but also in terms of the teams they are developing.  The California mandate for "accessibility and affordability group" requires organizations to deal with this issue, and we want to be certain all citizens get to benefit from what we fund and develop.
Steph:  COVID has shown a spotlight on the gaps and inequities as we look at underserved communities.  We've seen firsthand, but it's a real opportunity for us in LA, with our diversity and our world class institutions and health systems. She thinks LA could play a role in evolution of clinical trials.
Jeff:  In terms of equity, COVID testing was not available in the most at-risk populations, so we went out into the community to do free testing, in the communities, so we could get that information to that population.  It made a difference and it started to develop that relationship of trust that the healthcare system will be providing care for these communities. We have also selected populations of diversity so we can study health care outcomes, to see how they responded to vaccines, how they recovered, to better understand how we can deliver excellent healthcare to specific demographics and to more people.
#####
Thursday, June 17th will be the next LAEDC Future Forum.  LAEDC would like to thank California State University Dominguez Hills (CSUDH) for sponsoring this informative series.
If you are interested in engaging with LAEDC's board and supporting our mission, please contact Shane Cullen: [email protected]