With LAEDC's support, including 10+ years of operating the e4 Mobility Alliance, the advanced transportation industry in LA continues to grow organically and offer well-paying career opportunities, while building competitive advantage for LA's future success.
A look at LAEDC's recent report on the region's EV industry helps tell the story of LA's success in this market, with 120,000 direct jobs in Southern California.  But it is much more than electric cars, trucks, buses, planes and the charging and innovation companies in the electrification market.  Advanced Transportation also covers autonomous vehicle systems, new mobility concepts, and innovations in infrastructure such as we are seeing at Los Angeles International Airport (LAX).
On August 13, 2020, LAEDC hosted "Women in Advanced Transportation," with featured speaker Samantha Bricker of Los Angeles World Airports (LAWA) discussing the many infrastructure improvement projects at Los Angeles International Airport (LAX).
The goal of the virtual e4 meeting was to provide inroads for diverse, small, local businesses to participate in the contracts being awarded to thousands of subcontractors for the $14 Billion in projects underway at LAX, which include the highly anticipated people mover currently being built.  There was also a significant amount of discussion about the COVID pandemic and business response to that crisis.
LAEDC's Judy Kruger, who oversees the e4 industry council and other industry development programs like California Smartmatch, opened the event by making sure all the attendees know LAEDC is providing assistance with recovery, reinvention and helping businesses grow during and post-pandemic, including with access to capital such as grants.
Judy spoke briefly about the speakers, women who embody energy and innovation, and then set the stage for a focus on the future of LAX.
Quote of the day:  "It's a great week to highlight women, with all that is happening on the national stage."
Samantha Bricker, Chief Environmental and Sustainability Officer for LAWA outlined several of the 94 major projects that are being built at LAX over 10 years, totaling $14B, including improvements to terminals, airfield, security, technology, and the Landside Access Modernization Program (Automated People Mover train).  The APM is a $5B project, utilizing several primes and many subcontractors to deliver a 2.25 mile elevated train.  Like many LAX projects, this is a public private partnership (P3) model and an end-to-end DBFOM effort (design, build, finance, operate, maintain).  In that project, Bricker offered that there are perhaps $1B in contracts for small businesses and minority/ disadvantaged operators, highlighting how diversity, equity and inclusion are intentionally prioritized by LAWA.  Other projects underway include:
Intermodal Transportation Facility – West (ITF West), a large parking structure to open in 2021
Consolidated Rent-a-Car Facility, built via a P3, at a program cost of $2B cost
Southwest Terminal "1.5", with a $481M program cost, to be completed in Q1 2021
Delta Sky Way Terminal (terminals 2/3), a $1.8B program to be completed in late 2023
American terminals 4/5 modernization, a $1.66 program with completion by 2028
Terminal 6 Alaska Air redevelopment, a $227M program
Bricker discussed the importance of getting involved early on long term projects, such as a proposed airfield modernization project.  With 111M passengers expected in 2028, LAX needs to plan for that, including relocating runways and taxiways.  This will deliver a much better experience after landing with quicker arrival at the gate.  There will also be a massive modernization project related to the traffic congested Sepulveda Tunnel, which will include new, dedicated roadways to be added to let local traffic flow free with air travel traffic given dedicated roadways.
Additional opportunities include a reimagined Flyaway service, potentially utilizing on-demand, greater technology, marketing and other innovations.  Soon LAX will seek proposals for reimagining this service. Finally, Bricker mentioned sound level remediation is another opportunity coming up.
Bricker moved away from projects to offer that "LAWA's vision is growing the economic base," and offered encouragement to women who want to advance in the industry, mentioning LAWA has abundant women representation in leadership.
Speaking more about her role, Bricker talked about sustainability goals and electrification.  LAX has just adopted a sustainability action plan, covering energy, water, air quality and other goals.  For example, sustainable aviation fuel is in the plan, and United is already using it although there is currently a limited supply preventing a larger rollout.  [LAEDC will report on how LA is accelerating R&D and production of sustainable fuels to replace fossil fuels in a coming web post.]  Bricker also mentioned that electric airplanes are very exciting, including for Van Nuys, where noise mitigation is a big issue, so LAWA management is following those innovation companies closely. [LAEDC has hosted one such company, Ampaire, on a previous e4 meeting]
–continues below–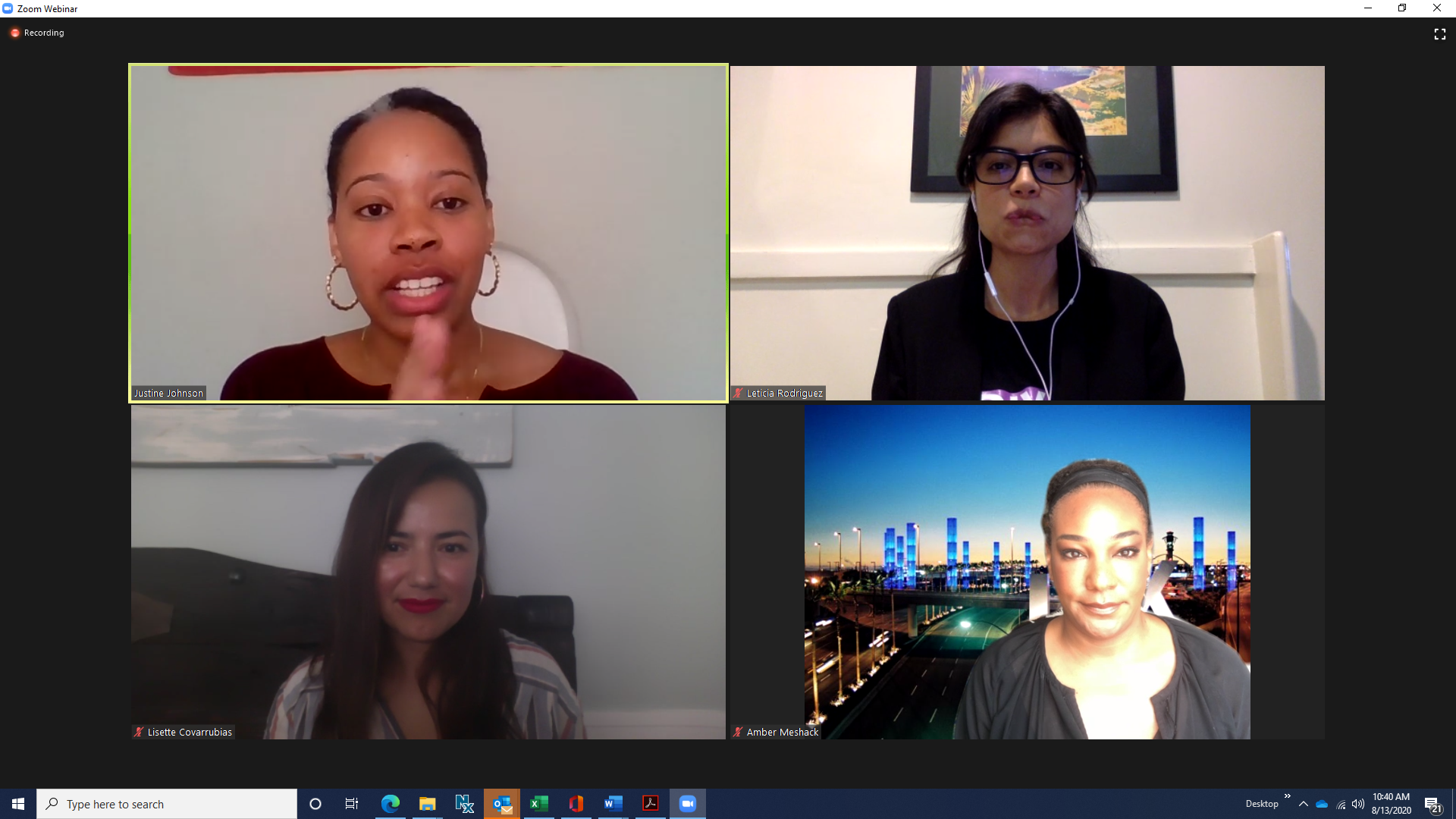 Clockwise from top left: Justine Johnson, Letitia Rodriguez, Amber Meshack and Lisette Covarrubias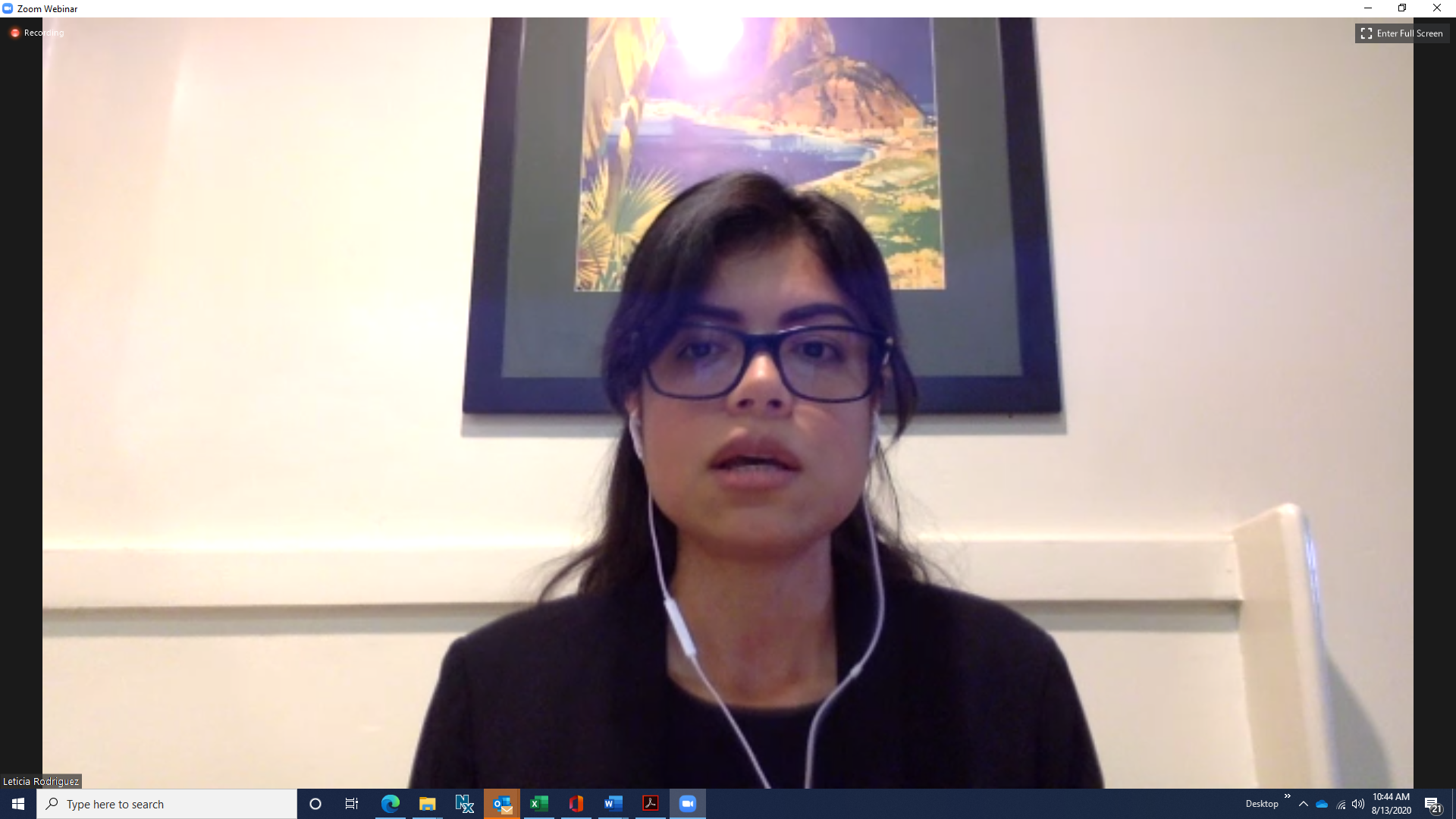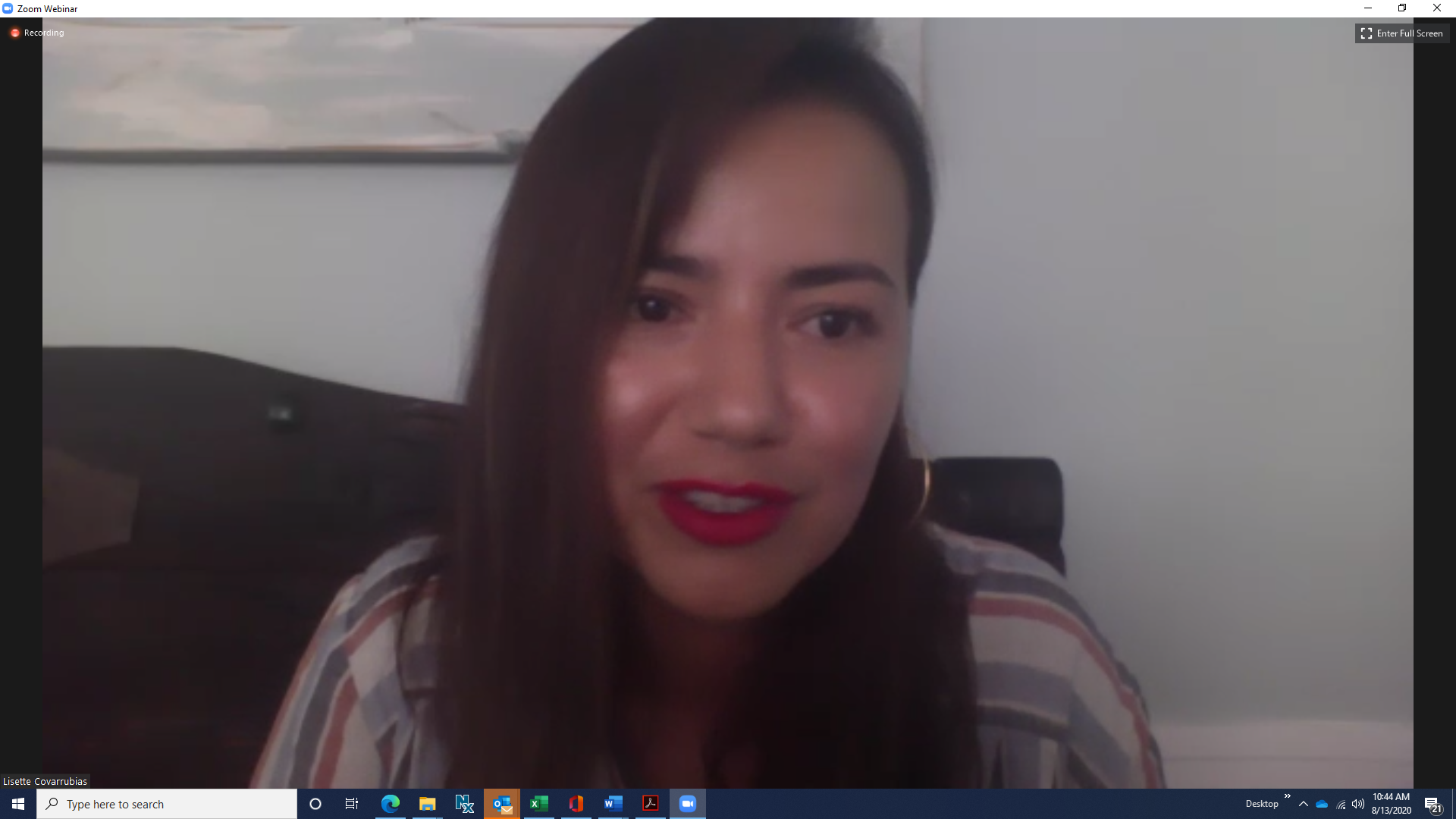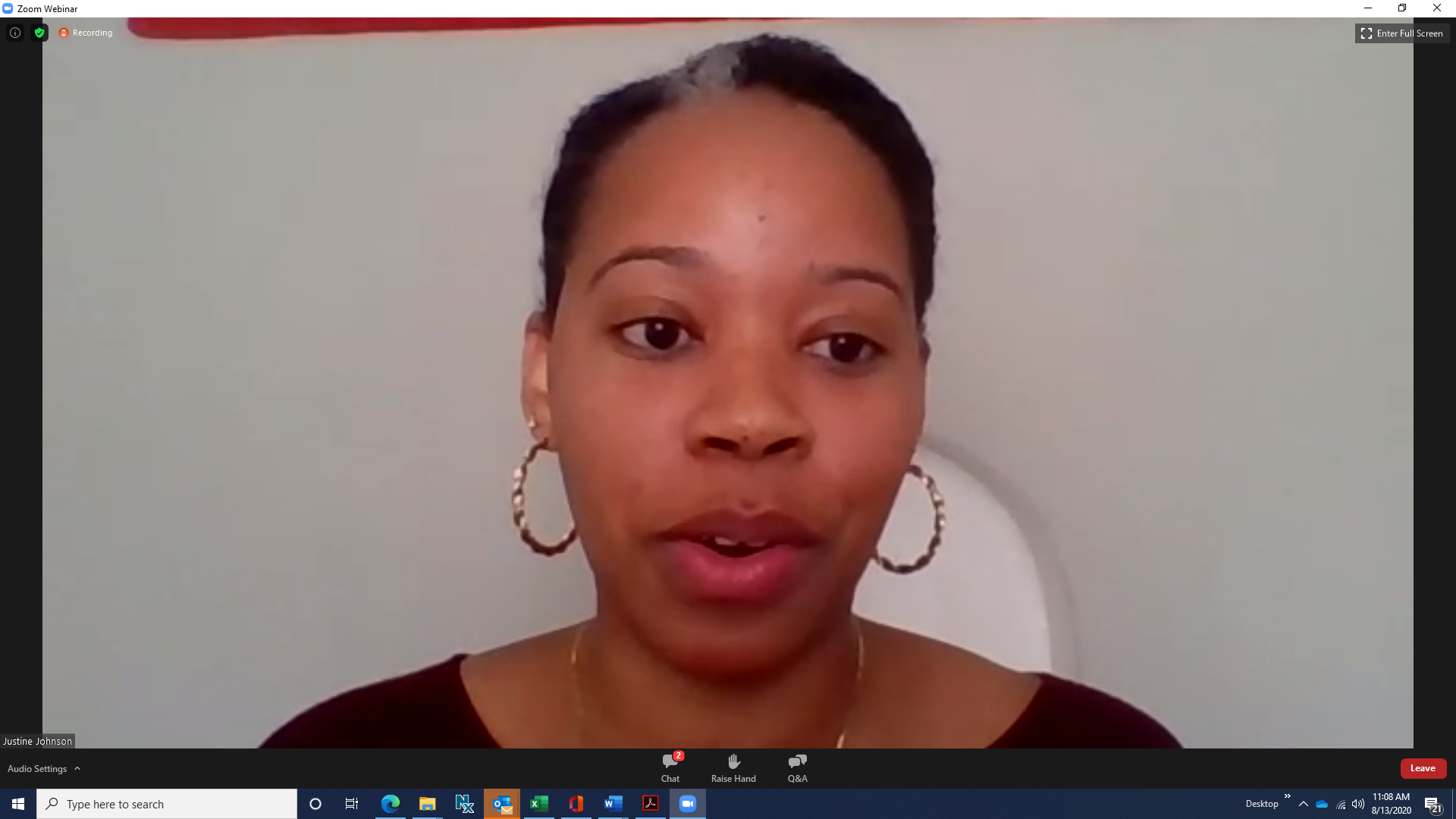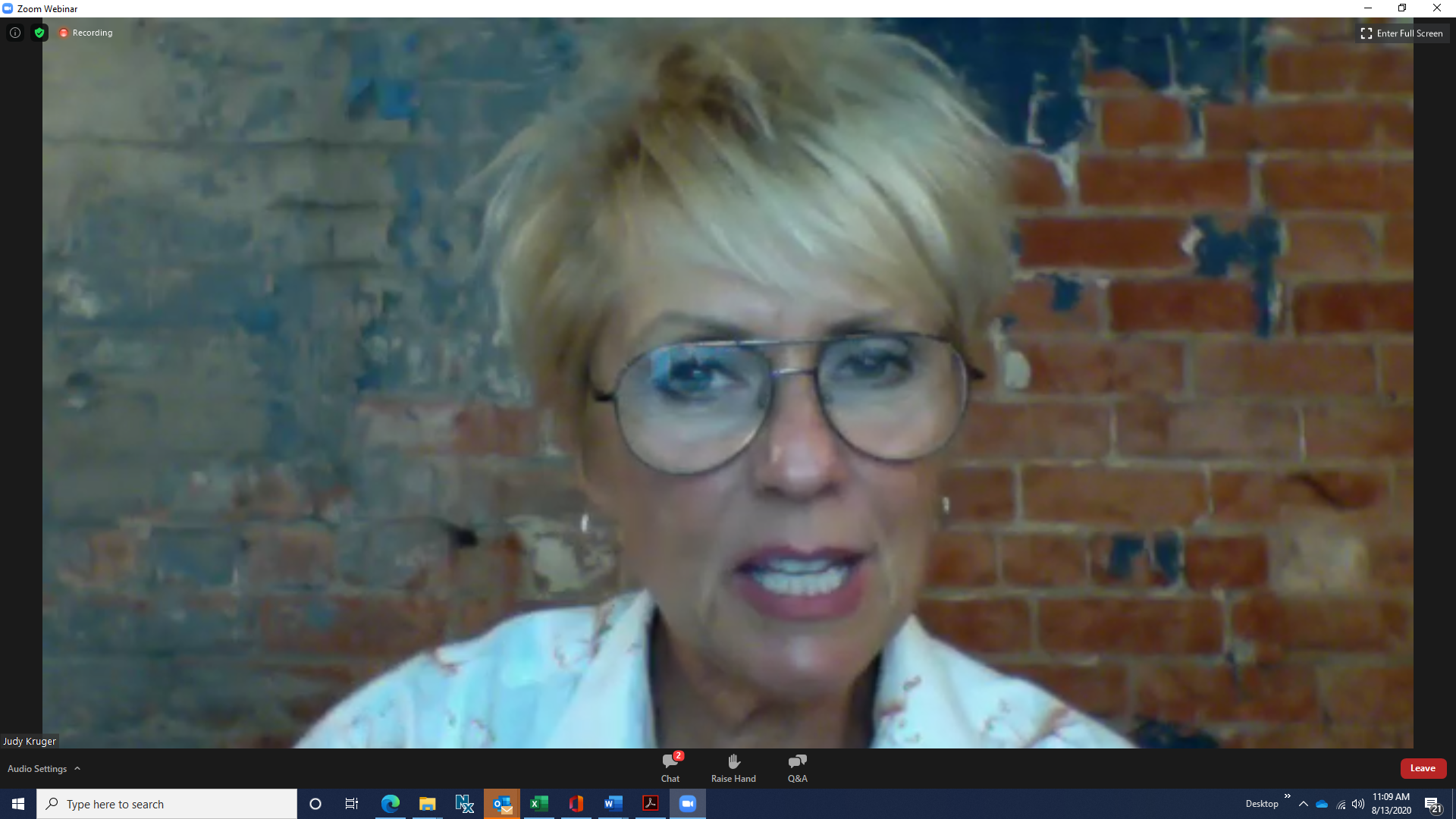 SPEAKERS PANEL:
Vendor opportunities and other programs.
Justine Johnson, Mobility Strategist for Ford Smart Mobility served as the panel moderator. In addition to Johnson's experience serving as a co-chair of e4, and at Ford, she has also worked for NYCEDC and on various NYC mobility initiatives.
Amber Meshack, Director of Business, Jobs and Social Responsibility for LAWA, manages the small contractor program. She spoke about the way COVID has turned aviation and transportation upside down.  "We are staying connected to our stakeholders, pushing forward with what we know must happen," and, "You have to be thoughtful about how you pivot in times of crisis.  There will be changes in business travel."  In addition she hinted at continuing changes that will occur in the logistics industry, as consumer demand shifts to online purchases.
Leticia Rodriquez is Executive Director at DIY Girls, and works to increase girls' interest in STEM and provide mentor relationships.  She said that, "COVID has moved us to think about what programs we offer and design.  We typically have very hands-on programs and we are rethinking how we connect these girls to the programs in a safe way.  There was a lot of reimagining." For example, woodshop classes had to be rethought, and they added a new offering of 3D printing.  DIY Girls works with girls 5th-12th grade, and is starting internship programs for STEM careers, available to girls who have come through the program.  She talked about career development for the future talent in infrastructure and advanced transportation engineering, and said that girls need to understand that engineering is fun, and can lead you along a multitude of career paths and interests.
Lisette Covarrubias, Program Deputy for Business, Jobs, Social Responsibility at LAWA, mentioned that women of color have given her the big breaks in her career.  She talked about ensuring we all learn the evolving technology needed during the pandemic to operate in virtual teams, which is a huge learning curve, "and it definitely brought me out of my comfort zone, but these technologies will ensure that our projects get done and connections to stakeholders remain strong."
Additional Topics
Q: On the topic of Recruitment, what skills do you look for?
Amber: COVID has revealed structural inequities in our system.  Leadership courses help people who have been kept out of construction careers, and this program had to be suspended until we can figure out how to do these courses safely.  Construction requires hands-on training, learning how to use tools.  "Our work preparing small and minority contractors for projects is important, and a big part of that is developing the relationships and networking because people hire who they know and like, and with personal meetings suspended it's harder to address these inequities."  "We always advise small businesses that you will get hired because of your ability to solve a problem.  Listening skills are critical, so you can understand what the problem is that you must solve."  She concluded, "Focus on what you do well, don't try to be everything."
Lisette: "Written and oral communications are key.  Know and understand your audience and communicate accordingly.  Public speaking is critical.  Folks will be representing their own businesses.  Employees will be advocating for themselves.  It makes you stand out from the crowd and ensures you are representing your organization or yourself effectively."
Q: What is a starting point to look for project or subcontractor work with LAWA?
Amber:  "First, we host a monthly webinar, Doing Business with LAWA, the first Wednesday every month.  Great overview on becoming certified as a small/local, disadvantaged or women-owned business, and helps you understand client needs and various program objectives.  Attendees learn the programs and goals…and can look ahead at those opportunities.  We look ahead at next year, and the next 5-10 years.  The procurement process for the people mover took two years.  So, it is a long-term game of networking, understand project direction, and we encourage business outreach to our LAWA staff to get the guidance on becoming certified.  We can also help facilitate a presentation on your goods and services to LAWA's purchasing team.  Learn more by emailing [email protected]
LAEDC's Judy Kruger closed by thanking LAWA as a jobs creator.
LAEDC and its e4 Mobility Alliance help you understand what is happening in advanced transportation, connect you to opportunities, and grow businesses, jobs and LA's industry.  LAEDC also provides direct assistance to businesses in the LA County region needing loans, grants, guidance, cost reduction, worker training and other assistance.
Thanks to LAWA and all our panelists for bringing diverse-owned businesses to the table.
Watch the full video of the e4 meeting