Watch the recording of the webinar on YouTube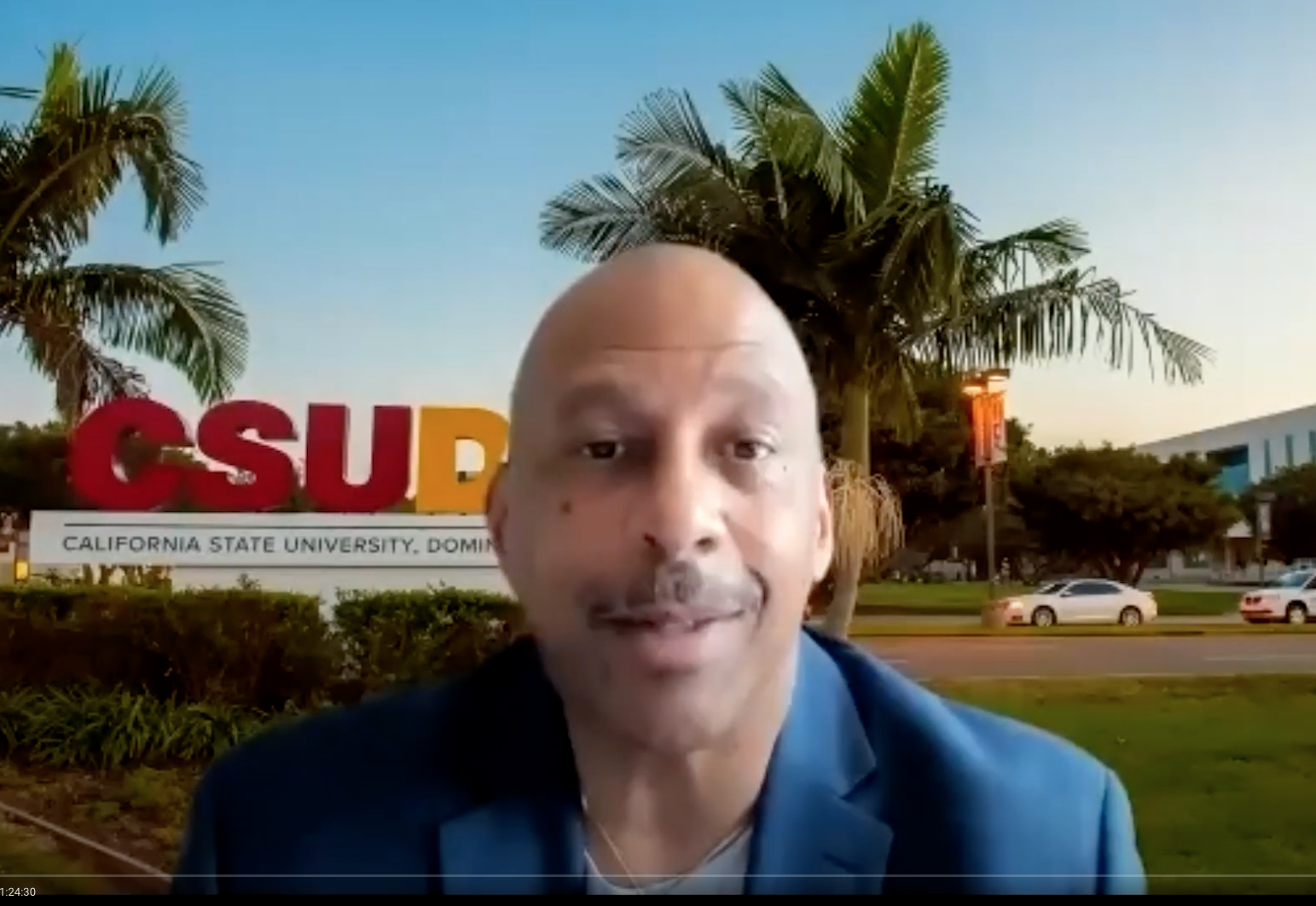 Dr. Thomas Parham, President, CSU Dominguez Hills
Sponsored by California State University Dominguez Hills (CSUDH), the Future Forum series allows critical discourse about trends in LA's major employment industries.  At the June 16, 2020 Future of Sports in LA event, CSUDH president Dr. Thomas Parham (pictured above) kicked off the proceedings by quoting sports legend Muhammad Ali, saying "I hated every minute of training, but I said, Don't quit.  Suffer now, and live the rest of your life as a champion."  Dr. Parham noted that kind of work ethic has allowed LA's sports teams to earn many championships these past decades.
"Sports brings Southland residents together like few things can," said Dr. Parham, "And I am also keenly aware of the platform sports and athletes have to bring attention to the social justice issues of our day."
Speakers from LA Rams, PwC, SoFi Stadium, LA Sports Council, LA84 Foundation and other participants discussed the multibillion dollar economic contribution to LA's economy that sports teams and sports venues represent, as well as issues such as the role sports can play in this time of growing social equity awareness. Creating a more equitable regional economy is the number one priority of LAEDC, and this Future Forum advanced that discussion.
Supporting many thousands of jobs across LA County, the industry is facing a dramatically different landscape due to the pandemic.  The pandemic has effectively stopped sports in its tracks in Los Angeles and elsewhere, creating severe challenges for workers and businesses that depend on sports, many of which are small and diverse-ownership businesses.  As many businesses look towards reinventing themselves to adapt and keep going, we all look forward to a return of sports and the fans to see this economic sector flourish again.
MAJOR ECONOMIC IMPACT
One of the most welcome aspects of the Los Angeles sports landscape is the new 290-acre SoFi Stadium, possibly the most exciting sports stadium ever built.  The return of the LA Rams was an essential catalyst in development of the stadium and Kevin Demoff, COO of the LA Rams talked about how proud the organization is that SoFi stadium will be an asset for Inglewood, although it is bittersweet to contemplate the first few games may be played without fans as we navigate the pandemic.  Demoff kept it in perspective, noting it is a temporary setback, which is a welcome point for all of us to remember.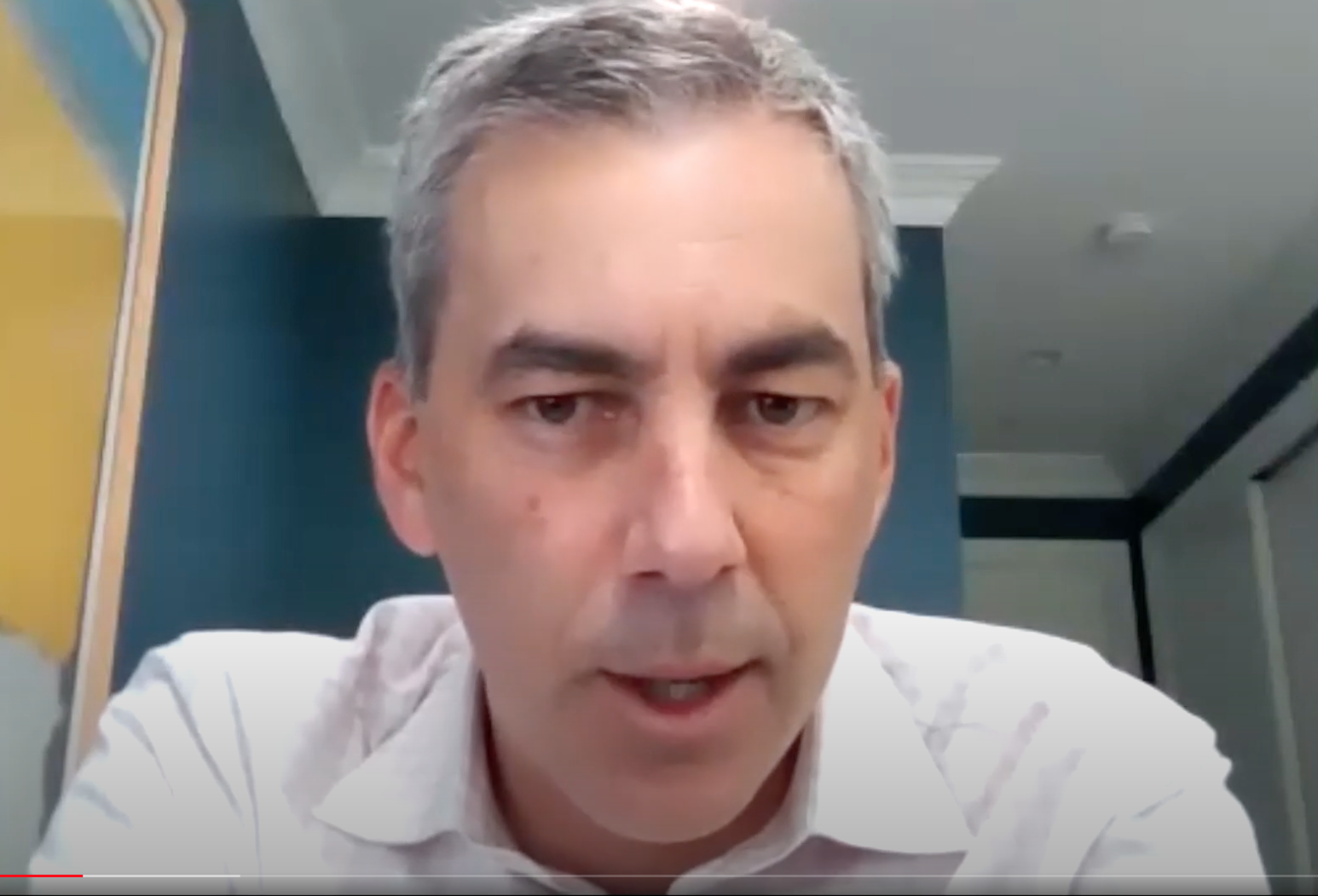 "This stadium opening in Inglewood, helping transform that community back into the city of champions it once was, and leading economic recovery…" is something that fills the organization with pride, according to Demoff, who noted that more than 12,000 people have worked at SoFi stadium during construction, including a large percentage of local workers and hundreds of apprentices who were learning construction careers for the first time.
LAEDC has been continuing to stress work-based learning programs as an incredibly essential path to well-paying careers that local organizations can support, and the LA Rams dedication to expanding apprenticeship opportunities is something more organizations and projects can emulate to drive economic opportunity.
Demoff also said the Rams have been partnering with the city on procurement, giving a lot of jobs to small vendors, women and small minority-owned businesses, and spending money in the community at small local stores.
In addition to construction jobs, when the season gets back to normal there will be thousands of game-day jobs.  Demoff spoke of the many small, local businesses, setting up shop to bring vitality to the local economy, providing opportunity and greater hope to South LA and the local region. And with 70,000 attendees expected at the big events, you'll see the foot traffic to help local businesses.
Demoff and all participants on the panel were excited about the opening game at SoFi, September 13th when the Rams take on the Dallas Cowboys.  And beyond that, locals look ahead to the 2022 Superbowl, which will be hosted at SoFi, and the 2028 Olympics, which will also spotlight the amazing stadium.  The stadium will become a major, long term part of LA's large tourism economy, which drives revenue for so many small businesses.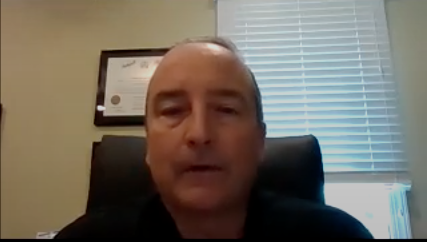 Michael Keenan, Managing Director and Sports Practice Leader for PriceWaterhouseCoopers (PwC), spoke about the shutdown and its impacts, in the context of the total jobs and economic impact of sports.  The recent PwC report analyzed the major job creation aspects of sports (pre-COVID), and he talked about some of the trends PwC had identified, including media broadcast rights, gate revenue from games, naming rights, branded merchandize, and regarding the financial analysis he said, "On a long term basis I'm bullish on sports."
Keenan also discussed the increase in hotel room availability in LA, the new stadium, and other factors that set the stage for getting the Superbowl to come to LA.  He responded to a question about the trend of soft growth of gate revenues by saying that gate revenues post-COVID 19 will be much better in the long term, once we get past some short term pain.
PANELIST DISCUSSION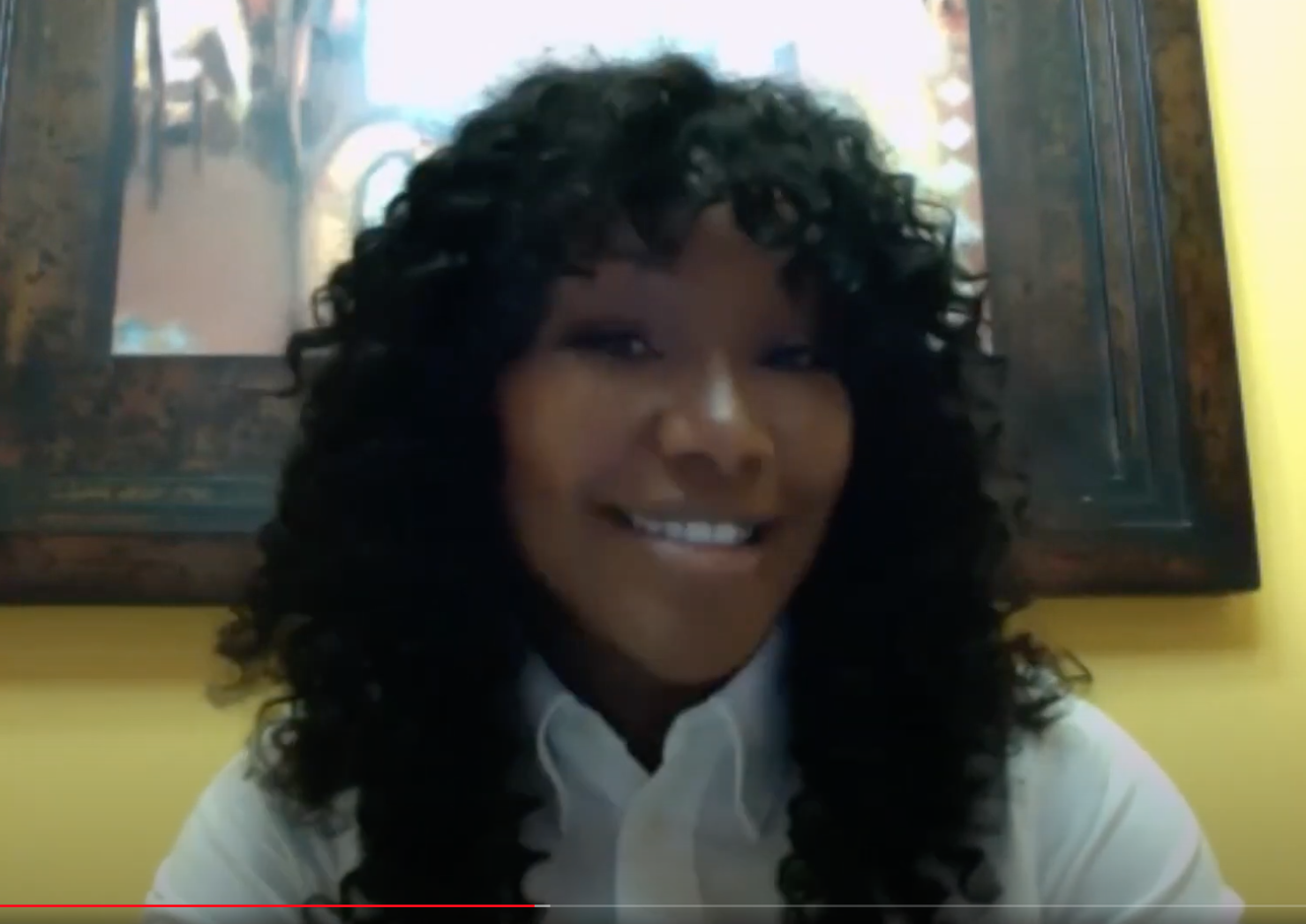 Caremlita Jeter, a three-time Olympic medalist known as the fastest woman alive, and Associate Head Track & Field Coach at Missouri State University, moderated the panel, bringing her experience as a top-tier athlete and college administrator to the discussion.  A CSU Dominguez Hills alum, Jeter is an LA native and steered the panel discussion towards topics including economic impact to the region from not only home team games but also the upcoming big events like the Superbowl.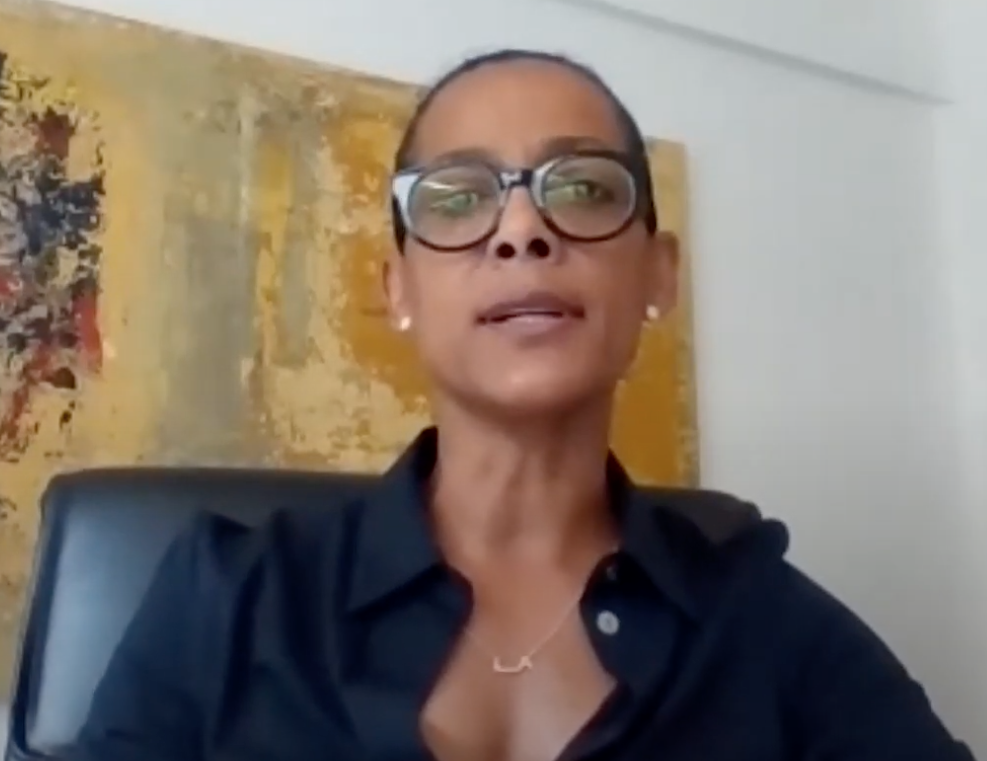 Renata Simril, President and CEO of the LA84 Foundation (a legacy of the 1984 LA Olympic Games) said she sees sports as a platform to address social equity and racial equity. Simril is also president of the new Play Equity Fund, which seeks to ensure that the amount of exercise kids get isn't a function of their income level or zip code.  By raising awareness of inequities and supporting the ecosystem for youth sports, the nonprofit seeks to level the playing field for participation in sports.  She sees big potential for sports to have a role in advancing social equity.
Simril discussed the drop in urban community participation in the pay-to-play system and how economic disparities prevent simple things like equipment purchases or fees related to team sports, to highlight an issue needing solutions.  She also talked about the big win of the LA Sports and Entertainment Commission working with the state, county, city and partners to raise the funds and resources to be competitive in bids for major sporting events, which has proven successful in creating an effective public-private partnership that is attracting these events, and prioritizing social impact in the communities where these events are held.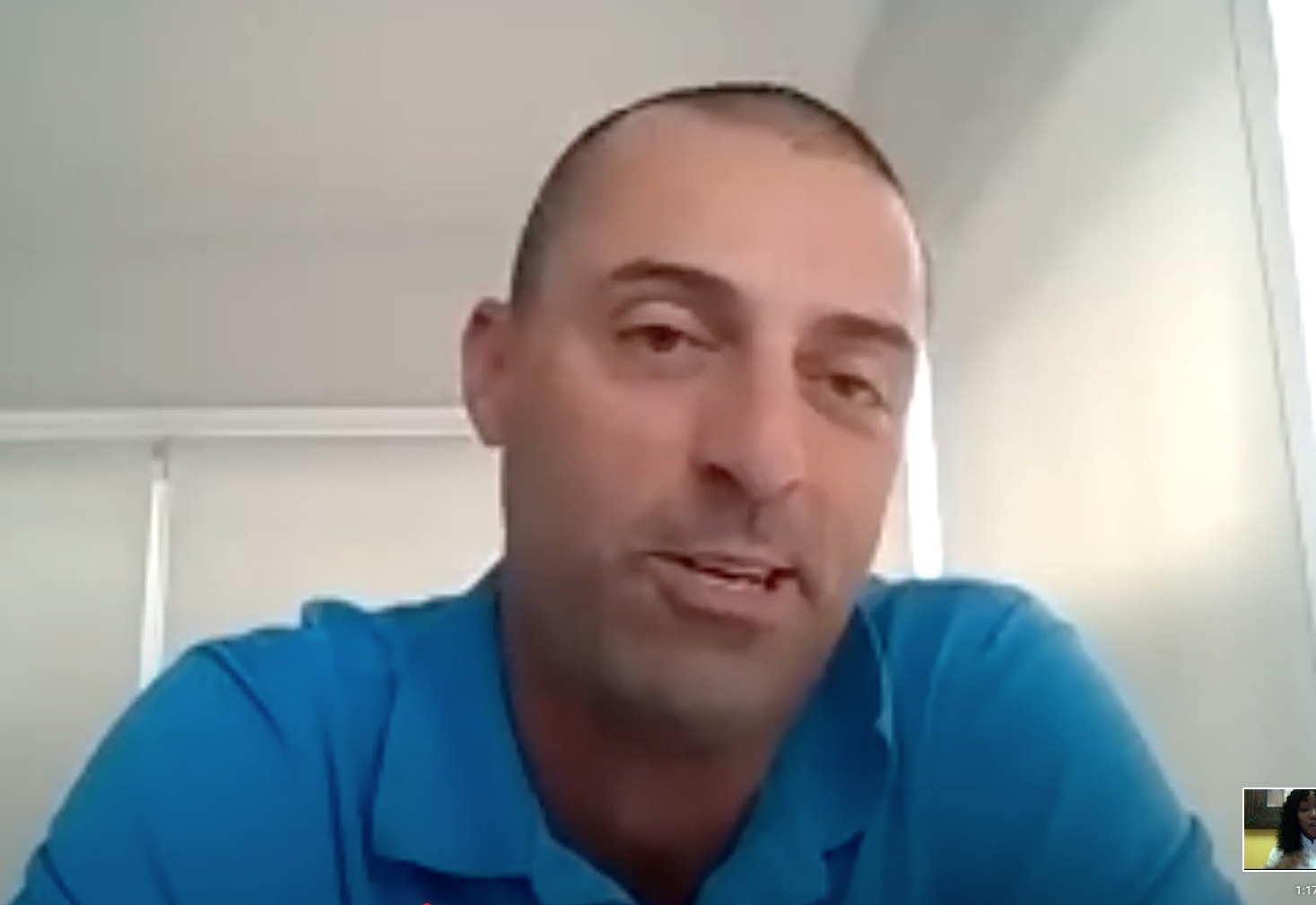 David Siegel, president and CEO of LA Sports Council talked about LA as an epicenter for sports business and the importance of strengthening the sports community, bringing together the teams, the league, the venues and the collective sports business community to strengthen the community.  Siegel discussed the 2019 LAEDC economic impact report which found the sports team industry in LA typically creates approximately $6.2 billion in economic output, supports nearly 40,000 jobs, and provides $327 million in tax revenues for state and local government.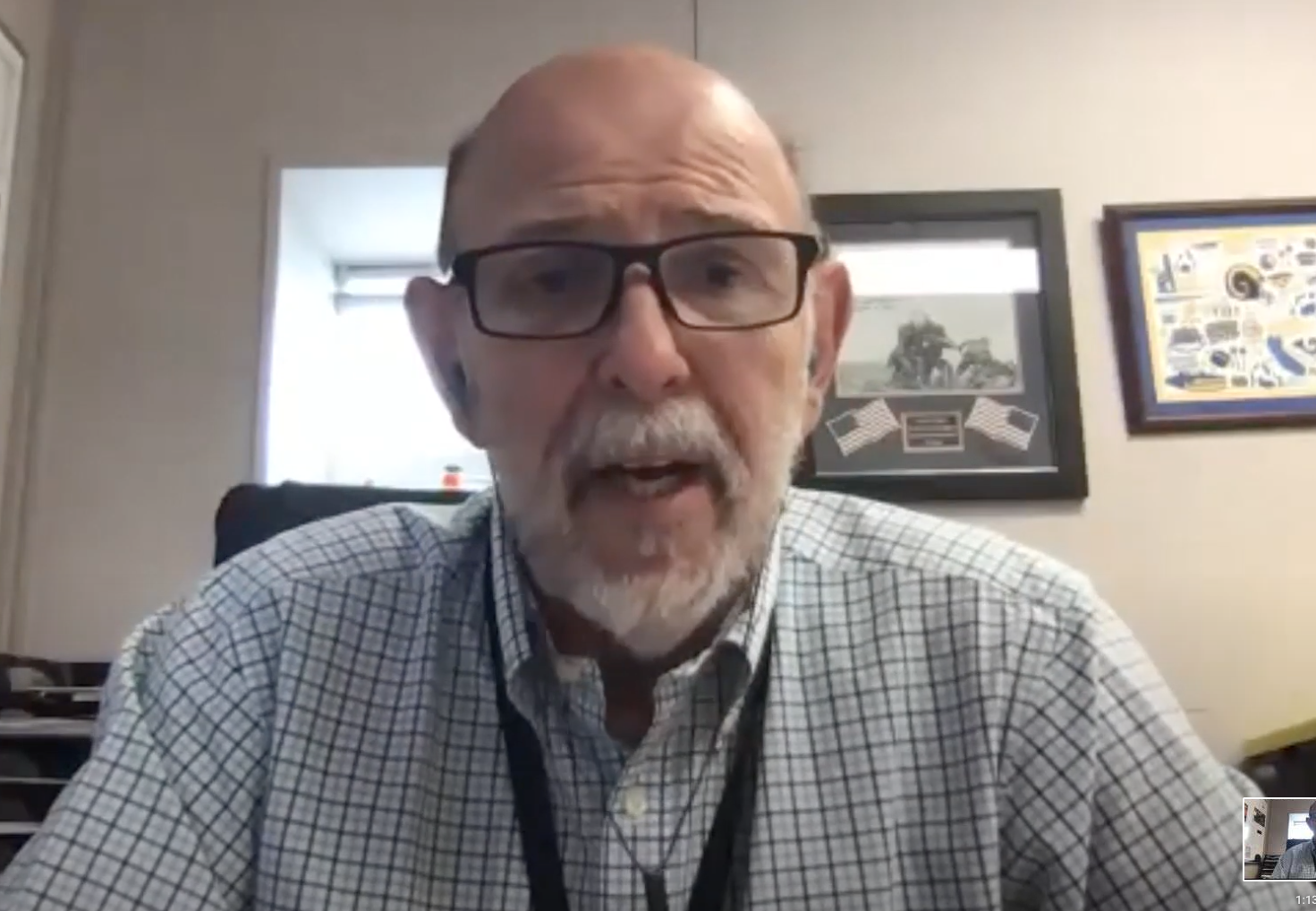 Russ Simons, SVP of Facility and Campus Operations at SoFi Stadium and Hollywood Park addressed the opportunities for employment for individuals and access to income through employment related to SoFi Stadium, with 6,000 casual employees at a typical game, as well as the positive impact to existing businesses in the "secondary economy," related to the stadium's activities, everything from shuttle bus companies and parking facilities to other businesses, which boosts the economy for the entire region.  "Jobs lead to careers," he said, referring to people who may start in a basic job but gain the skills that allow them to pursue managerial jobs or even become entrepreneurs.
The impact on a community is calculated differently all around the country, said Simons, and sometimes the best way to view the return on investment of a big venue is a combination of data, anecdotal evidence that local business is better, and concrete specific projects that are being driven by sports entities.  He also talked about the revitalization of the neighborhood around Staples Center and how that extends outward in concentric circles, leading to material evidence of healthier, safer communities and uplifted communities.
Simons also talked about sustained job growth, which depends not just on the big marquis sports events but also the smaller events such as can be hosted at the 6,000 seat performance venue on his campus, and all the bars, restaurants and other attractions that create ongoing jobs and careers.  He addressed the new procedures and protocols needed in a COVID 19 world, and said there will need to be a big public education campaign to help people know it is safe to return to attending games, when that begins.
There was some discussion of e-sports growth, such as local LA-based company Riot Games, and the opportunity to bring advertisers and more mainstream audiences into e-sports.
SPORTS AND SOCIAL CHANGE
Renata Simril pointed out that all the sports teams in LA have a philanthropic foundation that works with the community, which are having a positive effect, and especially recently there is a lot of energy around systems change and racial equity.  The specifics of high school graduation rates (59% of African American males graduate high school, compared to 80% of White males), the unequal criminal incarceration rate, and other statistics reveal a lack of equity, and the sports teams are starting to ask the questions about finding appropriate partners to drive long term change on these key metrics.  By engaging with sponsors over the long term, Simril believes these conversations about social justice will drive action and progress.
Siegel also talked about the role of mentorship, where athletes can impact education and community outcomes, and suggested that is an important way teams and players can give back.
Lastly, Renata Simril talked about the role of sports in helping women find their voice, and the importance of being well informed (put in the hard work) so that you can bring your A-game and make the best of opportunities when you do get a seat at the table.
CLOSING REMARKS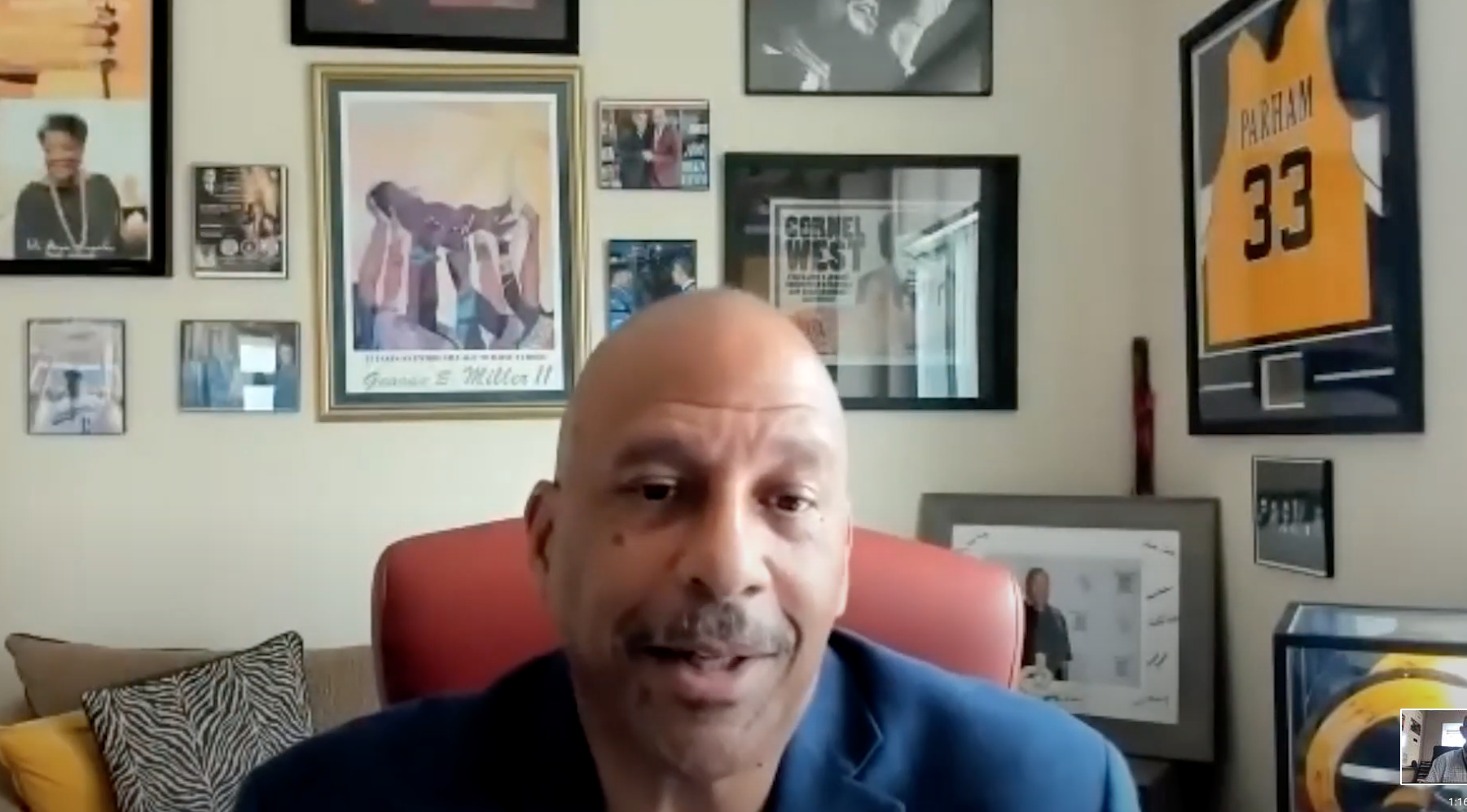 Dr. Parham mentioned the opportunities for business and job growth are there, and the opportunity for LA sports teams to not be simply "in" the community, but to be "of" the community, meaning strategic engagement with schools, parks, universities and communities, will create the conditions to help young people succeed and learn to expand their ideas about range of choices and future direction.  Parham touted the five CSU universities in LA County as a combined catalyst to enable better futures for people.  He stressed the importance of partnering with educational institutions to make LA and the broader world what we want it to be.
LAEDC welcomes you to join our next Future Forum, and if you would like to help LAEDC work towards our vision of a reimagined Los Angeles regional economy – growing, equitable, sustainable, and resilient – that provides a healthy and high standard of living for all, please consider supporting LAEDC through membership by contacting Melissa Kham, VP of Strategic Relations at [email protected]