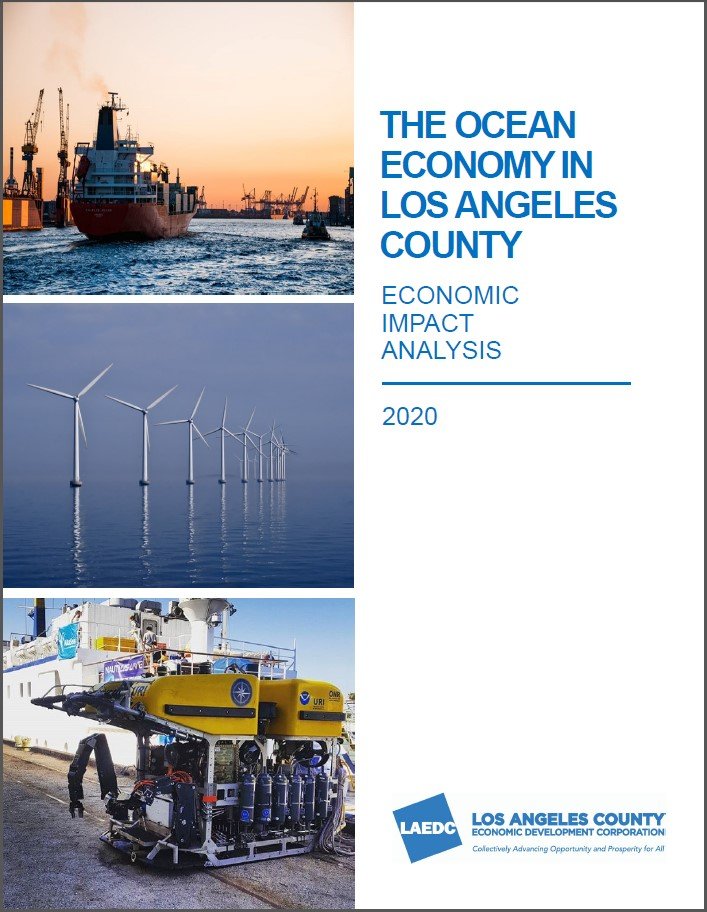 LA's "Blue Economy" Represents a Major Jobs, Wage and Tax Revenue Driver
Rarely Tracked, LAEDC Says: "Blue Industry Jobs Projected to Grow to 126,000 by 2023"
Media Coverage:
The Daily Breeze: California's 'ocean economy' is strong, but faces threats from climate change
L.A. Biz: Los Angeles dives into 'ocean economy' with new jobs category
LAist: Beyond Silicon Beach – How LA County is banking on the ocean for new jobs
The Argonaut:  A Wave of Opportunity
NBC 4 TV News coverage
Spectrum News One TV coverage
KPCC NPR Radio 89.3 FM coverage
KNX Newsradio 1070 coverage
KFI Radio News coverage
LOS ANGELES, CA (Feb 28, 2019) – Today in LA County, 117,000 workers are directly employed in the region's "Blue" or "Ocean" economy, with an additional 82,500 jobs sustained by the industry, according to a report: The Ocean Economy in Los Angeles County, which was sponsored by LA County Supervisor Janice Hahn's office and released by the Los Angeles County Economic Development Corporation (LAEDC) and prepared in collaboration with AltaSea at the Port of Los Angeles. Based on the industry's significant regional economic contribution, the LAEDC took the rare step, upon the report's release, to add the "Ocean Economy" as a Southern California-based industry cluster that it will formally monitor, benchmark and track going forward; much like the LAEDC does for the region's more well-known industries such as aerospace and digital media entertainment.
The report, which was co-authored by AltaSea at the Port of LA, also found that:
California's Ocean Economy supports 1.035 million jobs (direct, indirect and induced), or roughly seven percent (7%) of the state's total workforce, and over $53 billion in total labor income. (2018)
LA County's Ocean Economy supports 200,400 total jobs (direct, indirect and induced), produced over $34 billion in regional output, added $20 billion to the gross county product, yielded over $12 billion in labor income, and generated $1.7 billion in local taxes. (2018)
The marine transportation and tourism sectors, which employ 52,070 and 57,270 workers, respectively, in LA County, are the industry's largest local employment contributors. (2018)
LA County's Ocean Economy is forecasted to grow significantly, directly employing 126,000 workers by 2023 and generating $80.1 billion in regional output, $49.8 billion in additional gross county product and $69.2 billion in personal income over the five-year period between 2019 and 2023.
Globally, the Ocean Economy is projected by the OECD to double to $3 trillion over the next decade.
The LAEDC report also highlights the growing economic, environmental and equity importance of the LA region's emerging marine-based biotechnology, conservation, renewable and high-tech sectors, which the LAEDC projects will be significant drivers of future job, venture capital and wage growth over the five-year study period. By levering the LA region's existing applied research concentrations and pronounced productive advantages over other economic regions and nations, the report concludes that LA is "well-positioned" to become a world leader in the development of marine-based solutions to address global climate change, health and water conservation challenges.
"The newly-designated 'Ocean Economy' is a strong and growing sector of our economy in LA County," said LA County Supervisor Janice Hahn. "Over the next decade we're going to see more jobs at our ports, in aquaculture, in ocean exploration, and in ocean technology we haven't even thought of yet."
The report also makes some policy and program recommendations for further building on the region's organic strengths in this industry. Key suggestions include: invest in industry-driven workforce training programs that can respond in real-time to the fast-changing labor market needs of this industry; advocate for economic and workforce development incentives and programs that support emerging ocean industries; ease regulatory barriers for sustainable aquaculture; promote marine-based renewable energy solutions; and implement local waterfront revitalization and preservation programs that achieve the co-equal goals of to combat sea level rise and to promote sustainable economic development.
"Owing to its location in one of the largest coastal cities in the world, AltaSea will advance the scientific community's understanding of the ocean and its interaction with people and businesses in a unique way," said Tim McOsker, CEO of AltaSea. "Our Board of Trustees, donors, staff and the great San Pedro community have embraced our transformative vision for LA's waterfront. Together, we are going to tackle the burgeoning challenges of the Blue Economy."
The report also provides case studies with best management practices showcasing how other regions are advancing their "Blue" industries; covered regions include: Bangladesh, Indonesia, Massachusetts, San Diego and Washington State.
About LAEDC   https://laedc.org
Los Angeles County Economic Development Corporation (LAEDC) works collaboratively to advance opportunity and prosperity for all in the Greater Los Angeles region. This is achieved via economic development leadership, objective economic research and analysis, strategic assistance to business, education and government partners, and targeted public policy. LAEDC was established in 1981 as a private, non-profit, public benefit corporation.
Media contact: [email protected]
About AltaSea at the Port of Los Angeles    https://altasea.org
AltaSea at the Port of Los Angeles is creating a world-class ocean-based campus where science, business and education come together to generate innovative solutions to the most critical global sustainability issues today: food, energy, and climate security. AltaSea accelerates scientific collaboration, facilitates job creation, and inspires the next generation for a more sustainable ocean. Built on a historic pier with access to the deep ocean, AltaSea's campus brings people together to expand science-based understanding of the ocean; incubate and sustain ocean-related business; and pioneer new ocean-related education programs.