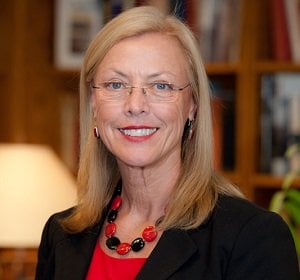 I am honored to have been invited to chair the Los Angeles County Economic Development Corporation for 2019–20. As I assume this role, I want to thank Eric Rowen for his work and dedication as the LAEDC chair in the past year. Under his watch, LAEDC continued to provide incredible leadership and opportunity for the residents and all sectors of L.A. County, and I look forward to continuing the good work that he and other past chairs have done in partnership with the talented LAEDC staff to advance our community.
I am particularly proud to be the first university leader to chair the LAEDC, as it reflects the true partnership that exists among business, government and education to collaborate and work together in ensuring L.A. County and its residents and communities continue to be economically and globally competitive. My colleagues and I at California State University, Northridge (CSUN) and in the broader higher education community appreciate this recognition of the important and valuable role our academic institutions play in economic development.
The year ahead will present opportunities and challenges. As the County's premier economic development organization, the LAEDC will continue its work to catalyze job opportunities, enrich the health and quality of life for all residents and to overcome any challenges that are a barrier to this progress, especially in economically disadvantaged communities.
My priorities are to fortify and expand the LAEDC's ability to do this impactful work, and specifically include: strategic advising of city and county governments on economic development programs, policies and priorities; providing research, analysis and recommendations to industry, government and education related to the "Fourth Industrial Revolution"; partnering with our talent development systems and institutions as they look to become more responsive and adaptive to the changing economy; attracting and retaining firms and quality jobs from the industry clusters in which L.A. County has productive advantages; addressing energy policy and other sustainability issues; increasing L.A.'s global connectedness and competitiveness; accelerating innovation and entrepreneurship; and strengthening LAEDC's financial position for long-term organizational sustainability.
All of us share the vision of a vibrant, equitable, healthy and educated Greater Los Angeles. Through the work of the LAEDC, we aim to foster an economy fueled by innovation, creativity, discovery, inclusion  and global connectivity. Together, we strive to elevate our region so that everyone can realize the exceptional possibilities that are in Los Angeles.
I look forward to working with you in the coming year to collectively advance opportunity and prosperity for all, so that L.A. and especially its residents can compete globally and benefit collectively from this success.
Dianne F. Harrison, Ph.D.
President, California State University, Northridge