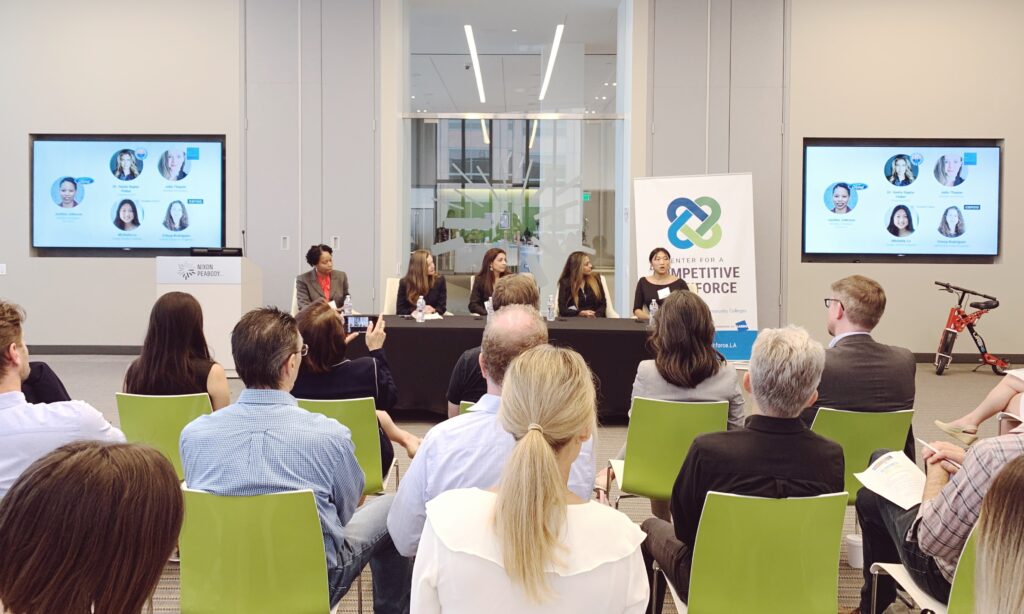 On August 15th, LAEDC's e4 Mobility Alliance convened business leaders from NEXT Trucking, Fisker, Canoo, Faraday Future, and the Los Angeles Mayor's Office around a dynamic conversation about the opportunities and challenges for women in the mobility and advanced transportation industries.
Hosted by Nixon Peabody and in partnership with the Center for a Competitive Workforce, the industry council meeting began with a presentation from Adrian Banuelos (East Los Angeles College, Automotive Technology Program Chair), who shared an overview of the program as well as anecdotes about his students' passion and successes in the ever-evolving industry.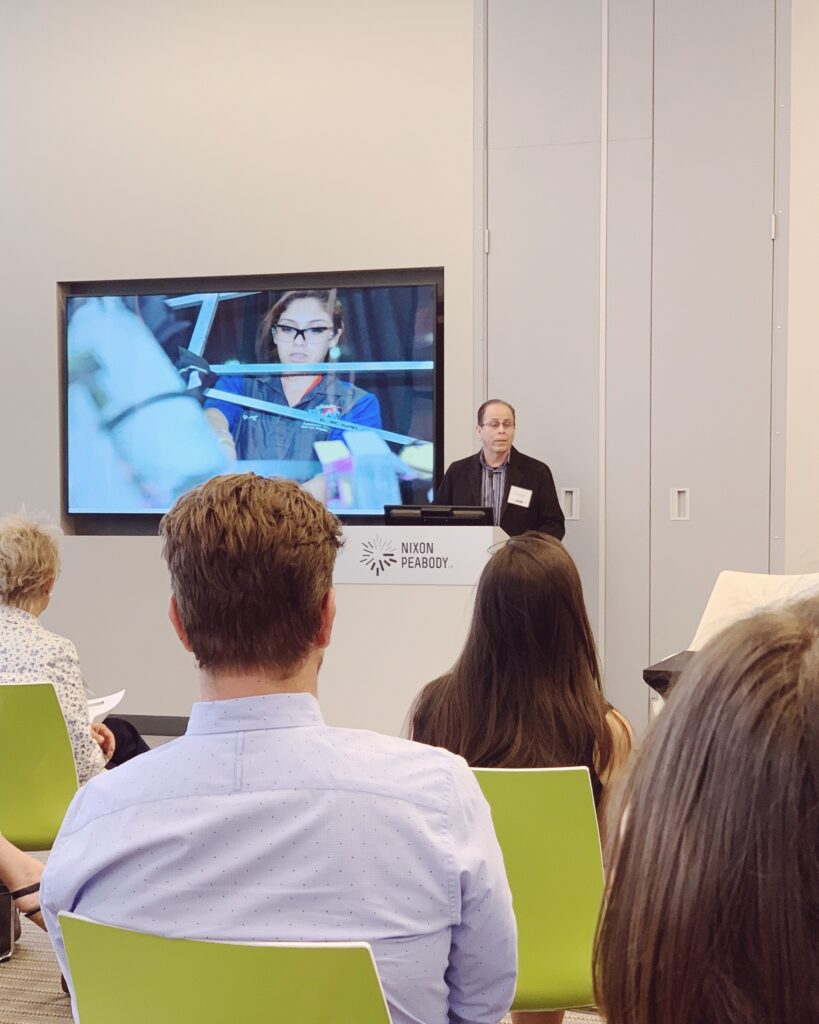 Following the presentation, a powerhouse panel featuring Dr. Geeta Gupta-Fisker (Fisker, President/CFO), Julia Thayne (Los Angeles Mayor's Office, Mobility Innovation Lead), Michelle Lo (Faraday Future, Design Quality Engineer), and Crissy Rodriguez (Canoo, Vehicle Dynamics Engineer) was filled with stories about their first steps into mobility, current perspectives and insights, and future industry and career projections.
The #E4WOMEN event ended with a keynote on the next generation of mobility-as-a-service by Lidia Yan (NEXT Trucking, Co-Founder/CEO).
First Moves into Mobility
Moderated by Justine Johnson (Ford, Mobility Strategist), the all-women panel featured engineers, entrepreneurs, and facilitators who are creating, connecting, and conducting the products and services that move people and goods through Los Angeles.
Our panelists were driven to the advanced transportation industry in different ways, but share one thing in common: they're all systematically disrupting it.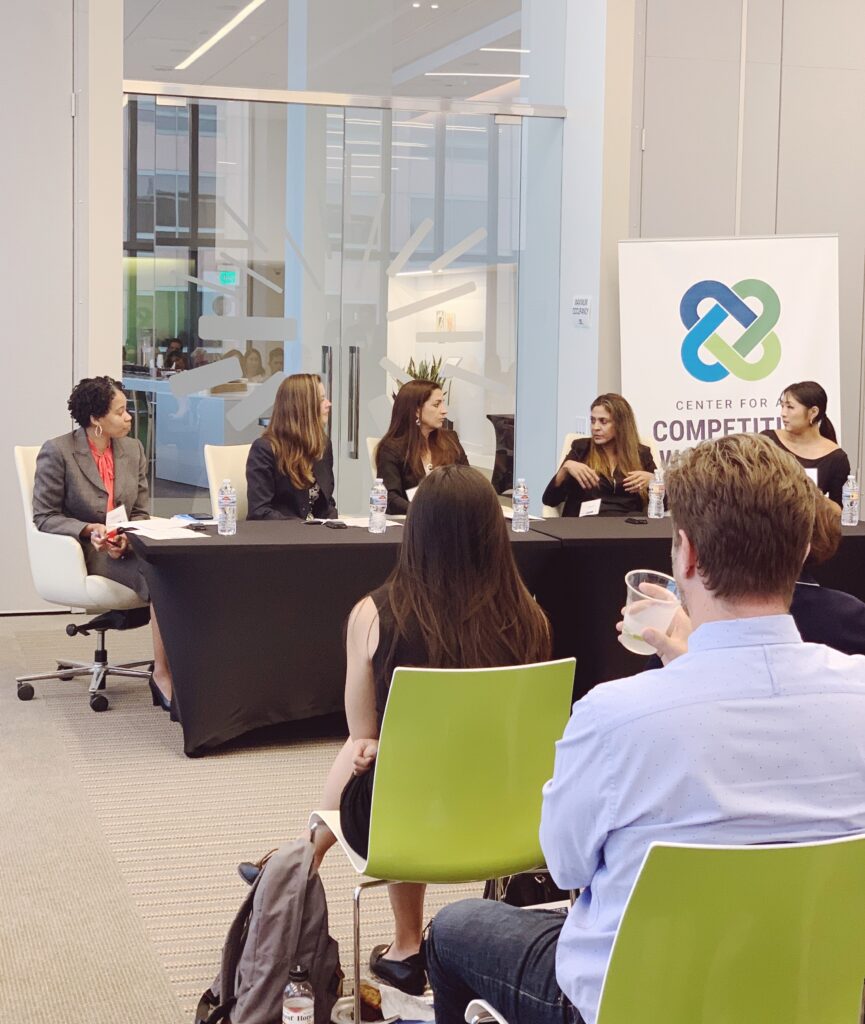 For Dr. Gupta-Fisker, an upbringing in a business-oriented family and a lifelong love for numbers resulted in an entrepreneurial career in biotechnology, banking, and most recently, transportation. As it turns out, biotechnology and transportation have a lot in common — capital and time intensive innovation processes and multidisciplinary professionals with an optimistic perspective of the future.
For Julia, actively seeing and experiencing an industry that hasn't been significantly disrupted in 100 years inspired her to be a part of the solution(s). With a background in economics and city design and years leading innovation and technology for cities, her interest in mobility is rooted in its relationship with physical and digital infrastructure.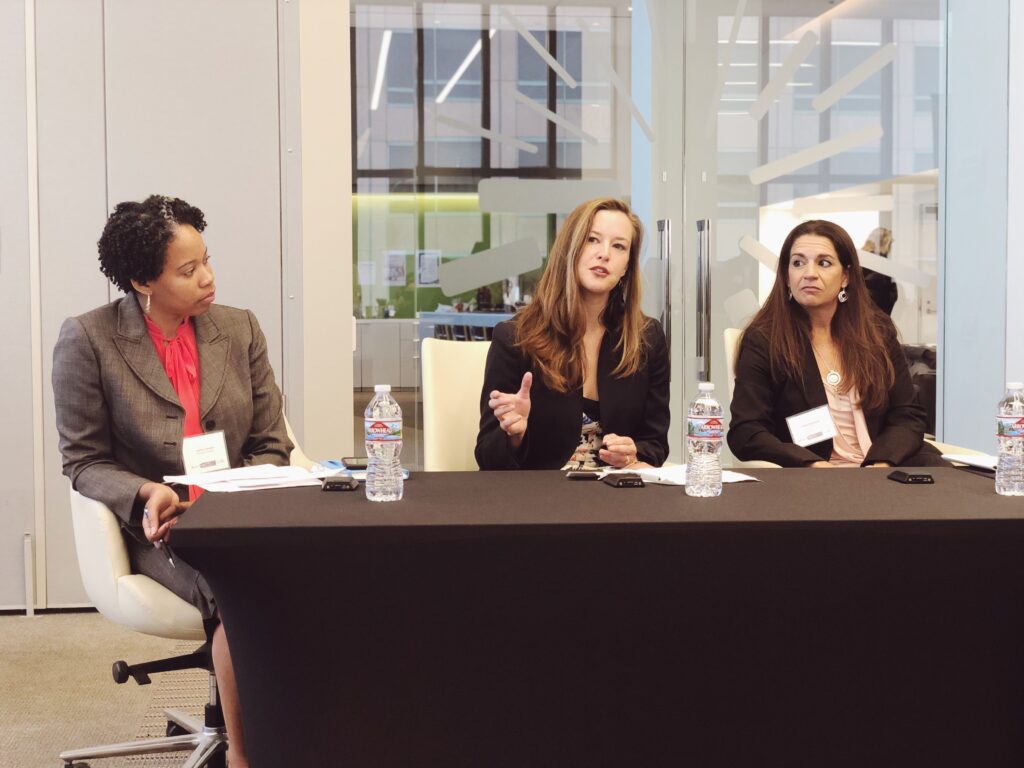 For Michelle, mobility is more about interactions than it is about vehicles. Having always been intrigued by engineering, she landed on vehicle design because of how prevalent it is in people's lives. "We spend half of our time in them; we should make them exciting to be in."
For Crissy, being around a chemical engineer dad and a mom who could fix anything and everything informed a career in taking things apart and putting them together in a more efficient way. A self-proclaimed vehicle chef, her first moves into mobility were inspired by a desire to make mobility move better.
An Industry on the Move
As transportation evolves into mobility, the industry is no longer just about vehicles. The integration of vehicles, infrastructure, and services presents community colleges with the opportunity to get their students ahead of skills and trends.
Despite differences in careers and companies, the panel recommended the following middle skills that would help the industry (and their respective companies) move forward:
UI/UX:

As seen in rideshare and other on-demand mobility services, UI/UX (or User Interface/User Experience) is becoming an integral component for consumer- and constituent-facing companies. 

Technical program management:

It is not enough to have the knowledge or skill needed to perform a specific task. An industry on the move requires effective communication, quick decision-making, and rapid prototyping (conceptually or tangibly) from operations teams, engineers, designers, and executives alike.

Analogous research:

Mobility has a lot to learn from other industries and contexts, and being able to find solutions from other challenges in industries such as aerospace, gaming and entertainment, and enterprise software could inspire better problem-solving processes.

Systems and strategic thinking:

The sum of the aforementioned skills, systems and strategic thinking allows current and future mobility professionals to map how their products and services serve a larger picture. Being able to understand transportation's role in real estate and vice versa, for example, is key to cultivating a more connected city.
These skills are directly aligned with manifesting foreseeable industry trends, including, but not limited to: regulated autonomous vehicle technology, dynamic simulation models, and streamlined battery management systems.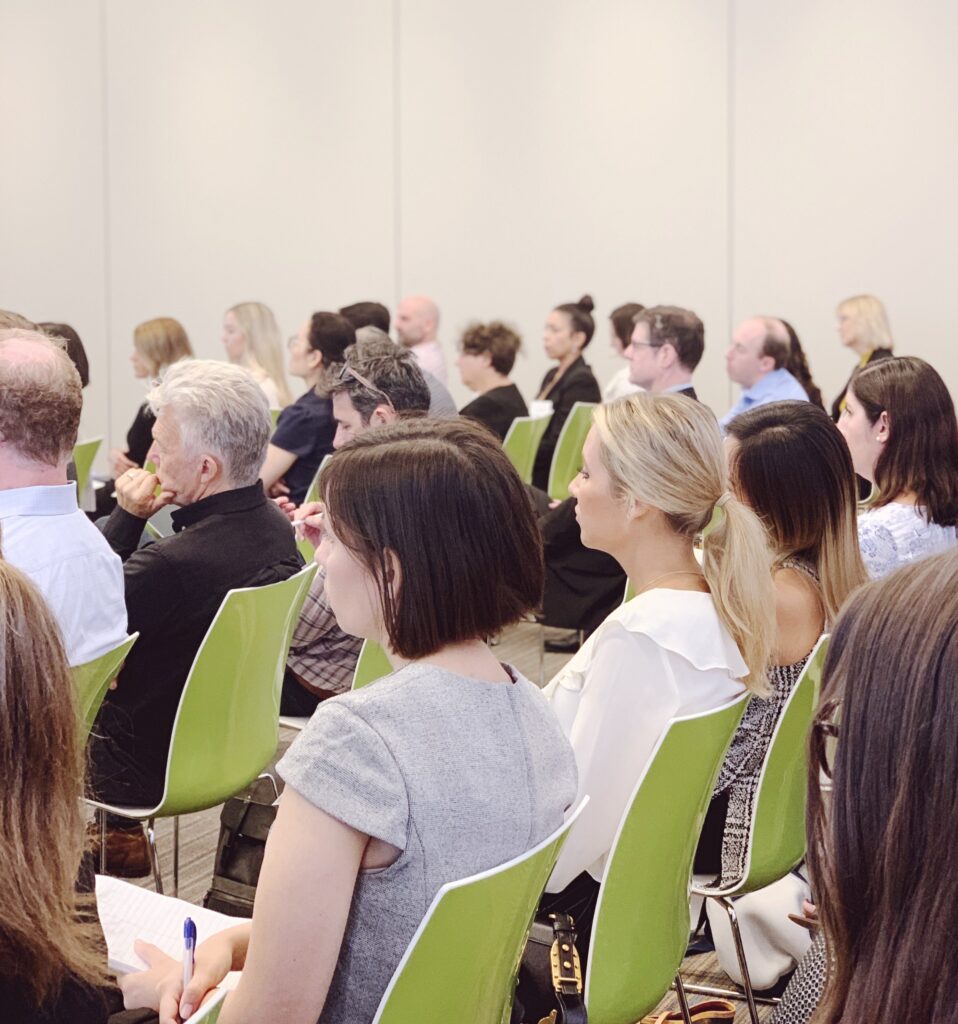 With these opportunities in mind, the panel then listed out approaches to attracting, retaining, and elevating more women in transportation. They recommended:
Mentorship:

This is a two-way street, and for a lot of women in this industry, it's a narrow one. Finding mentors can be daunting and difficult. For potential mentees, finding a mentor can look like asking your manager for guidance and empathy, adding interesting people on LinkedIn and asking them for an informational interview, or joining free organizations such as the Women's Transportation Seminar (WTS). For mentors, elevating a mentee can look like inviting them to join you in meetings, networking events, and site visits, and actively listening to what they're interested in and referring them to opportunities when possible.

Work-based learning:

Internships and incubators are still the places to be in order to understand how to operate and/or create mobility companies, products, and solutions. Opportunities to learn from campus clubs or informational interviews are also valuable.
The Next Generation of Mobility
The future of mobility is here, and the next generation of mobility leaders are already hard at work. Chief among them is Lidia Yan of NEXT Trucking, an end-to-end logistics solution for shippers, owner operators, and fleet managers.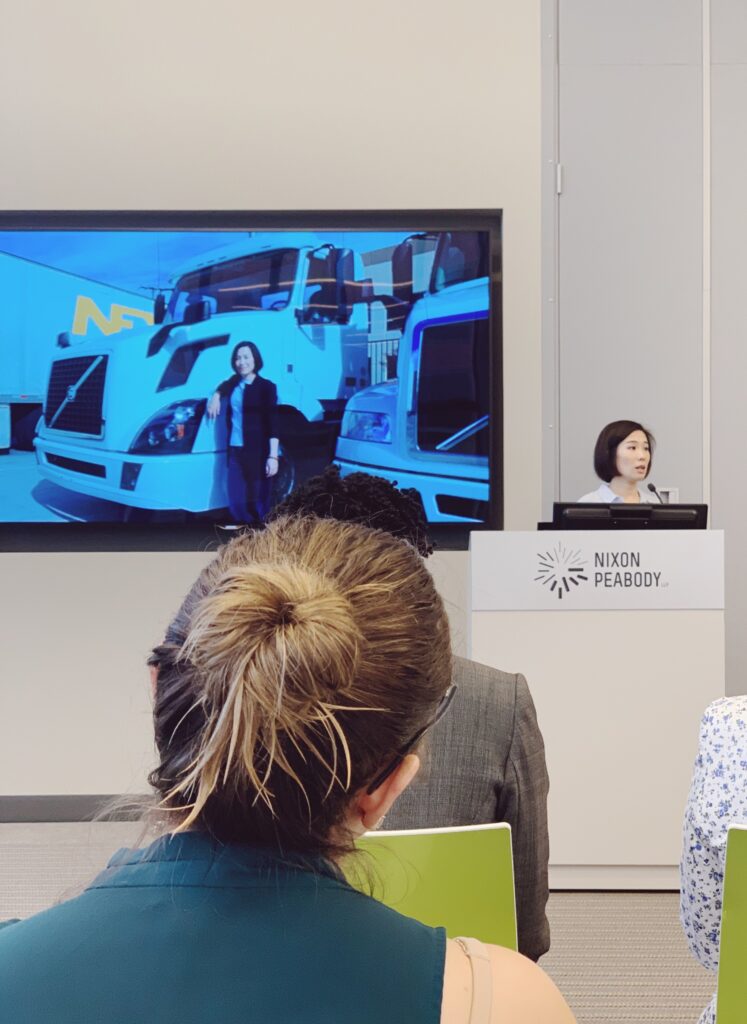 In conversations about mobility, the $800 billion trucking industry is hardly addressed. It's an important voice to consider when redefining mobility for the next generation, as it balances and challenges supply chains, infrastructure, and the people who connect them.
To that point, Lidia emphasized the importance of people, especially truck drivers who carry goods from ports to porches. She called for human-centered mobility, where technology, such as fleet management services, helps people balance their time and capacity more efficiently. 
As our panelists and keynote continue to work towards a future filled with electric, alternative fuel, and/or autonomous vehicles, micro-mobility platforms, radical designs within budget, and other mobility solutions, the question is never "what now?," but rather, "what's next?"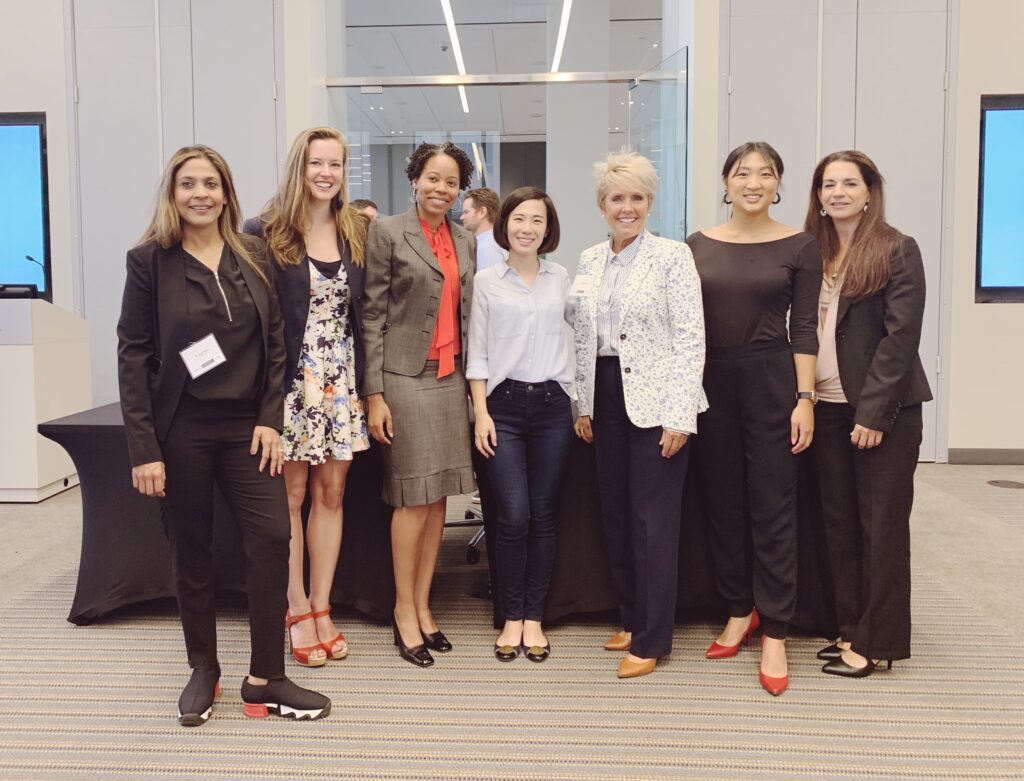 Credits + Contact
We would like to thank Nixon Peabody for hosting such a compelling conversation, and our presenter, panelists, and keynote for their dedication in leading the next generation of mobility.
Moreover, a huge thank you to Christine O'Rourke (Nixon Peabody) and Nicole Kale (Nixon Peabody) for their guidance and support in making this meeting possible.
Lastly, we would like to thank those who attended the meeting and continue to serve as advocates for and investors in a more inclusive future.
We look forward to continuing this important conversation and advancing smart mobility solutions in Los Angeles County.
For more information on how to get involved with LAEDC's e4 Mobility Alliance, please contact Judy Kruger ([email protected]) or Phylizia Carrillo ([email protected]).
For more information on the Center for a Competitive Workforce, please contact Jessica Ku Kim ([email protected]).