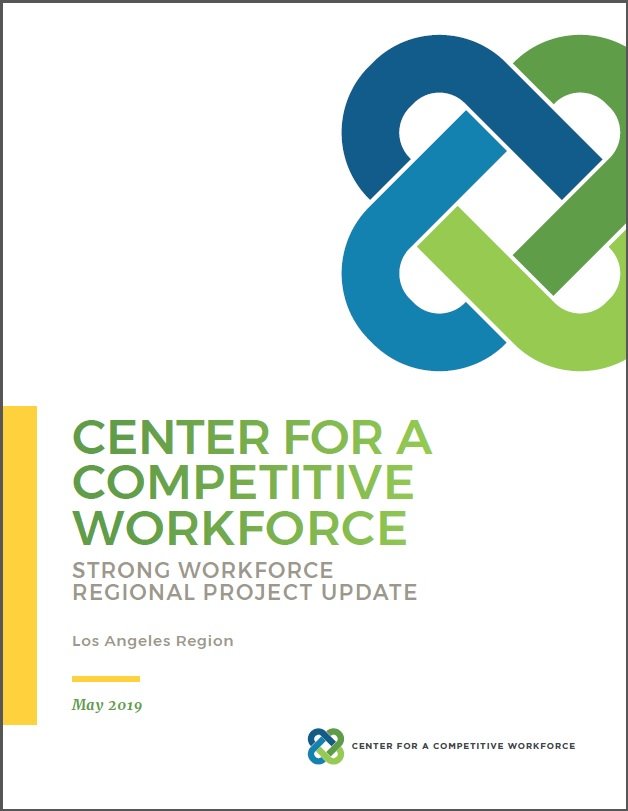 LAEDC has published a playbook for industry-education partnerships, in the form of a Project Update about the work of Center for a Competitive Workforce (CCW).  The Update, available HERE, describes the connections LAEDC is building between the 19 community colleges in the Los Angeles region and industries such as aerospace, bioscience, digital media & entertainment.  And other partners are supporting this work as well, such as LA Area Chamber of Commerce.
The outcome is faculty engagement with industry leaders, to help shape college programs and curriculum.  The outcome is internship and job opportunities for students.  The outcome is a talent pipeline for businesses that are creating living-wage jobs in Los Angeles, and can more readily offer those opportunities to people from the region who are acquiring the right skills.
The Update breaks down the CCW playbook into four workstreams: Research & Analysis to identify in-demand occupations; industry councils to bring together faculty and industry; cultivation of work-based learning experiences such as internships; and technology.  In addition, the Update links to media stories about successes, to further drive awareness with more businesses, more faculty and students.  In total, the work represents a 21st century blueprint for modern talent development, drawing from a very economically and racially diverse population attending the community college system.  As more employers see the importance of diversity in their ranks, CCW's programs have gained even greater traction.
Please take a moment to review the results thus far, and know that work is really just beginning.  There is ample opportunity for you to be involved in your role, as new businesses shape this talent pipeline, as educators retool programs for an increasingly technical business world, and as students look for good careers that pay well.
LAEDC would also like to thank the CCW Advisory Council for their hard work and support.
For more information or to directly benefit from CCW's work, please contact LAEDC workforce development director Jessica Ku Kim at [email protected]
The CCW is a Strong Workforce Program regional project, funded by the California Community College system.  Special thanks to JPMorgan Chase & Co. for seed funding that helped start this ambitious work.