REGISTER HERE FOR THE 2020 LAEDC ECONOMIC FORECAST
On February 20th, the LAEDC hosted the 2019 Economic Forecast at the Omni Hotel in Downtown LA. One of the first events of its kind, the annual Economic Forecast has been a lightning rod for conversation and progress for the past decade. Here is a look at some of the insights on the year ahead from LA's most iconic forecast event.
What is the role of innovation in improving the economy?
The economy has shifted over the past few years, an admittedly unexpected trend even for the nation's most insightful economic minds, according to Robert Haworth, SVP and Senior Investment Strategist, U.S. Bank. " If we were to go back to 2016-2017 — things we're good! We were talking about a synchronized global expansion. We saw better growth in the U.S., better growth in Europe, better growth in China," said Haworth. "That has not been the case over the past two years, and I think we're still all catching up to that."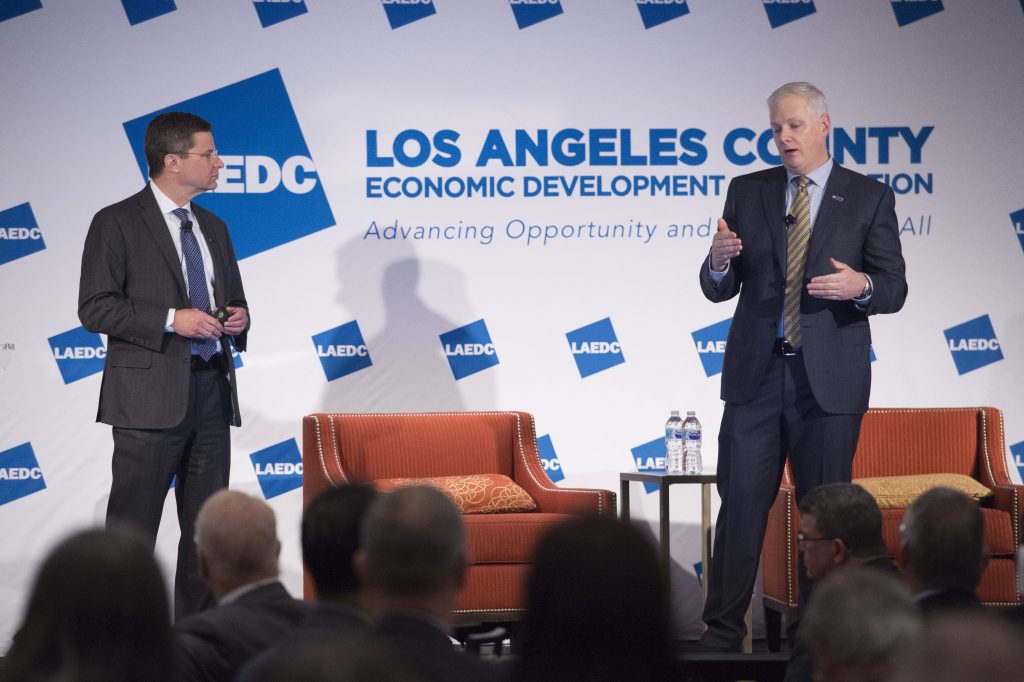 However, as evidenced by the presentations of U.S Bank and others at the Economic Forecast, one message is clear amongst businesses in 2019: innovation will be key in creating agile solutions to economic issues.
"One of the things that I'm incredibly excited about," said Tim Welsh, Vice Chairman, Consumer Banking Sales and Support, U.S. Bank, "we live in a time of extraordinary change. The pace of change is very rapid".  Over the past five years, U.S. bank has been able to add a host of digital innovations, improving the speed and ease at which customers of all sizes can access capital.
What we are experiencing now is 10 times faster and 1,000 times the scale of what we experienced in the industrial revolution," said Welsh. While the economic landscape can change abruptly, as we have experienced over the last two years, businesses can potentially match market instability with agile solutions fueled by technology and innovation.
Want to see more of the latest digital banking innovations being rolled out by U.S. Bank this year? Click HERE to download their full presentation!
Regional Outlook 2019-20
 How has our region fared amid natural disasters and a government shut down? Get the full report HERE.
Woolsey Fire latest example of increasing trend of climate and extreme disaster events to hurt our economy. Woolsey cost us $12B in GDP and $6B in wage income. – Somjita Mitra, LAEDC #LAforecast pic.twitter.com/M8J90Mqb3d

— LAEDC (@LAEDC) February 20, 2019
Less than a year removed from the Thomas Fire which burned nearly 300,000 acres in Ventura and Santa Barbara Counties, the Woolsey Fire burned 97,000 acres in Ventura and LA Counties. One of seven fires larger than 50 acres in the region over the past 12 months, Woolsey was just the latest natural disaster whose implications will be felt statewide for years to come
Economic Implications of The Woolsey Fire*
Estimated Structures Destroyed (LA/Ventura County): 1,643
Estimated Structures Damaged (LA/Ventura County): 364
Estimated Losses (Damages, Debris Removal, etc.): $4 – 6 Billion
Estimated Loss (GDP): $12 Billion
Estimated Loss (Output): $19.8 Billion
California's Housing Crisis
We are only building 275 units of housing for every 1000 new residents in the state of California. – Somjita Mitra, LAEDC Forecast

— LAEDC (@LAEDC) February 20, 2019
While demand for housing continues to rise, the state is struggling to keep up the supply. In addition to a lack of homes being built, the cost of new developments is equally as harmful. According to the California Association of Realtors, the Los Angeles Metro Area has median home prices and minimum qualifying income rates which are twice as high as the rest of the country — the Bay Area has nearly quadrupled national averages in those categories.
Despite an expected increase in housing production, it's not enough according to Dr. Somjita Mitra, Director, Institute for Applied Economics, LAEDC, who argued at this rate California will be a "majority renter state by 2025".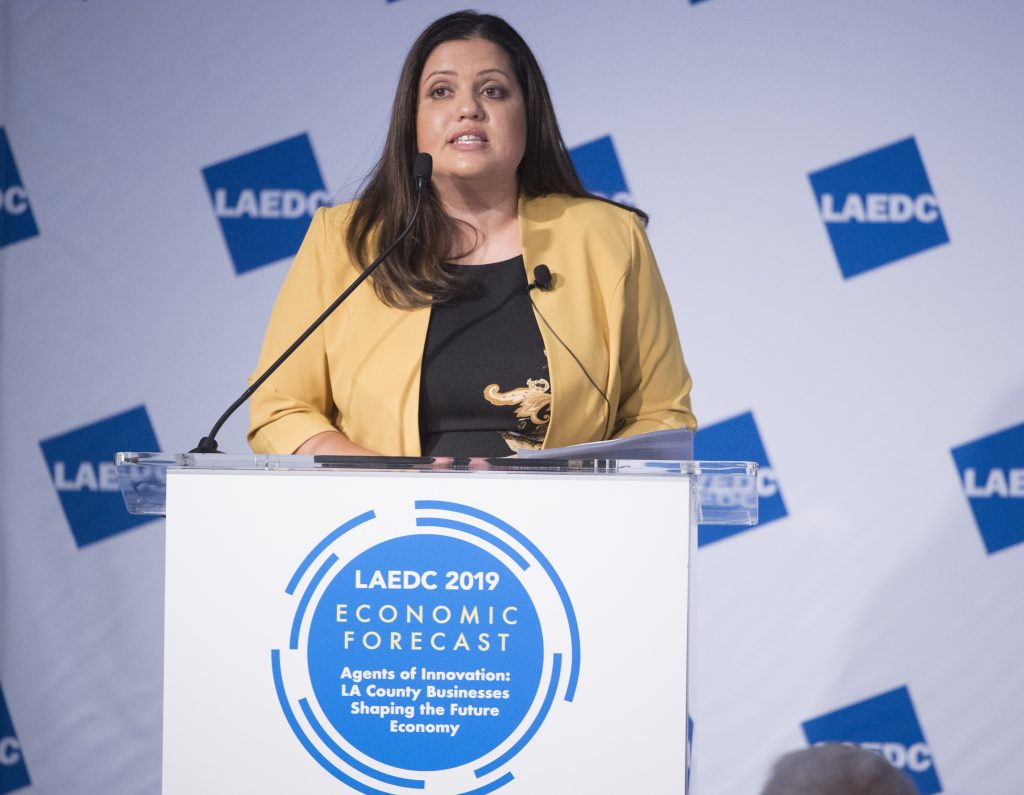 "We have a critical housing shortage," said Mitra. "We  would need 500,00 more homes to meet our population and economic growth."
The 35-day partial government shutdown spotlighted a bigger trend affecting 78% of U.S. workers! Learn more on this alarming trend, and see the full local economic impact of the shutdown and LA teacher strike by downloading Dr. Mitra's full presentation HERE!
SpaceX: Upcoming Launches and Plans for the Region
SpaceX launched 21 times in 2018! More than any other company or country! – SpaceX CFO Bret Johnsen at @LAEDC Economic Forecast. #LAforecast

— LAEDC (@LAEDC) February 20, 2019
It has been a busy 48 hours for SpaceX and their Chief Finacial Officer, Bret Johnsen. "I guess if we would have waited a day we could have updated this slide," said Johnsen anticipating their 70th successful launch of the Falcon 9 block five rocket, which took place at Cape Canaveral shortly after he presented at the 2019 Forecast.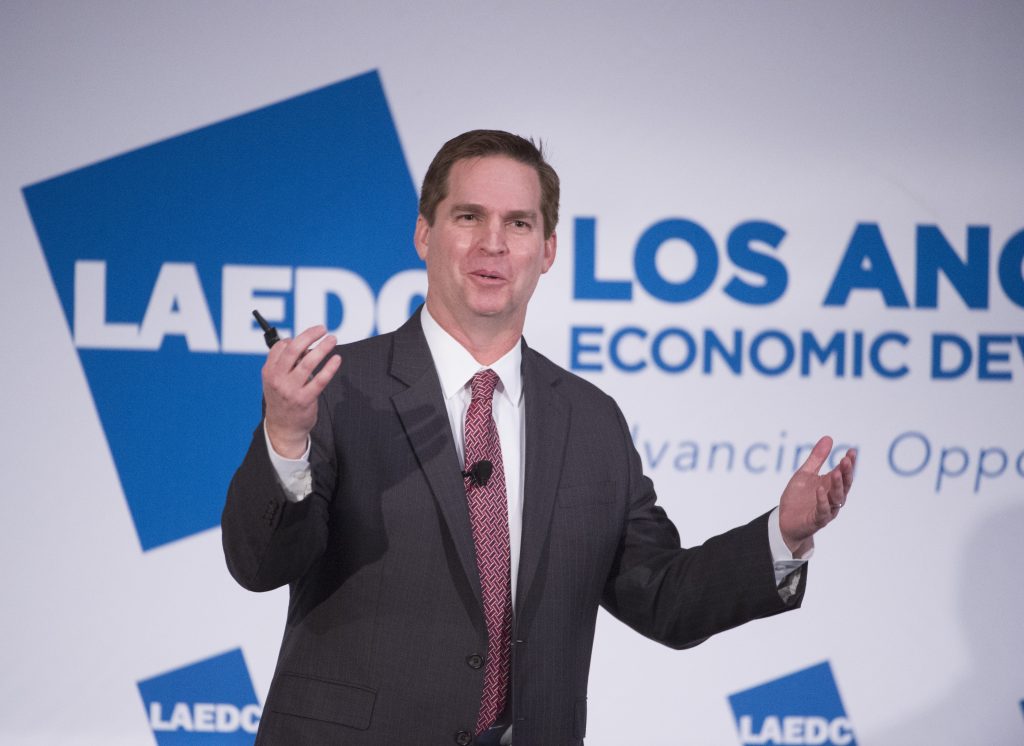 "Assuming everything goes well," said Johnson as he mimicked a few knocks on the wood of the podium, "we will have our 70th mission with the Falcon 9 rocket tomorrow. It's great when you get to the point where you are launching every couple of weeks. It just becomes a routine. In fact, Elon has talked about that point (of routinely conducting launch missions) as one where we know we have driven success in the launch industry. "
Mr. Johnsen credited much of their recent success to their long-standing relationship with LA County, which has certainly propelled their growth and productivity in many ways. While anticipating continued growth in our region, take a look at what SpaceX has done in LA County over the past 5 years
SpaceX in LA County since 2013
Workforce Growth: 100% increase, over 5,000+ currently employed
Buildings and FAcilities: 17 new buildings, current footprint nearly 1,000,000 sq feet.
Investment in local vendors and partners: $2.5 Billion
The Future of Infrastructure: Opportunity and Innovation for LA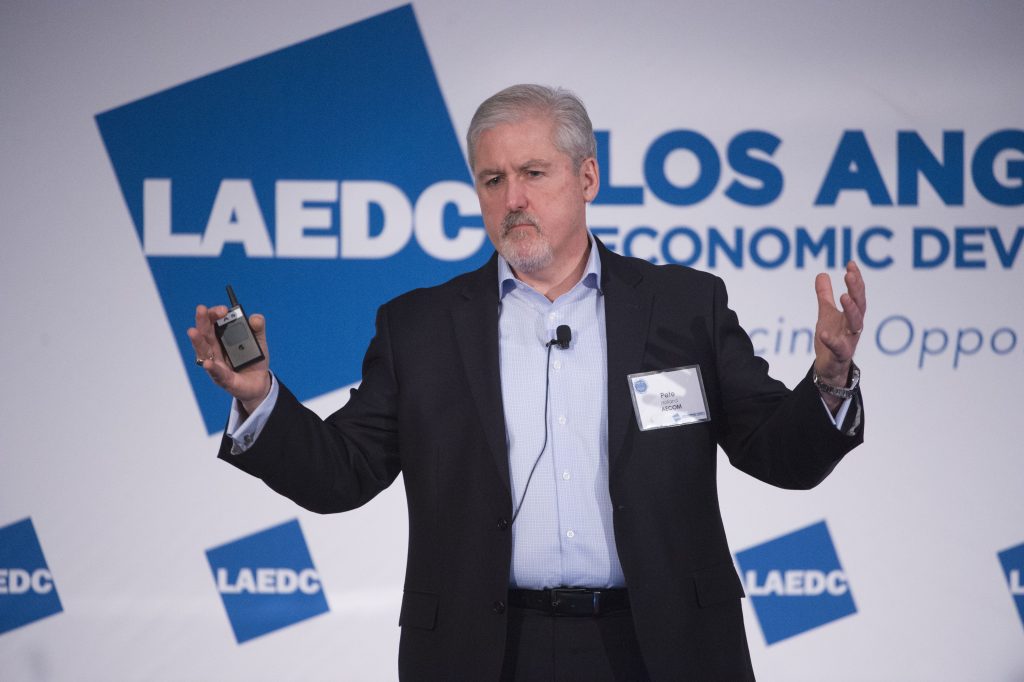 AECOM recently unveiled a striking report on LA's infrastructure challenges, opportunities, and needs. AECOM, an LA-based integrated builder of infrastructure which designs, builds, finances and operates infrastructure assets in more than 150 countries, surveyed 10,000 citizens from 10 major cities including Los Angeles, to discover are people really happy with their city's infrastructure?
See all of the global and local the findings from the report overviewed during the event by Pete Holland, West Region Executive, Design and Consulting Services Group, AECOM, available to download HERE!
VIEW MEDIA COVERAGE OF LAEDC ECONOMIC FORECAST:
NewsConference:  California Economy Strong for Now
(KNBC-TV)
California's job growth to dip from more robust years, report says
(San Gabriel Valley Tribune and its 11 sister newspapers)
LAEDC: L.A. Economy to See Steady Growth Through 2020
(Los Angeles Business Journal)
Lack of Affordable Housing Will Dampen State's Future Job growth, Report Warns
(Connect California)
LAEDC Economic Report Sees US Growth over the Next Two Years
(Apparel News)
(TechCrunch)
KNX-AM 1070 "Mottek on Money" interview with Somjita Mitra
KNX-AM 1070 interview with Somjita Mitra about the entertainment industry occupational forecast