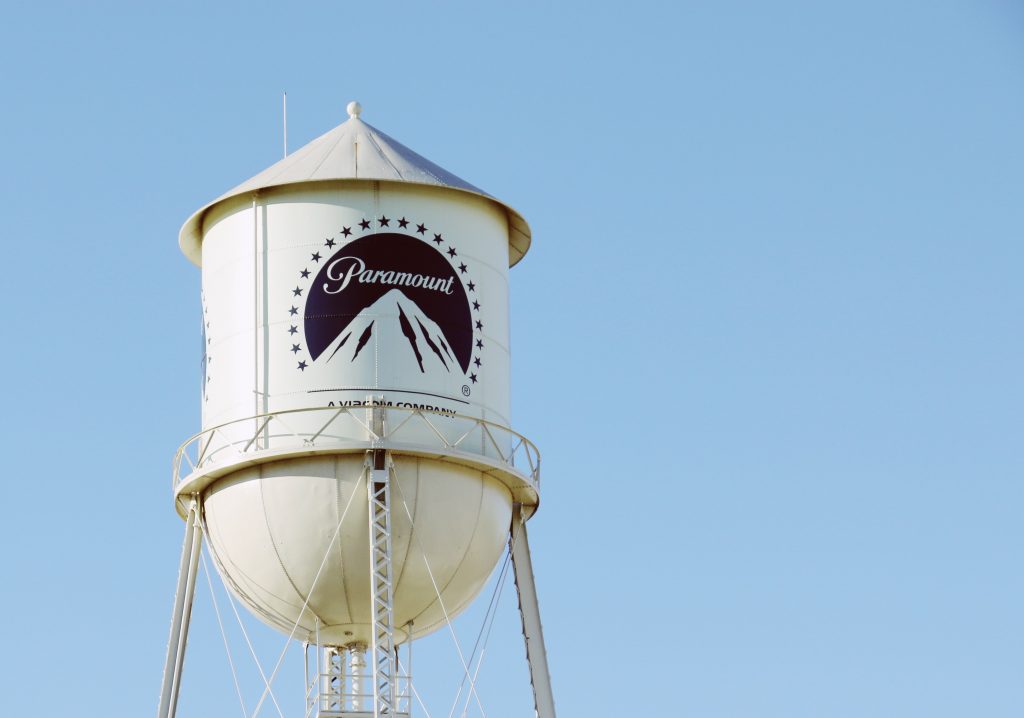 On December 7th, LAEDC's Digital Media and Entertainment (DME) Council convened administrators and educators from regional community colleges; industry and government stakeholders; and Viacom leaders for an insightful conversation around designing diverse and inclusive talent pipelines with community colleges and the DME industry.
Hosted by Paramount Pictures, the meeting featured a panel discussion with Viacom executives Anita Ortiz (Vice President, Global Inclusion Strategy – West Coast) and Lisa Buch (Vice President, Talent Acquisition – West Coast), both of whom shared personal journeys and professional advice in navigating the industry. LAEDC posed the following questions to Anita, Lisa, and the engaged audience:
How might industry collaborate with community colleges to develop industry-centered curricula and pathways for untapped talent?

How might industry reconsider the language and requirements for entry-level positions for non-traditional (older, career transitioning) community college students?

Can you name two soft skills and two technical skills that all future industry talent should possess? Which of these skills did you personally learn in school? Which of these skills  did you refine through experience?

How can our community college partners better prepare their students to intern in your organization?
Developing industry-centered curricula and pathways for untapped talent
Viacom is no stranger to diverse and inclusive pipelines. From their people, products, and processes to their presence and partnerships, the company has leadership – and not just content – worth watching.
Aside from core creative or business classes, Anita and Lisa encouraged educators to develop courses or workshops that focused on specific industry nomenclature and general technologies and tools like Outlook, two practical knowledge areas that are often developed during internships. Paramount's Xhana Namkung (Manager, Campus to Career) chimed in by sharing unfamiliar pathways that students can pursue, citing an example of criminal justice students who would be a great fit in the company's environmental health, safety, and security department. Likewise, departments such as finance and accounting are accessible, gainful pathways into the industry.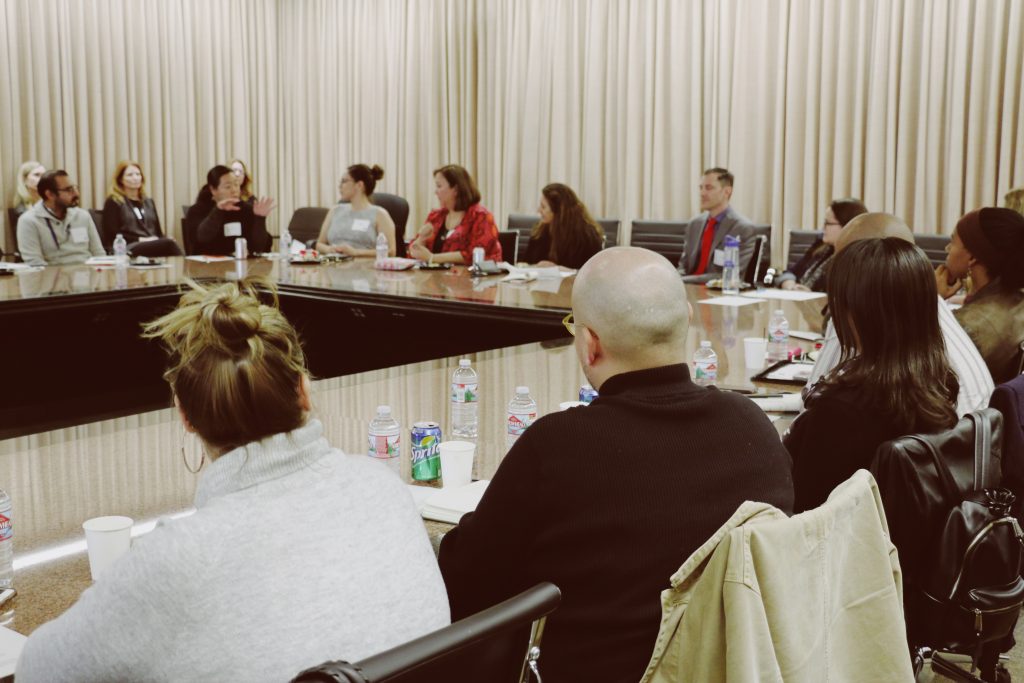 Administrators and educators from Glendale Community College, Los Angeles Pierce College, Los Angeles Southwest College, Los Angeles Valley College, Long Beach City College, Rio Hondo College, and Santa Monica College reflected on current initiatives in creating industry-centered curricula and pathways, which include supplementary production skills workshops and industry speaker series.
The aforementioned schools represent 7 of the 19 regional community colleges in the Center for a Competitive Workforce (CCW), a data-driven research collaboration between business and education leaders in the Los Angeles Basin. Alongside other community colleges in Los Angeles and Orange Counties, these colleges collectively serve over 770,000 students and offer over 200 career education programs. Additionally, educators from Oxnard College and Mount Saint Mary's University; industry advocates from Lionsgate, Legendary Entertainment, and Crosscut Ventures; and government leaders from Mayor Eric Garcetti's office and LA County contributed to the conversation.
Reconsidering the language and requirements for entry-level positions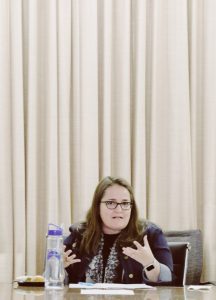 Anita shared an affirming story about a former Viacom intern who stepped into the industry after serving in the Marines for over a decade. Though he didn't have conventional industry skills on paper, he possessed, if not exceeded, the skills necessary to meet industry demands: time management, effective communication, and a willingness to lead and learn. Anita's story doubled as a reminder to consider diverse talent whose life experiences may not neatly fit into standard job requirements, especially those who are older and/or transitioning careers. "Age is an asset, not a liability," Anita added.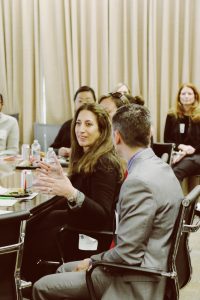 Still, Lisa noted that "at the end of the day, this is a business." She encouraged talent to apply if they share a palpable excitement to work in the industry and the tenacity to help the company succeed. Viacom is home to the leading portfolio of global, multi-platform entertainment brands, including Paramount Pictures, BET, MTV, VH1, Comedy Central, and Nickelodeon. From television, film, and digital content, to live events, merchandise, and studio production, Viacom creates entertainment experiences that drive conversation and culture. "We want the best people, not just the best schools," she confirmed. 
Refining soft and technical skills through experience
Both Anita and Lisa recommended the following soft and technical skills that all industry talent should possess and seek to refine through internships, mentorships, or even jobs in temp agencies:
Soft skills:

Adaptability

Resilience

Organization

Time management

Coachability

Ability to navigate industry politics

Grit

Technical skills:

Communication via writing and speaking

Computer skills (e.g. Microsoft Office, Outlook, and yes, mail merge)
"If there's one thing that community college students have," Anita grinned, "it's grit." With this checklist of soft and technical skills in hand, administrators and educators were encouraged to assess which of these skills can be taught in the classroom and which can be best refined through experience.
Preparing students for internship placements and development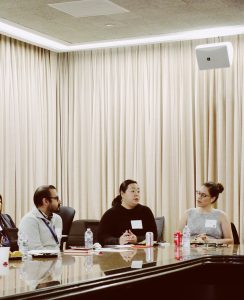 While developing industry-driven curricula and pathways are crucial to the foundation of a more diverse and inclusive talent pipeline, administrators, educators, and students should not overlook the importance of a clear resume and a solid interview. Industry professionals like Lionsgate's Hugo Vergara (Talent Acquisition Specialist) and Legendary Entertainment's Carlos Sanchez (VP, Distribution) stressed the significance of knowing the nuances and needs of legacy and new generation media companies, and sharing that knowledge and passion within the first few minutes of the interview. Lisa echoed these sentiments by encouraging future industry talent to polish their LinkedIn profiles and master their narrative.
Conclusion
We would like to thank Paramount Pictures for hosting such a compelling conversation, and Viacom for their dedication in leading the industry in both diverse pathways and content. Moreover, we want to thank Anita Ortiz, Lisa Buch, and Xhana Namkung for their work in integrating diversity and inclusion in their business and community engagement, and Paramount's Christina Derenthal (Senior Manager, Government and Community Relations) for her guidance and support in making this meeting possible. Lastly, we would like to thank those who attended the event and continue to serve as gatekeepers of information and connections to community college talent.
We look forward to continuing this important conversation and elevating students in our regional community colleges to seek, land, and grow in the multidisciplinary jobs that exist in LA's thriving Digital Media and Entertainment industry.
For more information on how to get involved with LAEDC's DME Council, please contact Phylizia Carrillo ([email protected]). For more information on the Center for a Competitive Workforce, please contact Jessica Ku Kim ([email protected]).