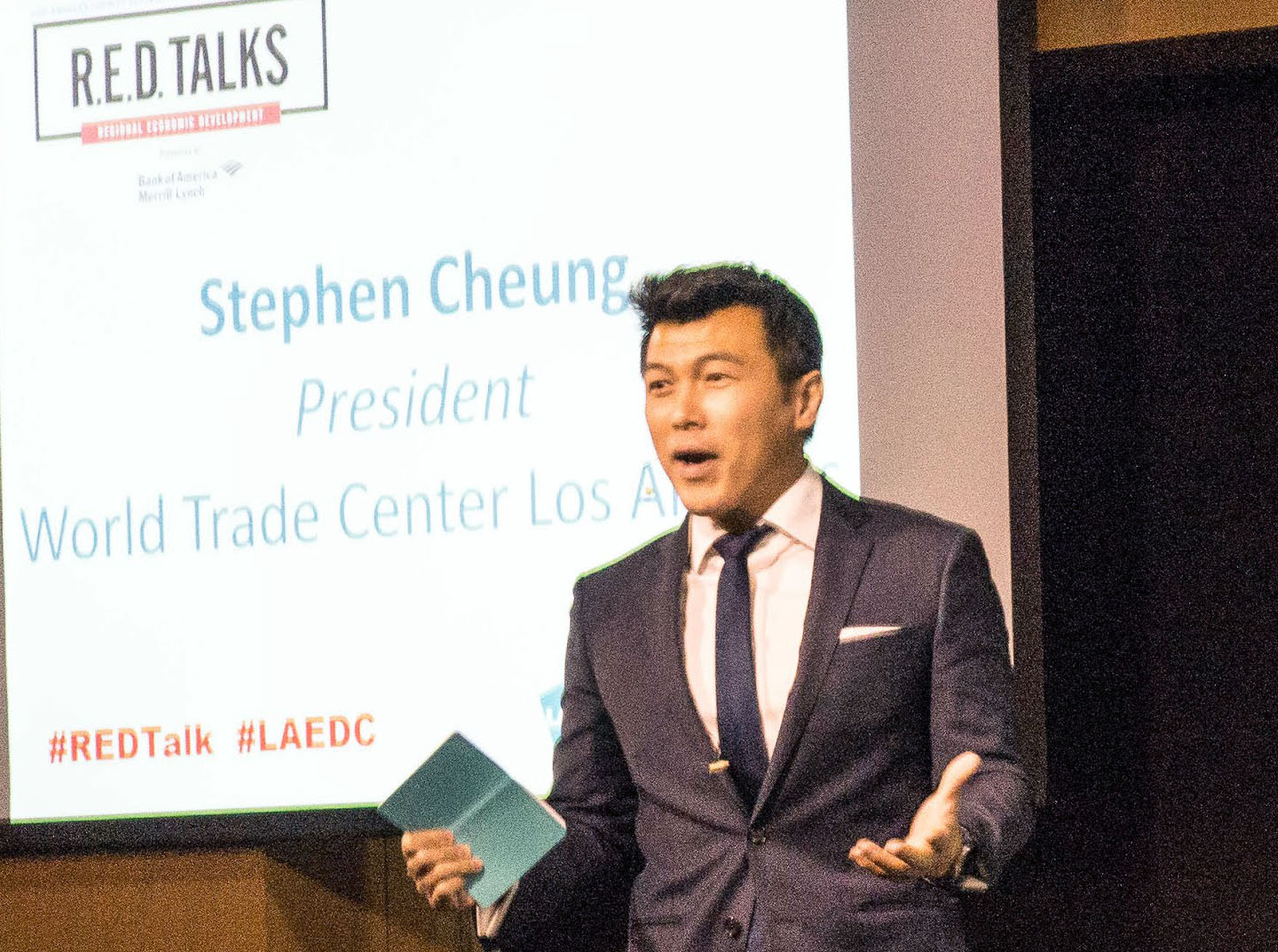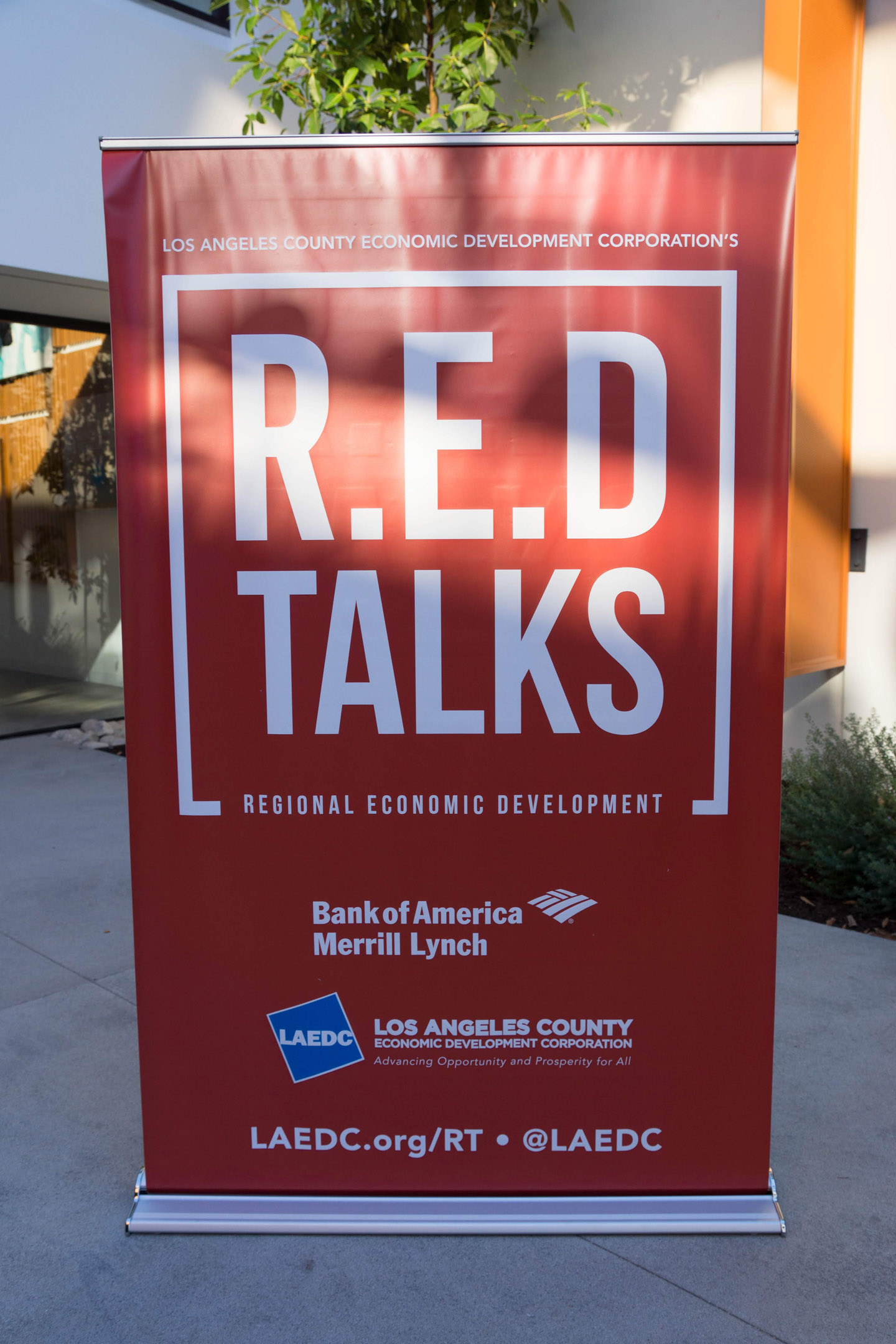 The LAEDC hosted its most recent Regional Economic Development (RED) Talk about trade and tariffs for about 100 attendees, presented by Bank of America Merrill Lynch.
Stephen Cheung, president of World Trade Center LA (WTCLA) kicked off the RED Talk by stating that the backbone of our local economy is international trade and how globally connected the Los Angeles region is to the rest of the world. The Los Angeles regional GDP is over $700 Billion and is the #1 manufacturing center in the US, with over 355,000 workers in the manufacturing sector.  The port complex of both the Ports of Los Angeles and Long Beach contributed over $400 Billion in imported and exported cargo and plays a significant role to the vibrancy of manufacturing in Southern California and to the economy at-large.  In addition to the Ports, LAX does over $100B in cargo, adding another trade implication to the imposition of tariffs.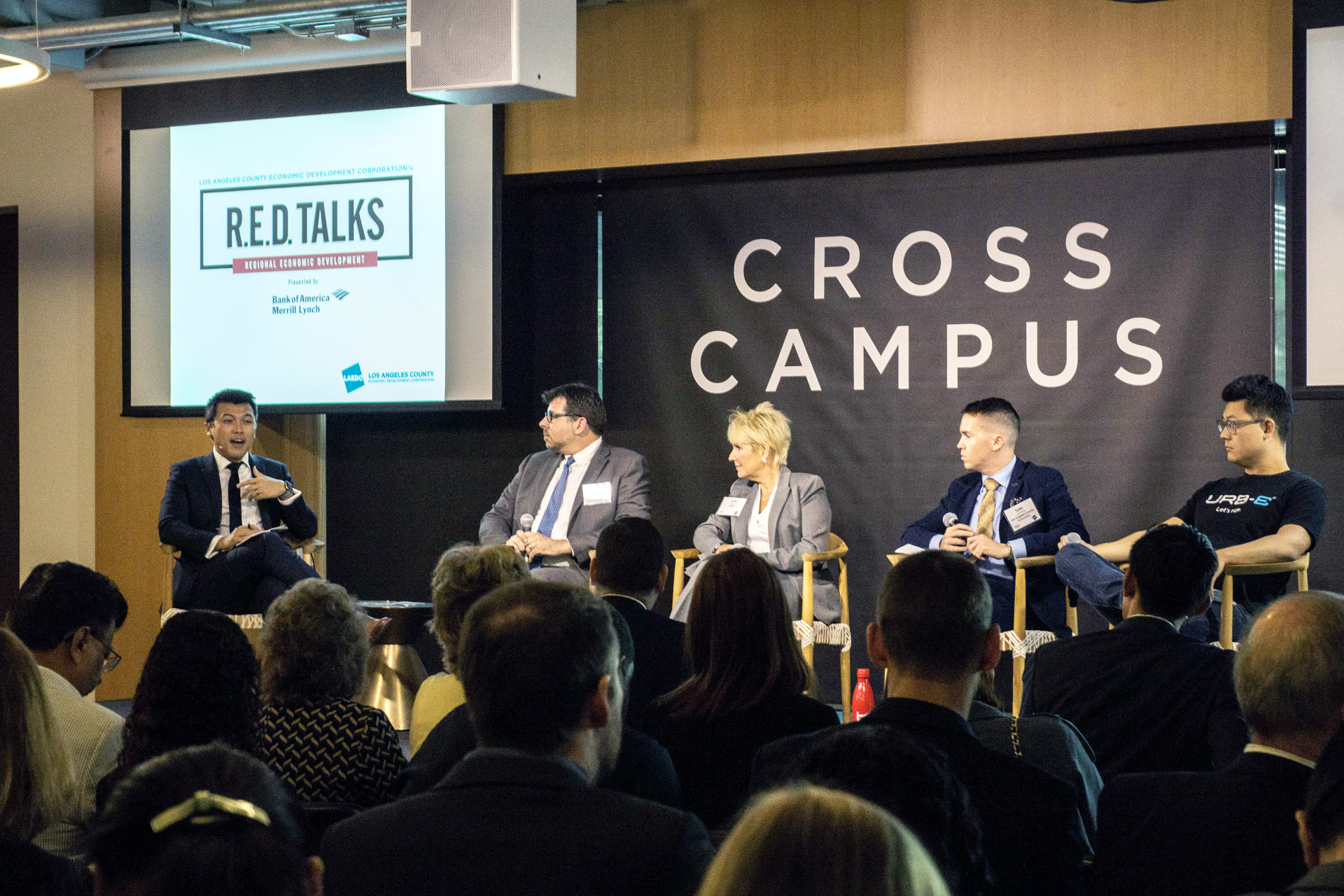 Amongst the RED Talk panelists was the Director of Planning and Strategy for the Port of Los Angeles, Michael Keenan. Michael stated that the Port was experiencing a rush in imports and exports to get ahead of the incoming tariffs but he remains cautiously optimistic going into next year.  There are additional complications forcing businesses to look elsewhere for emerging market economies like India to make up shortfalls.  India has a more geographically desirable shipping lane through the Suez Canal to the east coast of the United States.
Panelist Judy Kruger, Director of Industry Cluster Development at the LAEDC, focuses on growth of aerospace & defense and advanced transportation companies in Los Angeles County. To combat some of the impacts, she created a local program to help those companies to continue their production locally in LA County. Judy said, "For example, we designed a program called CALIFORNIA SMARTMatch to mitigate the impact of tariffs by finding, sourcing and connecting local suppliers to those companies. If you're being hurt by the tariffs in these industries…come find me!"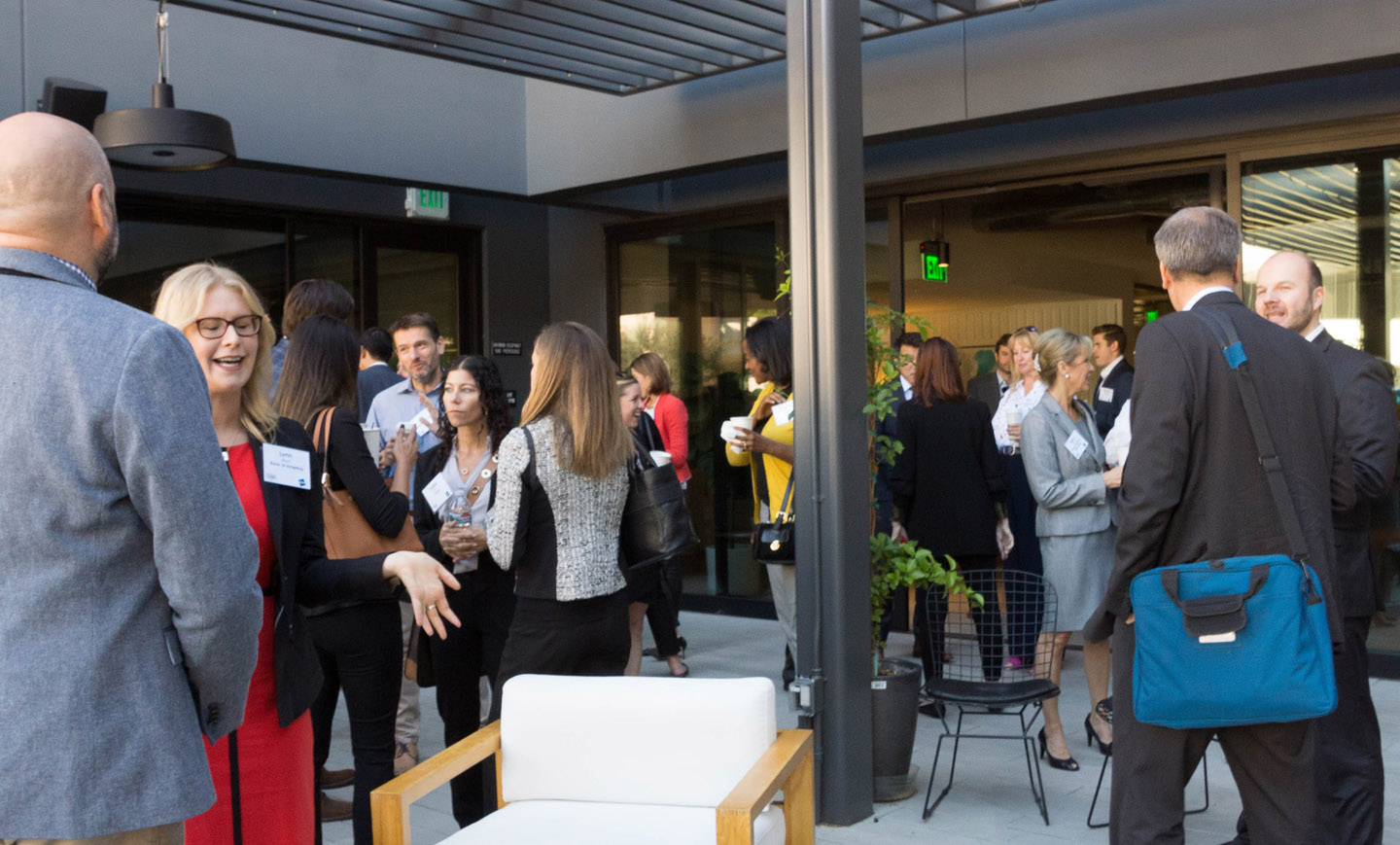 Economic analyst Tyler Laferriere of the LAEDC addressed the trends that currently define the macroeconomy as the trade dispute unfolds, including domestic interest rates, regional consumption trends, and the impact of the Trump administration's tax-cuts.  "Not only is the trade dispute unprecedented in breaking with decades of international consensus, but also this conflict is interesting given the context of macro-level optimism about the health of the economy," Mr. Laferriere stated.
A great example of the unintended challenges that tariffs are imposing on local businesses was expressed by CEO of URB-E, Peter Lee, as he discussed the increasing cost of components for micro-transportation solutions that URB-E  manufactures in LA County: Based on increasing costs, "Yes, we are trying to change our supply chain," said Lee. "For example, screws; It is very hard to find screws that are made in the US, and when you do think you've found them, it turns out they're made in China!  What we find is that our local supplier is increasing the price because their suppliers are increasing prices. So we are looking at other options outside of China.  And that sucks up time.  I mean, we're talking about a screw; screws have been around for thousands of years, and now we have to go source and look for a better quality screw that we can depend on, ramp up, establish a vendor relationship and determine compatibility.  It's just a pain."
Lee concluded, "Price is one thing, but these relationships and sourcing, working on things like (product) consistency, is a time-suck.  When you have to change up your supply chain…there are a lot of other things that happen related to logistics and relationships, and those cost money as well.  Lee also mentioned this is impacting the company's ability to rapidly iterate new product designs, which is a key to innovation.