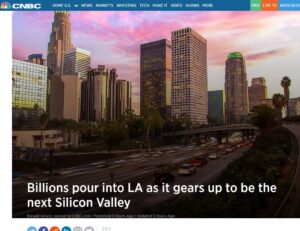 Billions pour into LA as it gears up to be the next Silicon Valley
Ronald Grover, CNBC.com
This article is best viewed on CNBC's website, by clicking HERE.
When Snapchat parent company Snap went public in a $3.4 billion IPO offering in March, it proved yet again what a growing number of venture capitalists have been betting on for months: Los Angeles, the land of Hollywood movie stars and sunkissed beaches, had become a launching pad for start-ups after decades of being a poor relation to Silicon Valley.
Last year venture capitalists plunked down an estimated $4.2 billion to back 213 LA-area tech companies, according to Built in LA, which tracks entrepreneurial activity. This is a 38 percent hike from the amount raised in 2015 and nearly fivefold the $871 million for 100 or so area companies raised in 2012.
For venture capitalists used to seeing a steady stream of Silicon Valley start-up stars with names like Facebook and Netflix, LA now boasts homegrown start-ups, such as home security company Ring and online car-shopping service TrueCar. Others have already rewarded their backers with riches, such as online razor distributor Dollar Shave Club, which was bought last year by Unilever for $1 billion.
"For years the investment activity was mostly in Silicon Valley, because there was a period in which the infrastructure needed to be built for the internet and other technology," says Mark Suster, the managing partner for Santa Monica-based Upfront Ventures. "A lot of that infrastructure now exists, and there's a need for content, commerce and communications for it. And LA is perfectly positioned for all of those."
Suster's portfolio of companies includes content aggregator Gravity, which AOL acquired for $90.7 million, and Maker Studios, a short-form content creator that Disney purchased in 2014 for $675 million. In June, Upfront raised a $400 million fund, believed to be among the largest raised by an LA-based venture firm.
Silicon Valley still enjoys a sizable funding advantage over LA, according to accounting firm PwC, which estimates that venture funding totaled $6.5 billion last year compared to $4.7 billion to the south, in Los Angeles and Orange.
An enviable talent pool
The LA area's newfound popularity among venture capitalists is fueled in large part by an economy that has emerged from a three-decade transformation, driven in some measure by the decline of key industries, like aerospace manufacturing and finance, where employment is a result of mergers and relocations.
The region, however, still graduates more than 20,000 engineers each year from such highly regarded universities as the California Institute of Technology, UCLA and the University of Southern California, says Chris Rico, director of innovation for the Los Angeles County Economic Development Corp. That's helped create new businesses, he says, such as billionaire entrepreneur Elon Musk's SpaceX space transport company and his plan to transport people through the high-speed Hyperloop system of tubes.
"There is a lot of cutting-edge technology going on in LA," says billionaire surgeon and entrepreneur Patrick Soon-Shiong, who has invested more than $400 million in high-tech and health projects and companies through his nonprofit NantHealth Foundation. "With UCLA, USC, CalTech, the Jet Propulsion Lab, the talent here is amazing."
His NantHealth, which went public last year in a $96 billion IPO, sells software and medical records to hospitals and plans to soon commercially sell software that analyzes a patient's DNA to determine the best treatment for critical illnesses.
Strategic location
LA is also home to the Los Angeles and Long Beach ports, two of the 10 largest in the United States, giving it a huge advantage to companies moving products to consumers, says Rico.
And there is always Hollywood, which is scrambling to devise new ways to deliver its content as consumers increasingly are using Netflix or Amazon and bypassing TV and movie theaters.
One result has been an explosion of tech companies making virtual reality technology and content. In 2014, Facebook bought VR game company and goggle maker Oculus for $2 billion in cash and stock. Walt Disney, Fox's BSkyB British satellite company and other media companies have invested $100.2 million in VR camera maker and film studio Jaunt.
"There is a lot of cutting-edge technology going on in LA. With UCLA, USC, CalTech, the Jet Propulsion Lab, the talent here is amazing."-Patrick Soon-Shiong, billionaire surgeon and entrepreneur
Hollywood power players have also helped finance new technologies. Music executive Jimmy Iovine and rapper Andre Young (aka Dr. Dre) gave $70 million last year to set up an undergraduate curriculum at USC to encourage a new crop of innovators. Last year a trio of undergraduates won a $10,000 prize to help them develop a new augmented reality headset.
LA Mayor Eric Garcetti has made encouragement of entrepreneurs a key plank of his administration's platform since his 2013 election, which has helped companies get started. One of his first moves was to make more than 1,100 of the city's data sets open to the public, allowing start-ups to move more quickly through the maze of bureaucracy that stifle many of them. He also established the Entrepreneurs in Residence program to connect entrepreneurs with city business leaders.
"LA is cementing its own path and creating its own destiny," says Garcetti. "This city has a rich legacy of industries like entertainment and aerospace, and now we're seeing our tech sector take off. That's because we made it easier for tech companies to open and expand in LA."
Building a start-up ecosystem
Garcetti created a tech council of more than 60 entrepreneurs, venture capitalists and community leaders that helped him set up a Venture Summit, which introduced traditional investors with local tech funds. He also helped set up the city's largest tech fair, which brought together more than 1,100 engineers and executives from more than 250 companies, including SpaceX, YouTube, Snap and gaming company Riot Games.
Last year the city and the Dept of Water & Power opened a $47 million, 3.2-acre campus to house its Los Angeles Cleantech Incubator, which has helped more than 60 companies raise over $78 million in funds to develop green businesses.
"Clean technology is not only smart and responsible but also a terrific growth opportunity," said Garcetti at the campus opening. "For all those reasons, we should invest our time and resources into making it a huge success."
What Garcetti doesn't need to sell is its southern California lifestyle. Its perpetually warm weather and nearby beach breeze are a magnet to the kind of young dreamers who are the backbone of start-ups everywhere. Rents are far lower than Silicon Valley, another plus for entrepreneurs who haven't made their first million.
Matt Turner, the co-founder and chief technology officer of Mammoth Media, which makes short-form content for smartphones, says hiring for his Santa Monica-based start-up is easier these days than when…