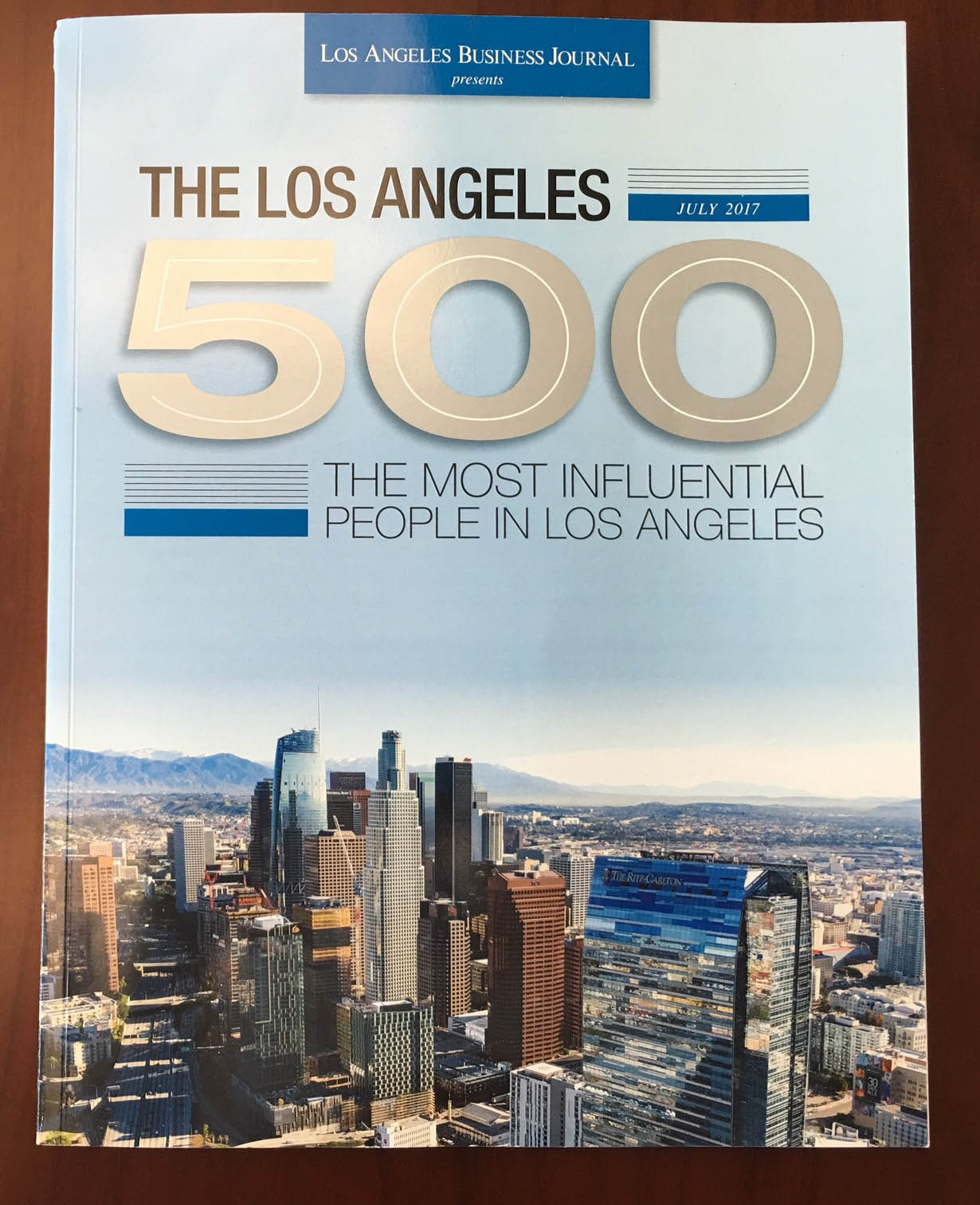 Numerous LAEDC member organizations were represented by the individuals recognized in the annual Top 500 Influencer list, published in the LA Business Journal.  From all of us here at LAEDC, congratulations to these individuals on this honor, and our genuine thanks to these organizations for supporting our public benefit mission!
AECOM – Michael Burke, CEO and Chairman
American Honda Motor Company – Toshiaki Mikoshiba, CEO
Amgen – Robert Bradway, Chairman and CEO
Bank of America- Raul Anaya, Greater Los Angeles Area
Boeing – Craig Cooning, President, Network and Space Systems
California Fashion Institute- Ilse Metchek
Caruso Affiliated – Rick Caruso, President
Cathay Bank – Dunson Cheng, Executive Chairman
CBRE – Lewis Horne, President Greater LA Region
Cedars Sinai Health Systems

Vera Guerin, Past Chair, and;
Tom Priselac, CEO

City National Bank – Russell Goldsmith. Chairman and CEO
City of Long Beach – Mayor Robert Garcia
East West Bank – Dominic Ng, Chairman and CEO
Edison International – Janet Clayton, SVP Southern California Edison
Ernst & Young – Patrick Niemann, Managing Partner
Gensler

Andy Cohen, Co-Chief Executive, and;
Robert Jernigan, Regional Managing Principal

JP Morgan Chase – Bob Graziano, Senior Managing Director
KPMG – Mark Hutchins, Office Managing Partner
County of Los Angeles

Supervisor Mark Ridley-Thomas
Supervisor Kathryn Barger
Supervisor Janice Hahn
Supervisor Sheila James Kuehl
Supervisor Hilda Solis
Sachi Hamai, CEO of LA County

Metropolitan Water District of Souther California – Jeffery Kightlinger
Los Angeles County Metropolitan Transportation Authority – Phillip Washington, CEO
Los Angeles Rams

Stan Kroenke, Owner
Jared Goff, Quaterback
Kevin Demoff, COO and EVP of Football Operations

MUFG Union Bank – Tim Wennes, West Coast President and Head of Regional Bank
NBCUniversal

Steve Nisson, Legal and Government Affairs
Stephen Burke, CEO
Rob Meyer, Vice Chairman
Jeff Shell, Chairman

O'melveny Meyers – Steven Olson, Partner
Paramount -Jim Gianopulos, Chairman and CEO
Pepperdine University – President Andrew Benton
Port of Los Angeles – Gene Seroka, Exective Director
Price Waterhouse Coopers- Brian Cullinan, Managing Partner
Space Exploration Technologies (SpaceX)

Elon Musk, CEO
Gwynn Shotwell, President and CEO

Turner Construction- Kevin Dow, Vice President and General Manager, Southern California
Wells Fargo – David Dicristofaro, Regional President, Senior Vice President
LAEDC's staff would also like to congratulate our CEO, Bill Allen for his recognition in the Top 500 list as a leading facilitator for the LA region!