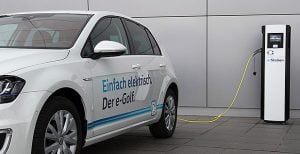 Los Angeles is in the running to become a "Green City," and you can help make that a reality. Volkswagen, as part of its court-ordered settlement for its diesel emissions suit, is currently deciding which cities in California will receive the "Green City" designation.
Under the Green City program, VW will spend $44 million over the next 2.5 years on charging stations. VW will also deploy a fleet of electric vehicles to deliver goods, provide ride-sharing services and serve as rolling ambassadors for nonpolluting cars. We want to ensure that LA is on the receiving end of these benefits.
If you would like to join the LAEDC's efforts to ensure that LA is named a Green City, please send your signature block to [email protected] by April 9th and we will include it in our support letter for the City of Los Angeles.
How to Submit Individual Comments:
Comments are due by April 10, 2017
Mailed letters can be sent to: Mr. Mark Williams, Mailstop 3E Air Resources Board P.O. Box 2815 Sacramento, California 95812
Comments can be submitted electronically here.
Additional Background:
Two settlements were entered into with VW: a 2L settlement and a 3L settlement, dealing with different vehicle categories.  A Green City will be awarded with each settlement.
The first round of funding is for $200 million for the 2L and approximately $66 million for the 3L.
The 2L settlement specifically indicated Los Angeles as an example Green City.  Electrify America (a newly created VW subsidiary) requested proposals and comments by January 16, 2017. 484 proposals submitted—38 in the Green City category.
The February 10, 2017 guidance from CARB indicated they wanted "a  city that is neither too large to create transformation nor too small to benefit a significant population; opportunities to improve air quality; an ideal location will benefit disadvantaged, low-income, and disproportionally impacted communities within the selected city; we expect the city to have the economic and demographic mix to support the planned initiatives so that services provided will be well used; and the selected city should have some geographic separation or travel patterns that can be well served by the types of services to be provided."
On March 14, 2017, the VW California ZEV Investment Plan for the first cycle of funding was released by CARB (dated March 8, 2017).  CARB provided an overview of the Plan to the Board at is March 24, 2017 hearing with an organized comment period by City of Los Angeles Mayor's Office.
Following the hearing, ARB will consider comments received by the deadline before deciding whether to approve or disapprove, in whole or in part, VW's ZEV Investment Plan.
Green City – $44 million with a focus is on ZEV Car-sharing, ZEV delivery fleet, and ZEV taxi fleet- 2L funding expected to be awarded to City of Sacramento.  3L is not mentioned.
Foundational work starts in Q3 2017 with 75 supporting chargers ($11 million cost)