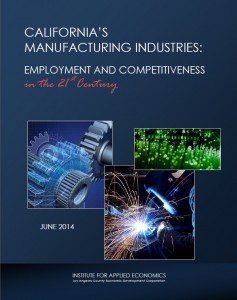 Manufacturing in California: Employment and Competitiveness 2014
The LAEDC's Institute for Applied Economics has completed research on the California and Los Angeles regional manufacturing sector, commissioned by CMTC (California Manufacturing Technology Consulting).
In spite of a long-term decline in manufacturing employment, California maintains a large base of manufacturing capabilities and strengths in a diverse set of manufacturing industries, from food processing and furniture to aerospace and medical devices.
This new report, California's Manufacturing Industries: Employment and Competitiveness in the 21st Century, quantifies the manufacturing sector in California and at the county level in Southern California, and assesses the competitiveness of manufacturing industries in the national landscape.
Read media coverage in LA Times and LA Register