Creative Design industries in L.A. County are remarkably diverse and include areas such as: apparel design, textile, footwear, jewelry and leather goods industries including handbags, as well as furniture, toys, beauty products, and more.  
L.A. County is considered the high-end denim capital of the world, and enjoys national leadership in Apparel, Leather (and related products), Textile and Fabric Finishing, Furniture, Beauty/Makeup & Skincare.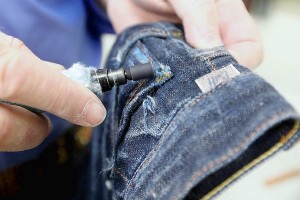 Key Facts About LA County's Creative Design Industries
LA County's Fashion Industry alone has 61,546 employees (direct employment only) and 2,886 companies.

Nationally, we rank #1 in Apparel overall (including sectors of the industry such as women's clothing, apparel contractors, accessories and specialty apparel
Nationally, we rank #1 in Leather and Related Products (including sectors of the industry such as personal leather goods and luggage and women's handbags and purses).
Nationally, we rank #2 in textile manufacturing overall and #1 in the textile and fabric finishing sector.

LA County also ranks #1 in the Wholesale of Apparel and Accessories (with over 36,000 employees as of 2012 data) and #1 in Wholesale of Furniture and Home Furnishings (with nearly 11,000 employees as of 2012).  We are also ranked highly in the Wholesale of Jewelry, Watches, Precious Stones, and Precious Metals (#2 in the nation) with nearly 5,000 employees in 2012.  Source: clustermapping.us.
LA County is ranked #1 in the nation in the Furniture industry with 12,385 employees (2013) and 609 companies.
LA County is also the national leader in the beauty, makeup, and skincare products (part of the toilet preparation manufacturing industry) with 4,958 employees in 2012 and 102 companies.
Top fashion brands with a local corporate presence in LA County include Forever 21, Karen Kane, BCBG, Guess, True Religion, Lucky Brand, Joes Jeans, Hudson, Trina Turk, and more.
LA County is also home to top fashion education programs, such as Fashion Institute of Design & Merchandising and the Otis College of Art & Design.

-Access to Capital
-Product Development
-Skilled Workforce
-Infrastructure and Land Use
-Public Policy
-Ecosystem