Interested in Growing a New or Existing Business in Los Angeles County?
LAEDC's Business Assistance team offers confidential, no cost or obligation services to:
Permit Assistance – Identify what is needed. Expediting, navigating and fast-tracking the permitting cycle (Department of Public Works, Fire Department, Sanitation, Health Department, Building & Safety, Air Quality Management District, and much more)
Lean Processes and Cost Containment – Identification of resources for business efficiency and cost containment
Workforce Development – Funding and training resources on the county, state and federal levels to help offset the cost of hiring and training
Utility Incentives and Programs – Local utility programs, energy rebates, energy efficiency programs, energy audits to reduce utility expenses
Access to Capital – Government and private-sector programs, short-term loans or non-traditional financing options to acquire or refurbish facilities and provide working capital to sustain your growth
LAEDC's Business Assistance Team Consulting Services
Sample of Services the Business Assistance team offers at no cost or obligation:
Identify business needs and factors impacting the firm's sustainability and resiliency
Strategic business advisory and technical assistance consulting services
Identify the Los Angeles region's prominent traded industry cluster partners and resources best suited to address the firm's needs and resolve challenges
Expense reduction analysis with a review of the firm's current operations and desired future state goals
Review the company's current risk management portfolio to identify areas for more effective coverage, premium reduction and/or management of open claims for Workers' Compensation, Property & Casualty Insurance, Health and Benefits Insurance Packages, and many more
LAEDC's Connection to Resources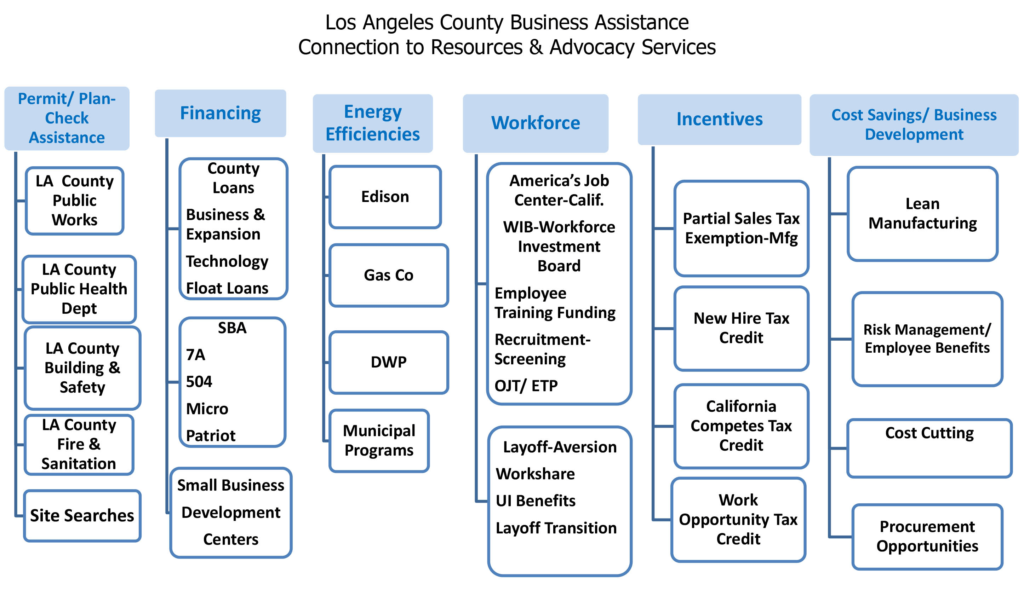 Contact our team for no-cost assistance at 213-309-8849 or complete the form below.
"*" indicates required fields