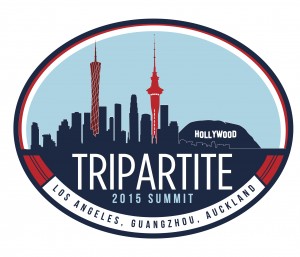 OVERVIEW
The Tripartite Agreement between Los Angeles, Guangzhou and Auckland was signed by Mayor Eric Garcetti, Mayor Chen Jianhua and Mayor Len Brown, on Sunday, November 16, 2014 in Guangzhou, China.
This historic Tripartite Economic Alliance sets the stage for a new and innovative approach for how cities engage and remain competitive in the complex global market, while leveraging specific economic outcomes for mutual benefit. This benchmark agreement offers tremendous potential for economic development and job growth for all three cities.
Los Angeles, Guangzhou and Auckland are sister-cities and strategic trading partners with shared economic goals. This strategic agreement provides a platform for growing trilateral cooperation that fosters trade, innovation and investment opportunities between the public and private sectors of the three regions.
On June 11-12, 2015, Los Angeles is pleased to host the first of three Summits to commence the implementation of the Tripartite Agreement, and facilitate business and trade connections and opportunities for the business community. Mayor Chen of Guangzhou and Mayor Brown of Auckland will be leading high-level government and business delegations to strengthen business ties with Los Angeles.
The program of the Tripartite Summit will focus on business-to-business matchmaking for key sectors including: Transportation, Infrastructure Development & Design, Retail and Consumer Products, Biomedical Technology, Media, Entertainment, Investment and Innovation.
This event is a partnership of the City of Los Angeles and the World Trade Center Los Angeles with generous support from the Los Angeles Business Council, the Port of Los Angeles, the Los Angeles County Economic Development Corporation, the LA Area Chamber of Commerce, and the Los Angeles Tourism and Convention Board.
---
Registration for this event is now closed.
---
AGENDA
TRIPARTITE SUMMIT 2015
Los Angeles, Auckland, Guangzhou
June 11-12, 2015, Los Angeles
Millennium Biltmore Hotel
506 South Grand Avenue
Los Angeles, CA 90071
THURSDAY, JUNE 11
7:00 AM                      Registration
7:50 AM                      Welcome Breakfast – General Session
8:00 AM                      Welcome Remarks, Mayor Eric Garcetti, Mayor Chen Jianhua, Mayor Len Brown
8:45 AM                      Keynote Speaker – Innovation and the Future, Phoebe Hayman, CEO, Seedling
Clean technology, bridging the gap between engineering & design, start-up capital, incubation and acceleration
9:00 AM                    Introduction to Los Angeles: Outlook and Opportunities, Bill Allen, CEO, Los Angeles County Economic Development Corporation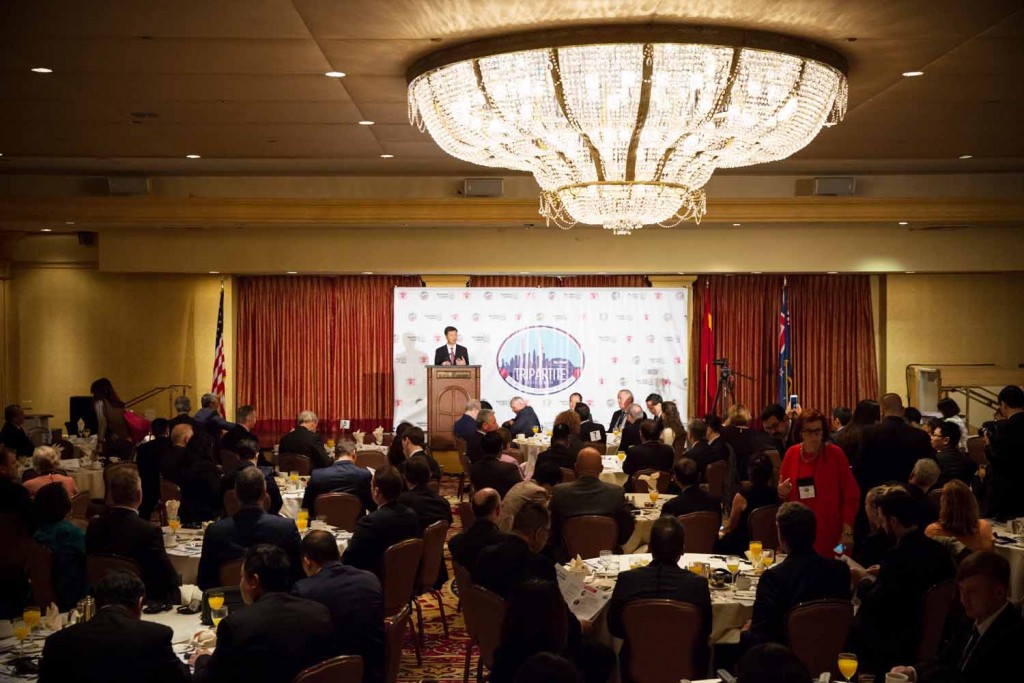 Structure, pathways into LA Market, incentives, industries
9:30 – 10:30 AM       Panel Discussions
Panel A

– Capital/Investment (Real Estate and Finance – framework for partnerships, investment opportunities, venture capital trends)

Moderator: Kamran Paydar, Senior Sales Director, CBRE
Panelists: Noor Menai, CEO, CTBC Bank; Andrew Pan, Senior Vice President, East West Bank; Ed Renwick, Partner, Yucaipa Companies, LLC/CEO, Raineth Holdings
Panel B

– Biomedical Technology (Innovation and Manufacturing)

Moderator: Dr. Qing Liu-Michaels, Program Director, USC Stem Cell Center
Panelists: Rohit Shukla, CEO, Larta Institute; David Meyer, CEO, LA BioMed; Willie Zuniga, CEO, Grifols
10:30 AM                  Industry Networking: Capital/Investment; Biomedical Technology
11:00 AM -12:00 PM  Panel Discussions
Panel A

– Media and Entertainment (screen/film, digital, co-production opportunities, tri-city partnerships)

Moderator: C.Y. Wang, Partner, Ernst & Young

Panelists: Lisa Day, Director of Energy Initiatives, 20th Century Fox; Andrew Jameson, Partner, Primary Wave Media; Thomas See, Vice President – Sales, Universal Studios Hollywood
Panel B

– Infrastructure and Architecture Design (Urban Planning, Best Practices)

Moderator: Liz Falletta, Associate Professor, USC
Panelists: David Hart, President, Steinberg Architects; Tom Bishop, President, Americas Design & Consulting, AECOM; Barbara Bouza, Managing Director, Gensler Los Angeles
12:00-12:30 PM         Industry Networking: Media/Entertainment; Infrastructure/Architecture/Design 
12:30-2:00 PM       Luncheon (All Mayors) – Hosted by Guangzhou
2:15-3:15 PM              Panel Discussions
Panel A

– Transportation (Public, ports, airports – innovation, design, and best practices)

Moderator: Stephen Cheung, President, World Trade Center Los Angeles
Panelists: Martha Welborne, Chief Planning Officer, METRO; Chris Cannon, Chief Sustainability Officer, Port of LA; Lisa Trifelleti, Director of Environmental and Land Use Planning, LAWA; Debra Leonard, Vice President, Micronova Manufacturing
Panel B

– Manufacturing and Distribution

Moderator: Carlos Valderrama, Vice President, Global Initiatives, LA Chamber of Commerce
Panelists: Vincent Iacopella, COO, The Janel Group; James Watson, President & CEO, California Manufacturing Technology Consulting
3:15-3:45 PM              Industry Networking: Transportation; Consumer Products and Retail
4:00 PM                       Program concludes
FRIDAY, JUNE 12
8:30-9:00 AM            Breakfast Buffet
9:00 – 9:45 AM         Technology Innovation Presentation
Moderator: Alan Arkatov, Katzman/Ernst Chair in Educational Entrepreneurship, Technology and Innovation, USC Rossier School of Education

Panelists: Linc Gasking, CEO, 8i; Nancy Perlman, Director of Technology, Office of the Mayor; Mitra Best, U.S. Innovation Leader, PWC
9:45  -10:00 AM         Q&A
10:15-10:45 AM         Government Contracts Presentation
Panelists: Tricia Carey, Director of Contracts and Purchasing, Port of Los Angeles; Hannah Choi, Bureau of Contract Administration, City of Los Angeles; Karen Tozer, Director Procurement Services, LAWA; Wayne Okubo, Director, Contract Administration, METRO
10:45 – 11:00 AM      Q&A
Additional Evening Programming
7:30 PM – Guangzhou Cultural Performance (Nokia Theater)
We thank our generous sponsors and partners for their support of the Tripartite Summit:
For additional information, please contact Rick Moelis, Manager, Event Programs, LAEDC, at [email protected]