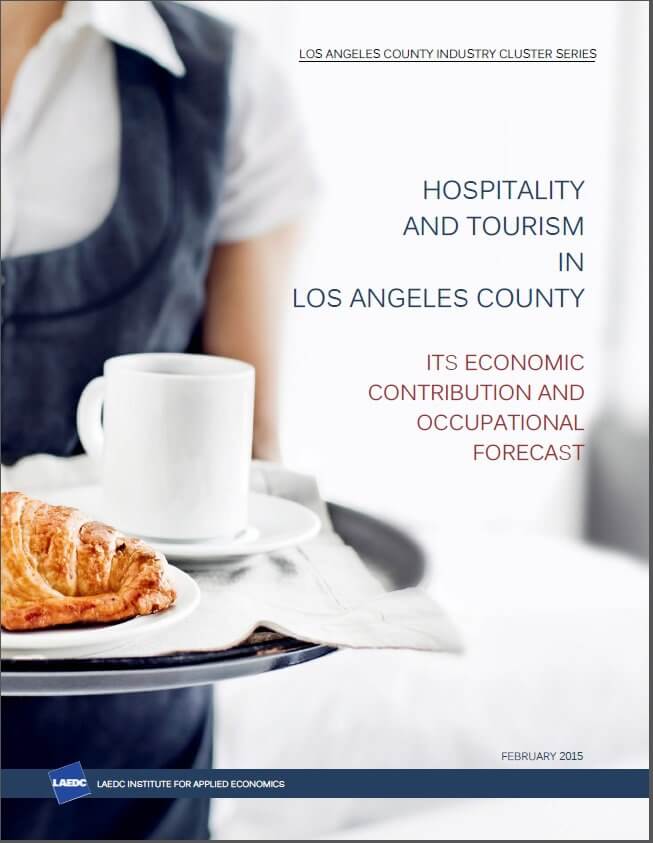 Tourism & Hospitality in LA County 2015
The LAEDC Institute for Applied Economics has published a study on occupations and economic impact of the hospitality and tourism industry in L.A. County, the first in a series of industry cluster studies.  These studies provide essential data so that leaders and stakeholders can evaluate how to best allocate scare resources as we support and grow jobs in our export-oriented industry clusters of our region.  Additionally, workforce data allows individuals to consider career paths.
News Release / For Immediate Release
LAEDC Conducts In-Depth Study of LA County's Tourism and Hospitality Industry
Industry cluster project to inform policy and workforce development programs
Los Angeles, CA, February 18, 2015 — The Los Angeles County Economic Development Corporation (LAEDC) today released a study analyzing the economic contribution and employment of the tourism and hospitality industry cluster in Los Angeles County.  This study is the first in a series of reports that the LAEDC will be issuing on the Los Angeles region's leading "export-oriented" industry clusters. Authored by the LAEDC Institute for Applied Economics, this research was made possible through the very generous support of JPMorgan Chase & Co.
The region is on track to greet 50 million visitors a year, and these visitors spent more than $18 billion in our economy this year.  At the same time, the hospitality and tourism industry also serves our 10 million local residents.  Accordingly, the report delineates the two separate components (traded versus local-serving), which are very different in terms of their composition, workforce needs, intermediate purchases and economic impacts — distinctions that have clear implications for how policymakers and stakeholders formulate programs to encourage not only more jobs but also better-paying jobs.
"The visitor-serving side of our tourism and hospitality industry in L.A. County is entirely an export industry because new money flows into our region and increases prosperity here," said Dr. Christine Cooper of LAEDC's Institute for Applied Economics. "By comparing our various export industries and the kinds of jobs each creates, we will be able to make informed choices about how we direct workforce training and economic development resources."
The economic contribution of the L.A. County tourism and hospitality industry:
Total jobs (direct, indirect and induced): 678,400
Total labor income (direct, indirect and induced): $23.7 billion
Total value of output in Los Angeles County supported by all jobs: $58.6 billion
This industry cluster was responsible for 6.1 percent of the County's GDP in 2013.
Just over a year ago, JPMorgan Chase announced a $10 million, five-year commitment toward workforce readiness and demand-driven training in Los Angeles, as part of its unprecedented five-year, $250 million global New Skills at Work initiative. This and future LAEDC studies will be critical to guiding this initiative with informed intelligence about the regional economy's leading industries, labor markets and higher-wage growth occupations.
"JPMorgan Chase made this investment because, again and again, our business clients from around the globe, and locally here in Los Angeles, have been telling us that they're struggling to find job applicants with the skills they need to fill their positions. This is especially true for middle-skills jobs such as computer technology, nursing and highly technical manufacturing," said Antonio Manning, head of Corporate Responsibility for JPMorgan Chase in Greater Los Angeles. "As a major employer ourselves, we do extensive training in customer service, computer skills and financial products and services, and we realize that our connection to this issue gives us a unique vantage point on what employers are experiencing.
"We know from our nonprofit partners and community leaders that closing the skills gap is a means toward achieving greater economic opportunity and prosperity for all.  JPMorgan Chase wants to be part of the solution. We believe we can make an impact by building a bridge between employers, job seekers, educators and training providers — and gaining an understanding of industry needs is a critical first step."
The timing of today's released study, as well as the LAEDC's other forthcoming industry cluster studies, supports the dramatic and transformational changes brought by the Workforce Innovation & Opportunity Act (WIOA), which became federal law in 2014. At its core, WIOA requires that regional workforce development activities be aligned and coordinated with regional economic development priorities, and informed by regional economic and labor market data.  This aligns with the LAEDC's own economic development leadership priorities to create more good-paying jobs for the residents and communities of LA County, most especially in our county's more than 300 census tracks – home to 1.3 million residents – deemed "economically distressed." 
About the LAEDC      
As the Southern California region's premier economic development organization, the Los Angeles County Economic Development Corporation (LAEDC) provides collaborative and strategic economic development leadership to promote a globally competitive, prosperous and growing L.A. County economy to improve the health and wellbeing of our residents and communities and enable those residents to meet their basic human need for a job. We achieve this through objective economic research and analysis, strategic assistance to government and business, and targeted public policy. Our efforts are guided and supported by the expertise and counsel of our business, government and education members and partners. Visitwww.LAEDC.org
About the Institute for Applied Economics
The LAEDC Institute for Applied Economics performs unbiased and objective research for a wide range of clients, detailing economic impact of development, business operations, and regulation, as well as providing intelligence about specific industry clusters, labor force, and workforce development issues.  In addition to commissioned research and analysis, the Institute also conducts foundational research to ensure LAEDC's many programs for economic development are on target. Contact the Institute at [email protected]
About JPMorgan Chase & Co.
JPMorgan Chase & Co. (NYSE: JPM) is a leading global financial services firm with assets of $2.5 trillion and operations worldwide. The Firm is a leader in investment banking, financial services for consumers and small businesses, commercial banking, financial transaction processing, and asset management. A component of the Dow Jones Industrial Average, JPMorgan Chase & Co. serves millions of consumers in the United States and many of the world's most prominent corporate, institutional and government clients under its J.P. Morgan and Chase brands. Information about JPMorgan Chase & Co. is available at www.jpmorganchase.com.